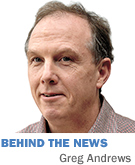 When David Simon announced a year ago that Simon Property Group Inc. was spinning off its strip centers and smaller malls into a new company, he promised that the resulting business would pursue a flurry of deal-making.
"The fact of the matter is, there have been a number of opportunities that the team has wanted to pursue that we put at the bottom of the list because we were focused on outlet growth or major redevelopment," Simon Property Group's CEO said at the time.
Turns out he wasn't kidding. A new filing with the Securities and Exchange Commission shows that David Simon and top brass of the new company, Washington Prime Group, began plotting a multibillion-dollar deal just five days after Washington began trading as a public company on May 28.
 

Simon
That push culminated in the mid-September announcement that Washington Prime was buying Columbus, Ohio-based Glimcher Realty Trust for $2 billion. Meanwhile, to make the deal affordable, Washington Prime said it would cast off two of Glimcher's swankiest malls to Simon for $1.1 billion.
A blow-by-blow account of those negotiations, detailed in the SEC filing, shows that David Simon—who has used a string of aggressive, multibillion-dollar deals to build Simon into the world's largest real estate company—made the initial overture to Glimcher CEO Michael Glimcher during a private lunch in mid-June.
Michael Glimcher said no thanks, and that his company wasn't pursuing a sale. But Simon pressed on, requesting during a July phone call with Glimcher the opportunity to speak with its outside financial adviser, GreenOak Real Estate.
Glimcher consulted with his lead independent director, Howard Gross, who gave the green light for Simon to meet with GreenOak.
The door was beginning to crack open. A GreenOak representative told Simon brass at a late July meeting that, although "Glimcher was not pursuing a sale of the company … if there were an offer to acquire the company at a substantial premium, he would expect the Glimcher board to consider it."
Washington Prime in late August dangled $13.75 a share, a 24-percent premium to where Glimcher was trading. After getting rebuffed, Washington bumped the offer to $14 and then $14.15.
Washington Prime CEO Mark Ordan delivered the $14.15 offer with a not-so-subtle threat, telling Glimcher that if it would not move forward with a deal, his company was prepared to go public with its offer and make it directly to Glimcher shareholders. Such a move would have put Glimcher executives in the awkward position of having to explain to shareholders why they were casting aside such a rich offer.
Such hardball tactics ultimately proved unnecessary. In early September, after Michael Glimcher told Ordan "he was unable to support a transaction at $14.15 a share and asked for the consideration to be increased to $14.25," the two men settled on $14.20.
In announcing the deal, Ordan was effusive.
"We went public just three months ago, expecting to utilize our strong platform, relationship with Simon, cash flow and investment-grade balance sheet to grow," he said. "This transaction with Glimcher checks every box, very early in our company's trajectory."
Simon ties fade
When Simon announced the spinoff plan a year ago, company officials said the new company would be headquartered here. But after officials lured Ordan, a longtime D.C.-area executive, into the top job, it ended up making Bethesda, Maryland, its home base.
The firm is small, with only about 40 workers—largely because it has an agreement with Simon to provide a variety of its support services, including accounting, IT and property management, for up to two years.
But those services will end after the Glimcher deal closes in the first quarter. The merged company, to be known as WP Glimcher, will be headquartered in Columbus and use Glimcher's business platform. Ordan will be executive chairman, while Michael Glimcher will be CEO.
The Simon connection won't be entirely severed. David Simon and Simon Property President Richard Sokolov, who had been Washington Prime's chairman, will be on WP Glimcher's board, as will Robert Laikin, a Washington Prime board member who was CEO of Indianapolis-based cell phone distributor Brightpoint Inc. before its sale two years ago.•
Please enable JavaScript to view this content.