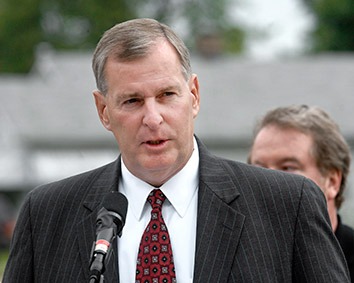 Indianapolis Mayor Greg Ballard was Republicans' best hope for retaining the most powerful office in an increasingly Democratic county.
The two-term mayor, who came to office as a dark horse, went against internal pressure and opted not to seek a third term, setting off speculation about which Republican would step forward to challenge former U.S. Attorney Joe Hogsett.
"As you know, I don't follow the same pattern as professional politicians," Ballard said in an emotional Nov. 6 speech with his wife, Winnie, at his side. Ballard said he made the decision "despite knowing we could win."
"As a Marine and as a mayor, I've dedicated most of my life to service. There are other things Winnie and I want to do," he said.
Ballard didn't signal his plans, or whom he might favor in the 2015 contest.
A retired U.S. Marine Corps lieutenant colonel, Ballard surprised even the Republican establishment in 2007 when he upset former Mayor Bart Peterson. Ballard had campaigned in support of a constitutional amendment to cap property-tax rates, and he benefited from further taxpayer outrage over a hike in the Marion County income-tax rate.
He defeated Democrat Melina Kennedy in 2011 but struggled to push his agenda through a Democrat-controlled City-County Council. The acrimony subsided somewhat in 2014, as Ballard and the council reached an agreement on how to fund a preschool scholarship program for low-income families.
Ballard also came close to achieving his other top priority, closing a deal for a new criminal justice center. The council will be asked early next year to sign off on a $1.6 billion public-private agreement with WMB Heartland Partners for the financing, design, construction and long-term maintenance of the jail and courthouse.
Explore all of our 2014 Year in Review coverage.
Please enable JavaScript to view this content.