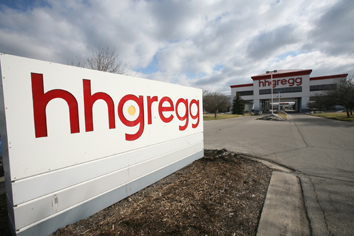 Appliance and electronics retailer HHGregg Inc. has hired its fourth chief merchandising officer in about three years, snagging a veteran executive who in May took over merchandising efforts for a smaller, New York-based electronics chain.
HHGregg said in a filing Dec. 24 that it hired Keith M. Zimmerman, 56, who previously held several positions over a 35-year career at Wisconsin-based American TV & Appliance. American, which had 11 stores, filed for bankruptcy and liquidated in early 2014. After American's demise, Zimmerman joined the 66-store P.C. Richard & Son chain in New York.
Zimmerman will start Jan. 5 at HHGregg, which has 228 stores in 20 states. His employment agreement calls for an initial base salary of $325,000 per year, stock options for 65,000 shares, bonus opportunities and relocation expenses.
The Indianapolis-based chain has churned through chief merchandising officers as it struggles with a tough retail environment. The most recent to hold the position, Jeffery Haines, left in November after starting in March 2013.
Merchandising has been a trouble spot for HHGregg in recent years after it experienced a long period of steady growth fueled by big sales of flat-screen TVs. But video-segment sales have been decimated by brutal price competition and slack consumer demand.
HHGregg has put a greater emphasis on selling appliances and other home products, but has struggled in recent quarters. The company reported a loss of $10.4 million in its latest quarter compared with a profit of $3.7 million in the same quarter of 2013. Sales for store locations open at least a year—a key metric in retailing—fell 11.4 percent.
The company's shares were flat in early trading Monday, at $7.58 apiece. The shares have steadily drifted downward since reaching a peak of about $30 in May 2010.
Please enable JavaScript to view this content.