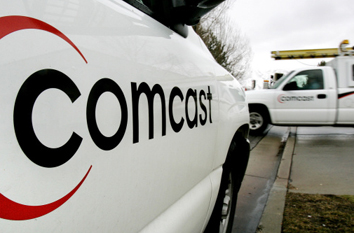 GreatLand Connections Inc. is geared to replace Comcast Cable Communications in Indianapolis and some other markets in 2015, and the switch eventually could bring some noticeable changes for current Comcast pay-TV subscribers.
GreatLand is the name of a Comcast spinoff that will only take flight if Comcast's $45 billion bid to buy Time Warner Cable is approved by federal regulators. Comcast agreed to shed customers in several markets, including Indianapolis, to ease regulatory concerns.
If the merger goes through, GreatLand will be a stand-alone company that will inherit some of Comcast's infrastructure but none of its economies of scale–which could impact customer offerings, rates and service.
"You just don't know with a new company," said Christopher A. Moore, a Fort Wayne-based certified financial planner and talk-show host who's been following the proposed acquisition. "You know you have existing lines, but what kind of service are you going to get?"
GreatLand, which is known as Midwest Cable Inc. while it sits under the Comcast umbrella, has about 2.5 million customers in 11 states. In a Dec. 23 U.S. Securities and Exchange Commission filing, GreatLand said its most significant expenses are the programming fees it pays for content.
Those fees are based on arrangements industry giant Comcast has been able to leverage. But after the two part ways, GreatLand will have to negotiate its own rates or take advantage of rates passed on by Charter Communications Inc., which will become a part-owner. As of August, Comcast had 22.5 million subscribers and Charter had 3.2 million subscribers.
"Our programming costs may materially increase from our costs under the Comcast arrangements due to benefits attributable to Comcast's scale," GreatLand said in the filing.
The exact impact of the switch on customers is still to be determined, although companies have historically sought smooth transitions to limit customer defection. Industry observers said customers typically don't see any meaningful changes for six to 12 months after a deal.
Still, Comcast is the country's largest pay-TV provider, and some are curious about the potential benefits and drawbacks of a switch to GreatLand.
"With Xfinity [bundled TV, Internet and phone service], Comcast has been selling themselves up real big in this market, and now it seems like they're going to bail," said Ken Montgomery, the 20-year station manager for Indianapolis' local government station, WCTY-TV Channel 16. "So as a consumer, I'm a bit wary of that and wondering what we're going to get with the new company."
GreatLand officials declined to comment while regulators, including the Federal Communications Commission, reviewed the acquisition. Comcast officials directed questions to GreatLand, and Charter officials didn't respond to requests for comments.
It's unclear where GreatLand will be headquartered, but it noted in SEC filings that 28 percent of its 2.46 million pay-TV customers are based in the Detroit area as of Sept. 30.
The Minneapolis-St. Paul designated market area had 22 percent of such subscribers, or 541,000 cable customers, and the Indianapolis area had about 14 percent, or 344,000 cable customers.
Comcast is the largest pay-TV provider in the Indianapolis metropolitan area based on 2013 franchise fees paid to local municipalities, according to Indiana Utility Regulatory Commission data. Those fees represent 5 percent of gross receipts the companies collect for video services and exclude Internet- and voice-service revenues.
According to state data, Marion County collected about $11.8 million in franchise fees last year, of which Comcast paid about $4.8 million. Bright House and AT&T followed, respectively, with $3.7 million and $3.4 million.
Montgomery said Comcast has long had the biggest chunk of the local market share, but companies like AT&T and DirecTV may have eroded that. Satellite companies like DirecTV don't pay those fees because they don't use publicly owned rights of way. AT&T has a $49 billion offer to purchase DirecTV pending regulatory approval.
The management team at GreatLand should be familiar with the Indianapolis market. Its CEO is Michael Willner, the co-founder of Insight Communications Inc., which provided cable to about 760,000 customers in Indiana, Kentucky and Ohio until the company was sold to Time Warner Cable in 2012. GreatLand Chief Financial Officer Matthew Siegel and Executive Vice President of Corporate Affairs Keith Hall are also former Insight executives.
"We are excited about the prospect of having GreatLand Connections come to Indiana," officials with the Indiana Cable Telecommunications Association said in emailed remarks. "Their leadership ran a successful cable operation in Indiana for many years, so they understand Hoosiers and Hoosier values. GreatLand will offer the best of both worlds–small enough to focus extraordinary amounts of attention on our state and big enough to be a real player in a rapidly changing landscape."
The company also named other senior executives and board members, and even set tentative salaries for when the spinoff occurs. Willner will be paid a base salary of $1.5 million and will be eligible for a $2.25 million bonus based on performance.
The FCC on Dec. 22 paused its regulatory review of the Comcast-TWC deal until Jan. 12. Dec. 22 was day 104 of its 180-day self-imposed deadline. Comcast spokeswoman Sena Fitzmaurice told Reuters that the companies were still on track for the review to be concluded early in 2015.
GreatLand, according to an SEC filing, would form 30 to 60 days after the Comcast-TWC deal. Comcast shareholders would own 67 percent of the company, and a reorganized Charter would own the other 33 percent.
Comcast would be prohibited from obtaining more than one percent of GreatLand stock for the first eight years following the spinoff completion.
Please enable JavaScript to view this content.