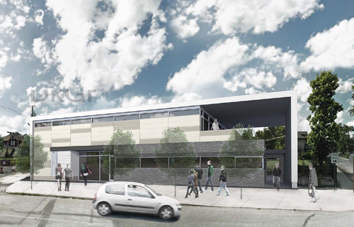 A not-for-profit on the east side wants to construct a 16,000-square-foot building at the intersection of New York Street and Keystone Avenue to expand the services it offers to homeless youth.
Outreach Inc. so far has raised nearly $480,000 to build the roughly $3 million facility and wants to have 75 percent of the cost committed before breaking ground, said Eric Howard, the organization's founder.
He expects fundraising to gain steam if Outreach's request for a zoning variance is approved. A city zoning board is set Jan. 6 to hear the request for a 40-foot setback where a city ordinance requires 70 feet.
The proposed building would maintain the same distance from the center of the street as the existing structure, which would be demolished to make way for the two-story Outreach project. The one-story building that now sits near the northeast corner of the intersection last served as a church but has been vacant for two years, Howard said. It originally housed a grocery store.
Outreach has the property, which includes the building and a parking lot to the west, under contract and plans to close on the sale upon approval of its variance request.
Another development at the same intersection already is under way. On the southwest corner, Westminster Neighborhood Ministries is putting the finishing touches on a large new facility it needs because it outgrew its facility at Michigan Street and State Avenue. Westminster provides services to needy families.
Outreach begain pursuing its project after it outgrew its current space—a two-story residence that it owns at 2822 E. New York St.—about five blocks east of where it wants to build. Outreach this year expects to serve 350 to 400 homeless teens.
"Every year we have continued to grow the number of youth we work with," he said. "We're at capacity right now."
The larger building would allow Outreach to expand its counseling center while providing a larger computer lab and bigger meeting rooms. In addition, larger shower and laundry facilities would be available.
Also, the new building would allow all Outreach staff to be on site. The organization has 15 employees, 11 of them case managers or service providers. They meet with Howard and other staff at Englewood Christian Church because there's not enough space at the current location to house them.
Outreach does not provide housing for the homeless but is moving in that direction.
"There is certainly the need for that," Howard said. "It is something that the board is discerning right now."
While shelter would not be available in the new facility, it likely would be offered off-site somewhere in the area, he said.
Once vacated, Outreach's current facility on New York Street could be converted to provide space for an internship program where students could learn about urban mission work, he said.
Howard founded Outreach in 1996 as a faith-based organization offering sandwiches, bottles of water and basic first aid to homeless teens. It has grown into a $1 million organization that has contracts with Indianapolis Public Schools and the Metropolitan School District of Pike Township to offer services to help prevent homeless teens from dropping out of school.
Please enable JavaScript to view this content.