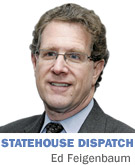 You will get a better sense this week of just how Gov. Mike Pence intends to translate his policy proposals into practice within the constraints of a modest revenue collection forecast.
The governor delivers his State of the State Address on Jan. 13. He will lay out his legislative agenda in greater detail than in December pronouncements that education would take precedence this session, in terms of both cash and policy.
The administration's Jan. 8 budget presentation offered the framework, and the governor will explain how those numbers should translate into job growth, more economic investment, stronger personal income and improved quality of life for all Hoosiers (did we miss anything?).
Expect Pence to reiterate his education agenda, specifying what he wants spent on his preschool education pilot program. He will reassure those who want to go whole hog on the program, or were uncomfortable with eschewing a federal funding jump-start, that this is the appropriate way to pursue the effort. He'll discuss what he would like in general terms from a school funding formula revision, but solicit input on what will prove a heavily lobbied issue.
Education will also be a major feature in his address in a jobs context. He will remind Hoosiers of the attention his office is giving to vocational and technical training, affordability and availability of community college and related options, and new initiatives to link education offerings to job skills business and industry expects from the 20-something workforce of the 2020s.
New initiatives will also be unveiled in the speech.
The shape of the governor's long-promised energy-efficiency effort will be divulged. As he reluctantly allowed lawmakers to eviscerate the existing energy-efficiency program last year, he also promised a better-tailored replacement with input from all stakeholders. Even though top administration officials hinted last fall that specifics would be revealed in November (and then December), the package won't be rolled out until this week.
While he will still likely mention his preference for further reductions in taxes (the business personal property tax remains a burr under his economic development saddle), there will be a nod of deference to legislative leadership desires to take a "pause" in tax-cutting. Yet Pence will continue to don the populist anti-tax mantle and lay out a case for tax "simplification," an idea he brought to the fore last year and boosted through his tax reform summit.
Don't tune in if you seek an indication as to where he stands on such issues as the nursing home moratorium, Sunday sales of alcohol, or gambling law changes—or granular talk of privacy issues and the potential for regulation of new areas of commerce and activity wrought by new technology.
The State of the State will be a "Mike-rocosm" of sorts. You will be left with a sense that the governor has set forth some big goals, offered a set of practical solutions, and is leaving the door to his office open to ideas from both parties in the Legislature.
Democrats will suggest a budget surplus near $2 billion is merely intended to impress potential Pence political patrons nationally, and that not only has Pence not funded certain programs at legally required levels, but the surplus comes at the expense of the hardest-hit Hoosiers.
Local governments will bemoan the inevitable further service cuts, school districts will portray even an overall K-12 budget increase as a funding loss, and social services advocates will be left wanting again. What might be more intriguing is Loretta Rush's first State of the Judiciary Address on Jan. 14.
The new chief justice, who ascended to the high court with a family law background, is leading the Supreme Court on a path that embraces a judicial contribution to Indiana's economy that we've not seen since in some 25 years, since the court successfully advocated a constitutional amendment ending many mandatory criminal appeals and affording commerce cases their due.
Expect to hear her thoughts on a new business court model as well, a specialized court or docket devoted to commercial legislation.
The state of the state is good, you will hear, and the state of the state addresses will be better.•
__________
Feigenbaum publishes Indiana Legislative Insight. He can be reached at edf@ingrouponline.com.
Please enable JavaScript to view this content.