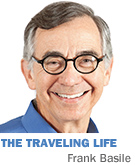 With Christmas and New Year's Eve 2014 now in the rearview mirror, my thoughts turn to family and holiday travel—which for me don't always overlap.
My five sisters and I live in different parts of the country, but rather than just rely on Facebook and phone calls to stay connected, we plan a trip every two or three years to spend quality time together. These trips, which include our spouses and many of our adult children, are to locations of interest to all of us—often with special meaning. For example, last year we spent four days in New Orleans, where we grew up.
In past years, we have taken two 10-day tours to France and Italy—in clear violation of my usual tour-guide-free travel preference. I've accepted that, when traveling with a family group, the best way to travel is with a planned itinerary, preferably with a guide. Otherwise, it would be virtually impossible for all parties to agree on the many decisions regarding what to do and see. Lots of time could be wasted in debate.
Sometimes, the itinerary is the prime reason for the trip—as with a wonderful family reunion we experienced in connection with my 65-year-old sister's big Italian wedding in New Jersey a few years ago. Bonus: It included a spontaneous trek with the entire group to Atlantic City.
Katrina and I have also planned vacations for our immediate family—our three sons and their significant others. One of our favorite family trips was a Caribbean cruise, which proved ideal for a family trip because the group can do things together or not during the day and then get together for dinner each evening. The cruise offered plenty of flexibility within the overall schedule and we knew the family was never far away.
Others may prefer being home for the holidays, but we have found it a special treat to celebrate holidays while traveling—whether or not the holiday itself is actually celebrated in the locale where we end up. Some of our most memorable experiences occurred while traveling during holidays. We recall with fondness a fabulous Thanksgiving dinner at the lodge in Sequoia National Park in California. It might not have been traditional, but we will never forget the turkey day whose central mealtime was spent seated at a corner table with windows on two sides, overlooking the majestic sequoia trees.
During the last 12 years, we have spent Thanksgivings in Hawaii, Egypt and Israel, Australia and New Zealand, Bangkok, Nantucket, Montreal, New York City, Greece, Portugal, on an Antarctic cruise, California, Myanmar and Laos, Saudi Arabia and Madison, Indiana.
We've experienced the Christmas holidays in Salt Lake City, Spain, South Africa, Central America (Ecuador, El Salvador and Nicaragua), the Caribbean islands, Uruguay and Paraguay, Texas and Mexico.
We've done July Fourth in this country—in Alaska, Iowa, Kentucky, Rhode Island and Michigan—and in Eastern Europe, France, the Atlantic provinces in Canada, Croatia and Slovenia, Greenland, and Prague. We've welcomed the New Year in Iceland, Spain, Key West and New York City.
A positive side effect of traveling over the holidays is that people are friendlier and more open during a holiday trip. Consider experiencing the holidays or events unique—or uniquely celebrated—at a destination you'd like to visit. We've traveled to New Orleans for the Mardi Gras, Ottawa for the Tulip Festival and Stratford, Ontario, for the Stratford Shakespeare Festival. There are festivals and events happening somewhere in the world every day. Why not find one celebrating something that interests you and go?•
__________
Basile is an author, professional speaker, philanthropist, community volunteer and retired executive of Gene B. Glick Co. His column appears occasionally. Basile can be reached at Frank_Basile@sbcglobal.net.
Please enable JavaScript to view this content.