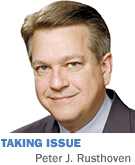 In his State of the State Address, Gov. Mike Pence proposed that Indiana join the 43 other states with constitutional balanced budget requirements. This "will assure Hoosiers that, today and tomorrow, Indiana will spend wisely, protect our state from an economic downturn and, unlike Washington, D.C., we won't bury our children and grandchildren under mountains of debt."
Pence is right. Democratic opposition was reflexive and unfounded. Inaccurate media coverage, suggesting that Indiana already has such a constitutional requirement, was more surprising. Let's clear up the record.
We'll start with full disclosure. The author has been working with administration officials on the amendment. But my views are unaffected by personal involvement.
These include my views on partisan criticism right after Pence's address. House Minority Leader Scott Pelath was typical, labeling the amendment a "parlor trick" because we "already have a requirement in Indiana's constitution that we incur no debt for operating expenses."
This was echoed in news accounts, as in this Associated Press sentence: "But the constitution already prohibits the state from taking on debt except in limited circumstances."
The notion that the amendment is superfluous is wrong. Since 1851, our constitution has, indeed, with limited exceptions, prohibited the state from incurring debt. But this is not the same as requiring balanced budgets, under which expenditures may not exceed revenue.
Without a balanced budget amendment, legislators remain free to spend more than the state takes in, so long as reserves can make up the difference. The constitution's debt prohibition wouldn't come into play till the last dollar of general fund reserves—currently over $1 billion—is gone. That'll fund quite a spending spree.
Declining reserves are not hypothetical. As Ball State University economics professor Cecil Bohanon detailed last June in Indiana Policy Review, in 1998 we had over $1.3 billion in general surplus funds—57 days of state spending—and overall reserves of over $2 billion.
By mid-2004, the general account surplus was only $200,000—10 minutes of spending—and the $500 million book balance of overall surplus was due to artificially deferring payments to schools and universities to the next fiscal year. Without that accounting trick, Bohanon notes, Indiana was "bankrupt to the tune of nearly $180 million."
The past decade's turnaround owes much to fiscal discipline under governors Daniels and Pence, supported by GOP legislators. Yet foes of an amendment making such discipline a constitutional requirement cite success of those policies as a reason to oppose it!
Democratic State Sen. Karen Tallian calls the amendment "a red herring because we haven't had a problem." Pelath insists that "every person in here is for a balanced budget" and "we've all voted for balanced budgets."
This, too, is echoed by commentators. My friend John Ketzenberger, president of the Indiana Fiscal Policy Institute, says he's seen nothing "since the budget in 1991 that indicates the Legislature is out of control and needs to be constrained by a constitutional amendment."
Even leaving aside what happened from 1998 to 2004, this is off-target. If legislators in fact support balanced budgets, why oppose requiring that budgets be balanced?
More important, an amendment can only be adopted by responsible legislators. Future legislators who are "out of control and need to be constrained by a constitutional amendment" will never adopt it.
The time to start the amendment process start is now. Legislators should follow Pence's lead and do so.•
__________
Rusthoven, an Indianapolis attorney and graduate of Harvard College and Harvard Law School, was associate counsel to President Reagan. Send comments on this column to ibjedit@ibj.com.
Please enable JavaScript to view this content.