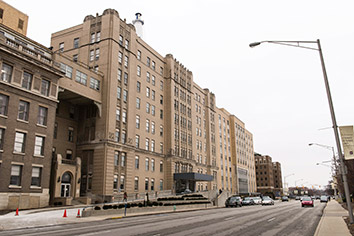 All signs point to University Hospital's being shuttered as Indiana University Health goes from three downtown hospitals to two.
IU Health leaders decided at least three years ago to close University Hospital on the IUPUI campus and move its operations to Methodist Hospital, according to an internal document obtained by IBJ.
The document didn't set a time line for the closure, and officials didn't move forward immediately because Methodist lacked sufficient space for the consolidation.
University has since cut back on services, and patient counts have fallen. Now, a committee charged with evaluating the consolidation of the downtown hospitals has put forth that idea as a "strong option."
But other options remained alive as the IU Health board met on Jan. 22. It is expected to discuss the plans again at its February meeting and possibly take another month or two before making a decision.
Speculation on what IU Health would do has been intense since last summer, when the hospital system announced it would go from three downtown hospitals—Methodist, University and Riley Hospital for Children—to two.
"The option you're talking about is a strong option, but it's not the only option," said Jonathan Curtright, chief operating officer of Methodist and University hospitals, in a Jan. 22 interview.
The board also is mulling construction of an entirely new downtown hospital in a plan that would replace both University and Methodist. And it's even possible the board might select both options—merging University into Methodist for several years while it banks cash, then building a hospital to replace Methodist.
The stakes couldn't be higher for IU Health. It needs to close one of its downtown hospitals to save money during a time the federal government and health insurance plans are pushing health systems to cut costs sharply.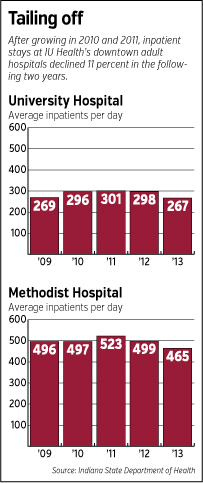 But if IU Health's consolidation plans upset physicians—particularly those at the IU School of Medicine—it could cost IU Health some of its star surgeons or researchers, who bring in critical revenue to keep operating rooms and research labs humming.
Physicians at the IU School of Medicine were told in early 2012 that University Hospital would close, according to the internal document obtained by IBJ, which had not been publicly disclosed until now.
"The relocation of University to Methodist brings forth a high level of anxiety for the [IU] physicians, unknowns about the time line, transition plans and leadership of the consolidated organization," states a report dated April 2012, written by Mary Boustani, a consultant at South Bend-based Press Ganey Associates, which was hired by IU Health.
Since then, IU Health has moved significant programs from University to Methodist, including neuroscience in 2012, obstetrics in 2013, and the University emergency room last year.
As a result, the average number of patients each day at University Hospital fell from 300 in 2011 to less than 200 at the end of 2014, according to data from IU Health. Turnover among nurses and other clinical staff has been higher than normal the past year, IU Health employees said, as the future of the hospital has been in doubt.

Methodist and University hospitals' Jonathan Curtright said a consolidation would net "major savings."
Also fueling the drop is a national decline in the number of patients staying overnight at hospitals, as health insurance plans have pushed hospitals to cut costs and as advances in surgery let more and more patients go home the same day as their procedure.
Combined, University and Methodist are seeing 15 percent fewer patients than they were three years ago—even though the costs to maintain two buildings and two sets of medical equipment remain fixed.
"It's very expensive to run two hospitals so close together," Curtright said. "We do believe there are major savings that we could get from the consolidation of these two hospitals."
Pros and cons
Consolidating at Methodist would be far from easy. One hospital executive with knowledge of the IU Health committee's work said its recommendation was to close University and expand the Methodist campus modestly, in order to make room for all the relocated IU operations.
Some IU physicians said consolidating patient care at Methodist would improve their research collaborations.
"I feel seeing each other in the hallway and doctors' lounge, and drinking coffee together is a positive way for the faculty to interact, and leads to more collaboration and sharing of ideas," Dr. Richard Kovacs, a professor of cardiology at the IU medical school, wrote in an email.
Other IU physicians, however, who did not want to be quoted, said separating them from the research lab spaces at the campus of the IU School of Medicine would hinder the serendipitous conversations that are so critical in research work.
Since the Press Ganey report made clear University Hospital would close, IU has seen a handful of star researchers leave. Dr. Craig Erickson, a nationally known autism researcher, went to the University of Cincinnati. Dr. George Sledge, IU's most prominent breast cancer researcher, left for Stanford University.
Satisfaction among IU physicians was poor when Press Ganey did its report.
"Morale is low," Boustani wrote. Physicians "feel like stepchildren, built the IU name through research and now handed it to IU Health. Feel like they are in the water with no sail."
IU Health hasn't done a similar survey since.
Even more valuable to IU Health is the organ transplant program housed at University Hospital. It ranks in the top 10 nationally, performing more than 500 surgeries per year. If IU Health could not give the organ transplant surgeons enough access to operating rooms at Methodist, that number of surgeries could drop. Or if one of the surgeons balked at the change, they could easily be recruited away by another academic medical center that would crave that business.
Dr. Michael Koch, an IU urologist who is co-chairing the consolidation committee with Curtright, acknowledged that physicians could leave if they don't like the changes—but that's a management challenge at any hospital system.
"If we do this poorly, some people might leave," he said. "But that's not our intent."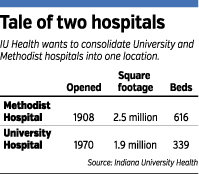 New facility?
If IU Health builds an entirely new hospital, it would be the easiest way to have a facility that supports the "new model of care" the consolidation committee has also developed.
That plan calls for a heavy emphasis on primary care and housing of IU's highly specialized physicians in more easily accessible outpatient settings. It also envisions shorter stays in the hospital, with patients being transferred more rapidly to post-acute-care providers—a cross between traditional hospital care and nursing home care.
But a new hospital would be enormously expensive—at least $1 billion and possibly much more. By contrast, IU Health was planning as recently as 2013 to spend $375 million to make all the rooms at Methodist private and add parking and office space. That project was put on hold due to financial concerns.
Curtright noted that IU Health thinks it could obtain various parcels of land near either University Hospital or Methodist Hospital. He did not specify the locations of those properties.
In 2010, IU Health proposed a $73 million administrative center running along Capitol Avenue, slightly southwest from Methodist. But it later purchased an existing office building for less money.
Last year, Indiana University officials—including Dr. Jay Hess, dean of the IU medical school—said IU Health could build a hospital on the former site of Wishard Memorial Hospital, or somewhere else on the IUPUI campus.
But building a new hospital would give IU Health the headache of finding a new use for not one, but two old hospital buildings. Repurposing old hospitals is notoriously difficult, noted Abbe Hohmann, an Indianapolis-based land broker.

Hess
Franciscan St. Francis Health has yet to unload its Beech Grove hospital campus—nearly three years after vacating it and seven years after announcing its closure.
But IU Health also would have some factors playing in its favor, Hohmann added.
The Methodist campus—while massive and aged in parts—has four parking garages as well as good visibility and easy access to Interstate 65, sits just two blocks off Meridian Street, and has the People Mover that connects it with IUPUI.
Even so, alternative uses might be easier to identify for University Hospital, given its location on the IUPUI campus, which is growing and adding buildings, Hohmann noted.
"It would seem to me easier to do a repurposing of that building than it would be of the Methodist building," she said. •
 
Please enable JavaScript to view this content.