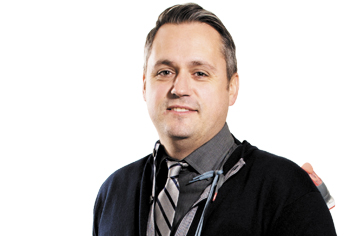 vice president of omni-channel marketing, Finish Line Inc.
Need for speed: In a business where a shoe fashion trend can stop or start with the drop of a tweet, "speed is critical," said Michael Grimes, key integrator of Finish Line store and online experiences. "Everyone has to be on the same page—sometimes easier said than done—keeping things moving forward at the speed we need."
Hitting the ground running: While earning a marketing degree from Butler University, Grimes had an internship at Willow Marketing that led to a job at Willow without the need for an interview. Seven years there led to other agencies—and a Butler MBA—before settling in at Finish Line. The agency work taught him to be able to "get excited about whatever business the client was in—whether fiberglass insulation or semi trailers. It's hard to work well if you can't get excited."
AGE 37
Hometown:
Clarksville
Family: wife, Melissa; children Benjamin, 8; Jack, 6; William, 3
Short walk to corporate work: The idea of transitioning to corporate work made Grimes nervous. But at Finish Line, he said, "I can wear sneakers and jeans and use a Mac—the core pieces of an agency job." Finish Line, he said, feels like a small company. "Which is hard to say when doing a billion seven in business."
Sole surviving: The planning on a campaign can begin long before a product launch. "We just brought to market the 2015 Nike Air Max—a premier shoe. That means 10 months ago we were sitting in a room with Nike saying, 'Let's create a Black Friday launch with LeSean McCoy, bring him into the digital campaign, and focus on style and attitude instead of just running.'" A successful shoe can sell 100,000 pairs, even more impressive when they cost $190.
Foot count: Managing inventory is also key. "We can deal with having too much," Grimes said. "It's worse to not have enough. When you miss a trend, that's the worst."
On the field: Grimes serves on the board of Finish Line Youth Foundation, which, along with Finish Line Inc., recently ponied up $1.25 million to build a Boys & Girls Club near the corporate offices. He also coaches T-ball for his kids. "I can do the basics," he said, "but don't get parents asking me about playing time."•
Please enable JavaScript to view this content.