PulteGroup is embarking on a large residential development in Plainfield that provides one of the clearest signals yet that the local housing market is on the mend.

The Atlanta-based home builder has purchased from private owners 270 acres of farmland that the town annexed, and is carving out lots to accommodate more than 800 homes.

Pulte plans to construct 265 houses and its division that caters to the 55-and-older crowd, Del Webb, another 475. In addition, Pulte is reserving roughly 70 lots that it plans to sell to custom builders.

Lains
The mammoth development on the western edge of Plainfield and north of U.S. 40 near Oak Tree Golf Course is much larger than what the central Indiana residential market has supported since the economy began to recover, said Steve Lains, CEO of the Builders Association of Greater Indianapolis.

"It's a great sign for the market recovery that we have a project of this size and magnitude back in play," he said. "All of the projects to this point have been on a much smaller scale."

To be sure, most new housing developments are no larger than 100 lots, Lains said, as builders are careful not to overreact to signs of a housing recovery.


New-home construction in the nine-county metropolitan area increased slightly in 2014. The number of permits filed by builders (5,084) grew 3 percent from the previous year. Activity dipped 2 percent in December, however, illustrating the market's persistent fragility.

"It's definitely improving," said Jim Rossiter, Pulte's vice president of land acquisition. "But it hasn't been an explosion."

Pulte's Plainfield development, dubbed Vandalia, could be a harbinger for 2015. Pulte bought the land from two separate sellers, both family farms.

Since exiting the recession, builders have been constructing many of their new developments on property purchased from banks that fell into foreclosure. Several home builders, stung by the downturn, were forced to return land to their lenders when they couldn't pay loans.

Banks put the land back on the market in an attempt to recover some of their losses. With the uptick in building, most of the foreclosed acreage has been gobbled up the past few years, prompting builders to buy from private owners again at higher prices.

"The distressed properties—those pieces of ground are very few and far between, if existent at all," Lains said.

The Pulte project also is noteworthy in the residential building community because the builder and Plainfield are the first to take advantage of a state law passed in 2013. The law allows a municipality to use tax-increment-financing funds to support an age-restricted housing development.

Plainfield is contributing funds to construct Vandalia Boulevard, which will be the primary entrance to the development from U.S. 40 and will replace the existing County Road 500 East. It runs north-south through the property and serves as the eastern boundary of Oak Tree Golf Course.

To the east of Pulte's property, Concord Road will be extended west to link with Vandalia Boulevard.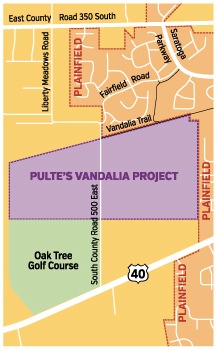 The Del Webb portion of the Vandalia development that will serve older adults is the second such community in the Indianapolis area for the Pulte division. The other is Britton Falls, a collection of single-family homes between 126th and 136th streets just east of Cyntheanne Road in Fishers.

Vandalia marks Pulte's re-entry into the west-side market since the downturn. The builder's other projects include Avalon in Fishers, Viking Meadows in Westfield, and Bear Creek in Carmel, which it's preparing to launch.

The location of the land Pulte purchased for Vandalia proved too attractive to pass up, Rossiter said.

"The location of this community is right off of U.S. 40 and has the walking path to the north that shoots to the aquatic center," he said.

The 4.6-mile Vandalia Rail Trail, Plainfield's version of the Indianapolis-to-Westfield Monon Trail, runs north of Pulte's property and serves as a path to the town's aquatic center to the east of the land.

Custom-home lots particularly are in short supply in Plainfield. Town officials already are fielding phone calls from prospective home buyers inquiring about the 70 lots that will become available.

"This is a great development for the town of Plainfield," said Tony Perona, assistant to the town manager. "We're very excited about it."

Pulte expects to begin moving dirt soon and should start offering homes by the end of the year. Prices for the Del Webb senior homes will start in the mid $150s; prices for the Pulte homes will start in the low $200s.•