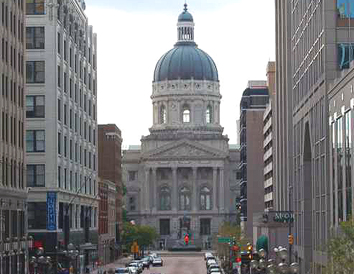 State lawmakers on Monday advanced or considered legislation regarding religious hiring decisions, massage therapy, divorce waiting times, audit frequency, death benefits for emergency workers and how to treat school board members convicted of felonies. Following is a rundown:
Religion-based hiring
The Indiana Senate could soon vote on a bill allowing religious institutions that receive state and local government contracts to make hiring decisions based upon religion.
Senators could vote as soon as Tuesday on whether to approve the proposal and advance it to the House for consideration.
Sen. Travis Holdman, R-Markle, said he sponsored the measure to restore the ability of Indiana Wesleyan University to receive state workforce training grants. The state attorney general's office determined last year that the university's religious lifestyle mandate violated state-contracting requirements against employment discrimination.
The Republican-dominated Senate voted 37-6 on Monday to defeat a proposed amendment from Sen. Tim Lanane, D-Anderson, that would have added sexual orientation to the state's anti-discrimination law.
Massage therapy regulation
A bill that would impose stricter regulations on massage therapists passed the House Public Health Committee on Monday.
House Bill 1360 would require professional massage therapists to be held to the same standards as other health care professionals, according to the bill's author, Rep. Sue Errington, D-Muncie.
"Professional massage therapists welcome more stringent regulation for their industry," Errington said in a written statement. "This legislation helps separate amateur therapists from those who are truly devoted to providing high-quality treatment to their patients."
The measure passed unanimously and moves to the full House for consideration.
Audit frequency
The State Board of Accounts could soon receive greater authority to determine the frequency of audits it conducts if legislation passed by the Indiana Senate on Monday becomes law.
Senate Bill 326, authored by Sens. Randy Head, R-Logansport, and Doug Eckerty, R-Yorktown, would provide the SBOA with an increased ability to undertake financial reviews of state and local government entities – determined by risk-based criteria established by the Audit and Financial Reporting subcommittee.
Head said the bill is an important step for the state's main accountability organization because the General Assembly has "cut their budget significantly," and it would allow the agency to "audit and receive the results faster to better address problem areas."
The proposed legislation would also allow an executive or fiscal officer of a government unit to establish a fraud hotline for the public to use to report suspected fraudulent activity of officers or employees of that unit. The identity of callers who use the hotline and any recorded audio from the conversation would be exempt from public disclosure.
The bill passed the Senate 43-1 and moves to the House for further consideration.
School board felons
The House approved a bill that would remove school board members from their positions if they are convicted of a felony. House Bill 1335 passed unanimously and moves to the Senate for consideration.
The bill extends impeachment provisions that already exist for public officers of cities, counties, towns and townships.
Rep. Steve Stemler, D-Jeffersonville, authored the bill. He said that he was inspired to write the legislation after a Greater Clark Schools board member pleaded guilty to a felony charge of shoplifting and he realized that wouldn't automatically remove her from office.
"A correction needed to be made to include individuals if this situation would ever occur," Stemler said Monday.
Special death benefit
A bill that would provide a special death benefit to emergency medical technicians and paramedics passed the House 92-1 and moves to the full Senate for consideration.
Rep. Karlee Macer, D-Indianapolis, authored House Bill 1080, which would create a fund to pay $150,000 to family members of an emergency medical services worker who is killed while carrying out work-related duties.
The bill gained abundant support in committee and had no opposition on the floor.
Law enforcement officers and firefighters already receive death benefits. But, Macer said, the families of EMS workers do not receive special benefits when their lives are lost in the line of duty.
Ryan Ballard of the Wayne Township Fire Department testified last week before the House Veteran Affairs and Public Safety Committee. Ballard said paramedics and EMTs often work two or three jobs to be the bread winner for their families. That means upon death, their families could be left without help.
Divorce waiting periods
A state senator wants to try to preserve the institution of marriage by lengthening the time some couples must wait to get divorced.
Joseph Zakas, R-Granger, presented Senate Bill 564 to the Family and Children Committee on Thursday but asked the group to postpone a vote to allow more discussion.
The bill would extend the waiting period before a couple finalizes a divorce if children under age 17 are involved. The waiting period would also be extended if one spouse objects to the divorce. Cases involving domestic violence would be exempt from the changes.
Currently, state law imposes a 60-day waiting period for divorces to be finalized. The bill would extend that to 180 days for couples with minor children and 120 days when one spouse objects.
Advocates of the bill say that the extended waiting period will help direct couples to resources that can preserve the marriage and spare children the challenges that are associated with a divorce.
 
Please enable JavaScript to view this content.