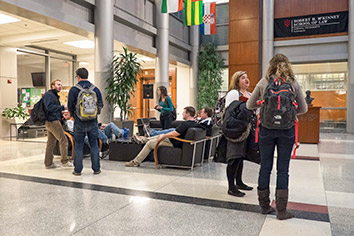 After three down years for law school enrollment, Austen Parrish expected a rebound of applications and enrollment this year at Indiana University Maurer School of Law.
But it isn't happening.
The law school, which Parrish leads, saw the number of first-year law students decline 10 percent this school year on top of the nearly 25-percent decline in first-year enrollment it suffered from 2010 to 2013.

A similar story is playing out at most law schools in Indiana and the nation. Enrollment has fallen at the IU Robert H. McKinney School of Law at IUPUI and Valparaiso University Law School in northwest Indiana.
And a law school started recently by Indiana Institute of Technology in Fort Wayne has enrolled only a third of the students it expected.
In response, Indiana's law schools are not replacing retiring faculty, spending more on recruiting, creating programs for non-attorney types of legal education, and experimenting with an educational approach that responds to what many see as permanent shifts in demand for legal services.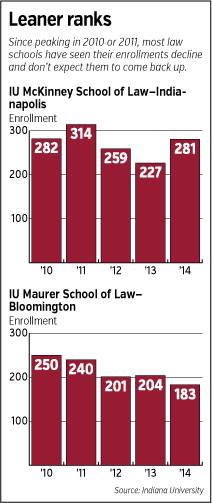 Similar, and in some cases more drastic, moves are being taken by law schools around the country.
First-year enrollments have plunged almost 28 percent since 2010 and stand at their lowest level since 1973, according to the American Bar Association. Making matters worse, there are 53 more law schools now than there were then.
"This continued decrease in student demand is consistent with our belief that the legal industry is experiencing a fundamental shift rather than a cyclical trend," Susan Fitzgerald, a higher education analyst at Moody's Investors Service, said in a January report titled "No Relief in Sight."
Saddled with debt
Not everyone agrees the enrollment declines are permanent. But even if they aren't, the change in status for law schools is stunning.
What used to be one of the surest routes to the upper middle class is now one of the best routes to a life of debt.
Starting salaries for law school graduates with full-time law jobs remain 8 percent below their 2009 peak, averaging $78,205 in 2013, according to the most recent data available from the National Association for Law Placement.
Meanwhile, law school debt runs about $100,000 or more among those with debt.
Among Indiana's established law schools, debt for 2013 graduates averaged nearly $98,000 at IU McKinney, $99,000 at the University of Notre Dame, nearly $108,000 at IU Maurer, and more than $130,000 at Valpo, according to U.S. News & World Report.
Salaries for students landing jobs after law school can be high enough to allow them to manage the debt.
But 22 percent of grads from 2013 had not landed a job nor held a job for which a law degree gave them an advantage, according to a National Association for Law Placement survey conducted nine months after graduation. In 2007, only 15 percent of law graduates found themselves in that situation.
Brandon Carothers is still looking for a job nine months after graduating from IU McKinney. He interned for the Marion County Prosecutor's Office until passing the bar exam in September. Then he worked seven weeks as a Hancock County interim deputy prosecutor, until a newly elected prosecutor came in on Jan. 1.
"Basically, I'm just waiting to get a phone call when a job opens up," said Carothers, 28. When jobs have come open, he has applied—but so have scores of other lawyers, many with more experience than he has.
Carothers is paying his bills by working at a marketing job. He has deferred his roughly $130,000 in law school debt until June, and could defer it for another year after that. But then he'll need to start whittling it down.
Asked whether he thinks law school was worth it, he said, "I really liked my time in law school, and I like what I do. But if it's another year from now and I still don't have a job as a prosecutor, then no, absolutely not."
Hiring slows
Normally, law school grads would be sucked up by private law firms. But firms aren't hiring as much for a host of reasons, IU Maurer professor Bill Henderson wrote in Pepperdine Law Review in a searing 2013 article titled "A Blueprint for Change."
Henderson, named last month by National Jurist magazine as the most influential person in legal education, noted that more corporate clients insist on fee-based contracts rather than paying for billable hours. Also, many clients refuse to pay for work performed by junior associates—that is, recent law school graduates.
Those trends have squeezed the percentage of hours for which law firms are paid—versus what they actually worked—to about 80 percent from more than 90 percent five years ago.
On top of that, fast-growing companies are performing electronic discovery and due diligence—the kinds of things recent law school grads were often assigned—with computer algorithms or lawyers in India.
"The demand for our core product—traditionally trained law school graduates—is collapsing," Henderson wrote. He added, "Stated bluntly, the legal profession is becoming a subset of a larger legal industry that is increasingly populated by nonlawyers, technologists, and entrepreneurs."
The drop-off in demand for lawyers is so serious that some law schools could go out of business.
"If applicant volume stays low or further declines, there will have to be a day of financial reckoning in which layoffs and closure are put squarely on the table," Henderson said in the Pepperdine article.
Fitzgerald, the Moody's analyst, said the schools most vulnerable to closure are not connected with a larger university, which is not the case for any of Indiana's five law schools.
Law school budgets depend highly on student fees—for example, 90 percent of IU McKinney's $20 million annual budget. So any drop-off in enrollment hits budgets right away.

Klein
Andy Klein, dean of IU McKinney, said he expects first-year enrollment to settle at about 260 per year—about 15 percent below the previous decade's norm.
That means the school is not replacing all staff and faculty when they leave.
"A smaller law school means we need to focus on cost containment," Klein said. "That's how any business would react to a loss of customers."
Evolving approach
The IU Maurer school has tried to avoid personnel cuts by having professors teach courses outside the law school, such as in IU's School of Public & Environment Affairs.
Both IU law schools are also trying ways to keep students enrolling. They have formed partnerships with liberal arts colleges that give scholarships to top graduates if they come to one of the schools for a law degree.
Both schools have also tried to grow programs that award degrees other than the juris doctorate—the credential for being an attorney. The Maurer school had some success increasing enrollment in its master of laws program, but then enrollment flattened.
During the past four years, Maurer's juris doctor applications fell sharply—47 percent—and are running about 10 percent lower for the next school year.
"That's pretty stark," said Parrish, who still expects enrollment to bounce back at some point. But, he added, "If the numbers keep going down, we might have to reduce the size of our program."
The McKinnney school started a one-year master of laws program for working professionals this year, and has high hopes for growth. That's because, Klein said, there is high demand for better knowledge of the law in any urban center with a state capitol, such as Indianapolis.
"There's a lot of interest in legal education where laws are made," Klein said. "So we have a real geographic advantage over other law schools."
The Valpo law school has seen first-year enrollment fall nearly 27 percent since 2011, to 171 this year. Messages left for Valpo officials were not returned.
The only law school in Indiana with higher enrollment than in the peak years of 2010 and 2011 is Notre Dame's. It enrolled 200 first-year students this year, up from a previous peak of 183 in 2011. A Notre Dame spokesman declined to make someone available for comment.
One of the schools in the weakest position is Indiana Tech, which welcomed its first class in 2013. The law school initially planned to enroll 100 in its first year, but ended up with only 28. Another 35 enrolled in the fall of 2014.

Parrish
In January, Indiana Tech launched a part-time program to appeal to working professionals.
Parrish, the Maurer school dean, said law schools have gotten through down cycles before. For instance, graduates during the recession in the early 1990s had job placement rates even lower than is the case today.
"We've seen cyclical variations in the past, and it's unclear yet whether this will be cyclical or not," he wrote in an email. "It's hard to predict."•
Please enable JavaScript to view this content.