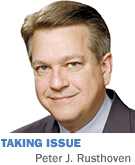 On Jan. 9, Islamic terrorist Amedy Coulilbaly, armed with a submachine gun, went into a kosher supermarket in Paris, taking hostages and killing four of them before he himself was killed by police.
The victims were Jewish, as one would expect to find in a kosher grocery before the start of Shabbat.
While this horror was in process, Coulilbaly stated, "I have 16 hostages and I have killed four, and I targeted them because they were Jewish."
French President Francois Hollande denounced this "dreadful anti-Semitic attack." The next day, our State Department praised Hollande, and "condemn[ed] in the strongest terms yesterday's cowardly anti-Semitic assault against the innocent people in the kosher supermarket."
Why bring this up now? Because a month later, our own president has now described the event as "randomly shoot[ing] a bunch of folks in a deli in Paris."
Really? Selecting a kosher grocery to target was random? Killing people the killer targeted "because they were Jewish" was random? Doing so two days after the Charlie Hebdo slaughter in the same city—perpetrated by Islamic terrorists who were friends of Coulibaly, who had met them in jail—was random?
Think this reads too much into the president's words? Here's the response of State Department spokeswoman Jen Psaki, asked if Obama thought the attack was a random one, not aimed at Jews: "They were not all victims of one background or one nationality." No, Jen. They were all Jews.
Asked if the administration thinks this was "anti-Jewish or an attack on a Jewish community in Paris," Psaki replied, "I don't think we're going to speak on behalf of French authorities." Seems we've changed tune since January.
Then there's White House Press Secretary Josh Earnest. Asked by ABC's Jon Karl if the attack was done "randomly," not targeted at Jews, Earnest said "the adverb that the president chose was used to indicate that the individuals who were killed in that terrible tragic incident were killed not because of who they were, but because of where they randomly happened to be."
Excuse me? Again, the killer "targeted them because they were Jewish." But Earnest was undeterred. Pressed by Karl on whether the victims were targeted "by religion," Earnest replied, "Well, Jon, there were people other than just Jews who were in that deli."
Psaki and Earnest were soon backtracking. Psaki tweeted, "We have always been clear that the attack on the kosher grocery store was an anti-Semitic attack." No, Jen. You were unclear on that earlier the same day.
Earnest also took to Twitter, writing, "Terror attack at Paris Kosher market was motivated by anti-Semitism." So, does he now think the victims were indeed killed "because of who they were," rather than "because of where they randomly happened to be"?
I do not know why our president is unwilling to call things what they are, especially when it comes to the threat to civilization—not just Western civilization, but all civilization—posed by radical Islamic terrorism (a term he will not use).
I do not know why, when ISIS switches from beheading people to burning them alive, the king of Jordan offers more decisive leadership than our president, who instead lectures about the Crusades and the Inquisition.
I do know that one cannot defeat an evil that one refuses even to acknowledge for what it is. So do the terrorists.•
__________
Rusthoven, an Indianapolis attorney and graduate of Harvard College and Harvard Law School, was associate counsel to President Reagan. Send comments on this column to ibjedit@ibj.com.
Please enable JavaScript to view this content.