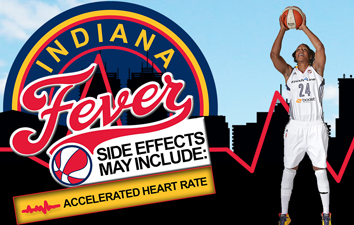 The WNBA's Indiana Fever has hired a new advertising agency and is preparing to launch a revamped ad campaign.
The Fever recently finalized a deal with Indianapolis-based KH Complete Advertising to handle its advertising for the upcoming season. Financial terms of the one-year deal were not disclosed.
KH replaces locally based The Stanich Agency, which had been the Fever's ad agency since 2010, team officials said.
"This change had nothing to do with the work [Stanich] did for us," said Julie Graue, Fever vice president of business operations. "They did good work for us and we really enjoyed working with them."
But at the end of last year, Fever officials were looking for fresh ideas to grow ticket sales, Graue said. KH and a handful of other agencies were invited to bid on the job.
For the Fever, KH designed an campaign that features the tagline "Side Effects May Include:" with various symptoms that may be experienced while attending a Fever game.
For instance, one of the first ads to be released will say "Side Effects May Include: Accelerated Heart Rate." Some things will be tied into commercial promotions. For instance an ad that will promote a special involving a concession item may have the tagline "Side Effects May Include: Extreme Thirst."
The new ads also feature star players including Tamika Catchings, Briann January, Erlana Larkins and Shavonte Zellous with the city skyline and a deep blue sky in the background and an EKG-like heartbeat symbol.
"KH brought in a campaign we thought was awesome," Graue said. "It was really cool, out-of-the-box thinking. It really helped that [KH owner] Kerrie Henderson has a lot of media buying experience."
KH has done some smaller projects for the Pacers, Graue said, but this is the firm's first major foray into basketball. Company officials said KH has experience crafting ad campaigns for motorsports companies and WWE wrestling.
The blue sky in the Fever ads notes that the team plays during the summer, said KH account representative Kaleigh Thorn, and the skyline brings an urban element to the ad while also emphasizing the team's hometown.
To go along with the accelerated heartbeat-driven theme, Thorn said many of the ads will have "a sense of urgency."
 
The Fever's 2015 ad campaign will tip off next month, airing KH-designed television spots during men's and women's college basketball games—including women's NCAA tournament games—on ESPN and ESPN2. The ads—which will have an audible heartbeat on them—will be touting a five-game package for $155.
Graue promises the campaign at some point will also tout the team's family night special—$21 for a lower level ticket, hot dog, bag of chips, a Pepsi and a Fever T-shirt.
"We saw increases in the sales for our family night tickets last year, and we want to stress that this year," she said.
Such an early start—more than two months before the Fever season begins June 6—for TV advertising is a deviation from past years, Graue said.
The last week in March, the Fever will unveil ads on 23 billboards around Interstate 465.
"We want to really get aggressive about selling more tickets," Graue said. "So we're coming out with some [ads] a little earlier."
With the early start, the Fever will spend a bit more on marketing this year than last, Graue said.
Last year, the Fever had average attendance of 7,900 for 17 home games. That's on par with what the team has done the past five years.
KH's Thorn said the main goal of the new ad campaign will be to lift that number.
"Our goal is to lift the overall awareness of this team and let people know how fun it is to go to a game," said Thorn, who previously worked as an intern for the Fever's parent company, Pacers Sports & Entertainment. "Our No. 1 objective is to increase their attendance, and we feel like we're putting together a campaign that will generate a lot of excitement and drive people to the games."
Please enable JavaScript to view this content.