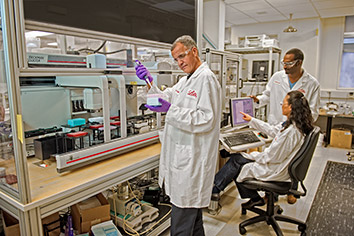 Eli Lilly and Co. will delay seeking U.S. and European approval of a new basal insulin while it determines the effect of the experimental diabetes drug on the liver, the company said Monday.
Lilly had planned to file for clearance to sell the insulin by the end of the first quarter. The drugmaker now says it will likely wait until after 2016. So far, Lilly hasn't seen any drug-induced liver impairment in the clinical trials it conducted on more than 6,000 patients with type 1 and type 2 diabetes.
Lilly observed changes in liver fat during the trials and wants to better understand and evaluate the effect, according to David Kendall, medical director at Lilly Diabetes. The isn't yet clear what additional analysis or trials to determine effects on the liver will entail, he said.
"While we are disappointed with the delay, we feel it is important to gain a better understanding of the potential effects of BIL on the liver before asking regulators to review the drug for approval," Enrique Conterno, president of Lilly Diabetes, said in a statement. "Our priority is delivering safe and innovative medicines to meet the needs of people living with diabetes, and that's what we aim to accomplish with this additional work."
Lilly's drug is in the final stage of testing, and the company has been putting it against existing insulins to show that it works better. The company said last year that basal insulin peglispro controlled blood sugar better than Sanofi's best-selling Lantus, a different type of insulin.
Please enable JavaScript to view this content.