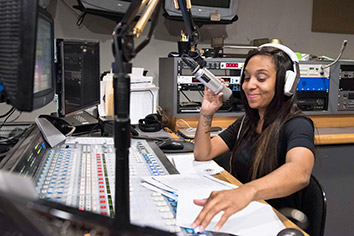 Indianapolis radio station WRWM-FM 93.9 has turned the adage "out with the old and in with the new" upside down. It's done the same to its financial fortunes.
The Cumulus Media Inc.-owned station in late December ditched its format spinning new top 40 tunes in favor of old school hip-hop songs that haven't made any charts in more than a decade. The result is a turnaround so dramatic that one industry veteran called it "unprecedented nationally."
WRWM, now branded The Beat, rocketed from the 15th-most-listened-to station in central Indiana in December to No. 1 in January—its first full month playing old school hip-hop.
"Literally nobody in the top 50 markets in this country has ever done a format change, then in the next full month shot to No. 1," said Tom Taylor, who publishes the popular radio industry newsletter Tom Taylor NOW. "Certainly no station in the last decade has done what [WRWM] has."
For those thinking The Beat might be a one-hit wonder, Nielsen numbers indicate WRWM is trending at the top of the market again in February. The final tally for February won't be available until mid-March.
"There are some very strong stations in Indy, so it's fantastic to be on top," said Cumulus Senior Vice President Jeff Brown.
While Brown is pleased with The Beat's early success, he's not completely surprised.
"We looked at where there were holes in the market," Brown said. "Coming in with this new format, we thought we had a top-five radio station. We think this is a sustainable top-tier station without a doubt."
The marketing of the station has been as old school as the music it plays.
"We haven't spent a single dollar on advertising," Brown said. "It's been all grass roots, guerilla marketing. We've been taking the word straight to the community, all over the place, and we're going to continue to do that."
Rise from anonymity
If central Indiana radio listeners hadn't heard of WRWM before January's meteoric rise, it's understandable.
The station has had a dozen formats—from easy listening and Christian music to smooth jazz and news/talk—since 1993.
For the last five years, WRWM has aired pop music, lagging far behind local listener favorites WFBQ-FM 94.7, WFMS-FM 95.5 and WYXB-FM 105.7 in the ratings race.
For the last six months of 2014, among listeners ages 6 and older, the station hovered around a 2.0 share—less than one-third the share of market leaders, according to New York-based Nielsen Audio.
Each share point represents 1 percent of people listening to radio at that time.
In December, WRWM earned a paltry 1.7 share. Light rock station WYXB led the local pack with an 8.2.
In January, however, WRWM earned a 7.7 share, leading WYXB (7.0), country powerhouse WLHK-FM 97.1 (6.6), and rock-and-roll stalwart WFBQ (6.4).

Morgan
"The ratings show that WRWM is not just attracting listeners from what we'd call the traditional urban market," said Bruce Bryant, president of locally based Promotus Advertising. "That's the real power of this new format. It's drawing from a broad cross section. That will be appealing to advertisers."
Majority of listeners white
In fact, the majority—60 percent—of the station's listeners are white, Brown said, adding that it draws an even split of men and women.
The reason WRWM is pulling audience from a number of stations, Taylor said, is "they're not exclusively classic hip-hip. It's R&B, too, and that's going to bring in more listeners."
Nielsen data shows WRWM has the biggest audience overlap with top 40 station WZPL-FM 99.5, followed by WFBQ, pop station WNOW-FM 100.9, WXYB and alternative rock station WOLT-FM 103.3.
The emergence of WRWM's new format has done no favors for Radio One's top urban-oriented stations.
WTLC-FM 106.7, which tabs itself as "Indy's R&B Leader," saw its rating slide from a 6.6 in December to 4.5 in January. WHHH-FM 96.3, Radio One's mainstream urban station, saw its rating decline from 5.1 in December to 3.9 in January.
"It's really ironic because Radio One rightfully gets a lot of credit for launching this format," Taylor said. "So they're playing offense with it in a lot of markets, but in the Indianapolis market they find themselves playing defense."
Radio One officials in October launched the old school hip-hop format that they call "Boom" in Houston. They quickly brought the format to their stations in Philadelphia, Dallas, Memphis and Atlanta.
Radio One undercut?
Industry sources said Radio One was preparing to launch the Boom format in Indianapolis with a new low-powered station that nonetheless would have covered almost the entire city and certainly its urban core. Those sources said Cumulus officials hustled in to undercut Radio One's plan.
"We think without question there's a benefit to being first-in with a new format," Brown said. "I can't speak to Radio One's plans, but we feel good about our position."
Radio One declined to comment about its plans—past, present or future—in this market.
Radio One Market Manager Chuck Williams said in an email response to questions: "For the Radio One stations, our radio product is a long-term commitment, it's full time, all the time."
Disruptive force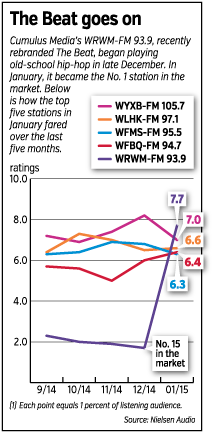 Clearly Radio One—as well as other stations—must react.
While WRWM targets a somewhat different audience from Emmis Communications Corp.'s WLHK, WYXB, news/talk WIBC-FM 93.1 and sports talk WFNI-AM 1070, Emmis' local market manager Charlie Morgan says the newly formatted station is still a competitor for listeners and advertisers.
"It's certainly disruptive to the standing radio listening patterns in the market," Morgan said.
Bryant said WRWM is in "a good position to gain traction with a lot of advertisers; anything from electronics, sports, food and beverage, fashion and entertainment."
"Media buyers and advertisers that use radio have their antennas up on this," said Bryant, whose company regularly buys radio time. "When you look at the demographics where they're strong, that's going to draw some serious attention from advertisers."
Ad rates could triple
Though Nielsen Audio declined to divulge demographic data, it confirmed that for January, WRWM had the top rating in the market for the following segments: all people ages 18-34, 18-49 and 25-54; women 18-34, 18-49 and 25-54; and men 18-49 and 25-54. Before the format change, WRWM wasn't near the top five in any of those segments.
Local media buyers say if the station can sustain its increased listener levels, the station's ad rates could triple.
"A lot of media buyers are going to want to see another one or two months worth of ratings before making any kind of long-term commitment," Bryant said. "But already you're hearing advertisers on WRWM that you never hear on WTLC or WHHH. That's a sign this station is going to do really well."
WRWM already has gained traction with advertisers in grocery, high-end automotive, banking, jewelry, education and cosmetic surgery segments, Brown said.
"We're seeing our ad counts go up very, very quickly," he said. "Business is robust with new and existing advertisers. We like our trajectory."
Cautionary tale
There's good reason local media buyers want to see more data before a rush to judgment on WRWM. In some of its markets, Radio One is already seeing a decline of 15 percent or more from the initial highs for its Boom stations.
"This format takes off like a rocket and then the ratings come down to earth," Radio One CEO Alfred Liggins told investors on a recent conference call. "The question is, are you better off than what you had before?"
Brown thinks the differences between WRWM's new format and Radio One's Boom format could insulate WRWM from backsliding.
 

Bryant
"We have a completely different formula," Brown explained. "Not just the music we play, but the presentation and promotion as well. We've created an up-tempo party environment that plays to the '90s party environment.
"Our approach is rhythmic, hot [adult contemporary] music suburban soccer moms can enjoy while drinking a glass of wine or partying as well as guys who grew up in the '90s loving this music."
Emmis' Morgan understands more than most the concerns with the potential rise and fall of new formats that rely on older music.
When Morgan was Cumulus' local market manager in 2001, he changed the format at WRWM from country to 1980s retro music.
Morgan said the format change vaulted WRWM from mid-pack to near the top of the local radio ratings, then it began to fade.
"Do I anticipate [WRWM] being the No. 1 station for months and months and years to come? I doubt it," Morgan said.
"The challenge with any kind of oldies format is once you run through the limited list of songs that make you go 'Wow, I haven't heard that in a while,' listeners start to get a little burned out."•
Please enable JavaScript to view this content.