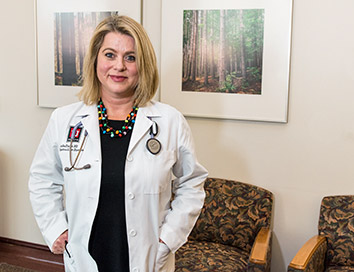 FINALIST: Advancements in Health Care
Monika Fischer, MD, MSCR
Assistant Professor of Clinical Medicine, Division of Gastroenterology/Hepatology, Indiana University Health Physicians
Dr. Monika Fischer's work involves a centuries-old procedure that became necessary in modern medicine only within the last 15 years. And though it might make some people squeamish, Fischer's patients aren't too concerned with the "ick factor" by the time they see her.
Fischer, 46, helped establish Indiana University Health's fecal transplant program in 2012 and has since helped 223 patients recover from a life-threatening infection that kills 14,000 Americans a year. Fecal Microbiota Transplant involves transplanting the stool of a healthy person into the colon of a person with Clostridium difficile, an infection commonly known as C. diff.
The purpose of fecal transplant is to repopulate the colon with healthy bacteria that can fight off the infection. It's not a first-line treatment for C. diff, Fischer said; it is used to cure patients whose infections don't respond to antibiotics. Nor was the procedure necessary before the year 2000, which was about when new, antibiotic-resistant strains of C. diff became more common. That was also about the time Fischer completed her residency in gastroenterology and accepted a fellowship at IU.
(IBJ photo/Eric Learned)
She specializes in patients with inflammatory bowel disease, who are especially susceptible to C. diff, so she took an interest in the concept of fecal transplant, which has its origins in fourth century China. The first documented use in the United States happened in 1958, but it was almost unheard of until a decade ago.
Since she established IU Health's program in 2012, more than 220 patients have received fecal transplants here.
"Monica has done a fabulous job setting up our fecal transplant program," said Dr. Naga P. Chalasani, a gastroenterologist and professor of medicine at the IU School of Medicine who also serves as the medical director of the digestive and liver disorders program at IU Health University Hospital. "She is one of the leading experts in the state, if not the region," Chalasani said.
Fischer said IU is performing four to six of the procedures every week, including hospitalized patients with severe infections who have run out of treatment options. Most who offer the procedure treat only ambulatory patients.
Fischer's patients have come from all over Indiana and surrounding states and so far have ranged in age from 3 to 92. Typically, patients prefer to identify their own donor, usually a family member or friend. If the donor isn't deemed suitable for medical reasons after a rigorous screening, or there is no donor, there are other options. Fischer is working now with OpenBiome, a Boston-based not-for-profit that launched in 2012 to make fecal transplant procedures easier by providing screened, filtered, frozen material that's ready for clinical use.
Demand for the procedure is spreading rapidly, Fischer said, because it can make such a big difference for a patient in such a short time.
"We've treated 40 patients here who had severe complications from C. diff, such that they were about to lose their colon or were facing organ failure," Fischer said. With the procedure, she said, they can be cured in a few hours.•
Please enable JavaScript to view this content.