Brandon Evans and Andrew Insley hope their laundry detergent startup sets itself apart from the crowded field of competitors that say they use "natural" ingredients. Their point of differentiation: truly making good on that claim.
The cofounders of Fishers-based And Then Came This LLC noticed a cycle in the green detergent niche of companies' starting out with natural ingredients and then diluting them with less-expensive chemicals to keep profit growing. Eventually, they believe, it becomes hard to take the term natural seriously.
Their 3-year-old company now distributes five laundry detergents and general-purpose cleaners through a dozen locations of Marsh, Whole Foods and other area retailers.
Evans and Insley grossed nearly $100,000 last year, and orders this year already double last year's.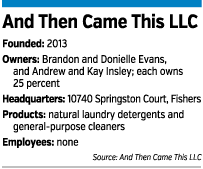 But growth can be a tiger's tail. The cofounders are agonizing over whether to compromise their prized independence and take on their first debt to scale up production for a push outside the region.
"We're focused on saturating our local market and creating a home base," Evans said. "We just don't want to get in over our heads."
And Then Came This probably wouldn't exist had Evans' wife, Donielle, not put her foot down on their rat-race lifestyle in California just before the recession.
Brandon had built a finance business in Laguna Beach flipping properties, and Donielle grew concerned about materialism encroaching into his life. Keeping up with the Joneses, complete with having acquired Mercedes and Land Rovers in their mid-20s, was crowding out important things like relationships.
Donielle narrowed her research for family-friendly environs to Fishers and Raleigh, North Carolina. In January 2008, the Evanses sold their home, closed the business, and left surfing and snowboarding and their extended families for a Fishers subdivision—far from even an acquaintance. Or so they thought.
Weeks later, a former employee looked Brandon up. Learning that they again lived only minutes apart, he pointed Evans to a sales position at Easy Water, a water treatment business in Greenfield.
Evans hired Insley at Easy Water and they climbed parallel ladders, Insley in sales training. Along the way, Evans and Insley absorbed a detailed understanding of people's problems with water.
They decided to start a business and wanted to contribute to the common good. But the natural foods category looked saturated. Cleaning supplies, though, still seemed to beckon entrepreneurship.
The market is huge. This year, more than $7 billion is expected to be spent on laundry detergents in the United States, with Procter & Gamble's Tide far ahead of other brands.
The green subcategory is harder to track, but GfK MRI in a 2011 survey found that 11 percent bought "environmentally friendly/green" laundry detergent the prior year.
Insley drew from a left-brained upbringing by computer programmer parents in Portland, Oregon, to tinker with minerals and plant oils. Months and countless ruined test T-shirts later, he emerged with a concoction that cleaned well, left no odor, and created no skin reactions.
A dozen ingredients range from sodium carbonate to hemp oil and citric acid. The detergent is a powder, but the all-purpose cleaners are liquids.
The two decided early on that they wouldn't use sodium lauryl sulfate, a foaming agent commonly used in cleaners labeled as natural, but which typically includes both plant derivatives and petroleum products.
A woman who bought their first packet of laundry detergent at Saxony Farmers Market in Fishers gave them confidence to approach Good Earth Natural Food Co. in Broad Ripple, and eventually Marsh and several other retailers.
Good Earth owner Rudy Nehrling said he immediately warmed to Evans and Insley. Nehrling often gets pitches to stock natural items, but he said the partners stood out for their enthusiasm and teachability. The parties arrived on a price that would give them both an acceptable profit, and the detergent now ranks second in sales in its product category at Good Earth, behind only Charlie's Soap.
"A lot of it came down to attitude," Nehrling recalled. "They weren't defensive."
Tricia Mera, a Good Earth customer who has clerked at the store on occasion, has continued buying the detergent, partly because it doesn't take a lot to wash a load—in other words, it's efficient. But she also likes the results.
"It's gentle, but it's effective," Mera said. "I don't like a whole lot of scents in my laundry."
Most stores price the detergent at $13.99 to $14.99 for a 44-ounce bag. While that's a bigger upfront expense than conventional detergents, the product goes further, washing 100 loads of laundry.
And Then Came This took root with people willing to go out of their way to buy natural products, but Evans and Insley think most of their potential market—mainly female homeowners ages 25 to 35 with "decent" incomes—want more convenience.
Marketers classify about 70 million Americans as "light green," meaning pretty much just that: health-conscious and wanting to cut back on chemicals, but cherishing convenience. A lot like the cofounders.
"I don't consider myself a granola person. I'm not a hippie," Evans said. "But I do want to use things that are healthy."
It might not be easy to pitch the products, said Tom Denari, president of marketing firm Young & Laramore.
Consumers tend to be more concerned about natural foods than natural ingredients in cleaners, he said. Consumers also tend to focus on whether cleaners work well than on their ingredients.
"Often, when consumers see 'green,' they see less effective," Denari said.
Closely held secret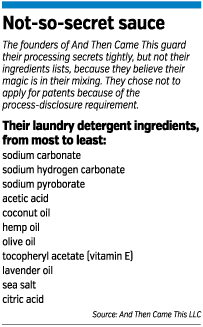 Evans and Insley opted against applying for patents in the hope competitors would fail at any attempts to reverse-engineer the complex manufacturing process.
Only Brandon and Andrew know the recipe.
"We would tell our wives, but they don't care enough to get into it," Andrew said.
Since starting the company, Insley has found work at Gannett selling advertising, but Evans continues at Easy Water under an arrangement with owner Bill Freije that allows him time to work on the business.
Evans said he learned from Freije that business owners don't need to throw sharp elbows, the style he learned in California, in order to get ahead. Better to find ways for all parties to benefit from deals, he said.
Freije, who once gave a worker a few thousand dollars to start a plumbing, heating, ventilation and air-conditioning business, said he felt Evans and Insley had a good idea and were cut out for entrepreneurship. Besides, he added, it wasn't his place to block their dreams.
"You have to have an open hand so God can put things in your hand and take things out of your hand," Freije said. "Am I going to close my hand and say, 'No, you can't have Brandon?'"
Next up
And Then Came This is just about out of space in the couples' homes and they're barely keeping up with orders. Brandon and Andrew, and sometimes Donielle and Andrew's wife, Kay, manually manufacture and package the detergent and cleaners in spare rooms.
They already use a friend's warehouse on occasion, but a full move to warehouse space is the next logical step. That might require going outside their own pocketbooks for the first time. They've liked not having to answer to outside investors or lenders. And they put just a couple of thousand dollars into startup costs. A loan seems like big money.
But a loan is the logical thing to do.
Said Evans, "We're in a spot where growth can come really rapidly."•
Please enable JavaScript to view this content.