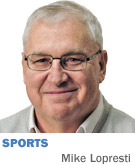 It won't be long now. The Final Four approaches, and it is time to ask a pressing question:
The NCAA lists the Horizon League and IUPUI as official hosts. Indiana Sports Corp. does most of the legwork, and the NCAA signs all the checks, so just what do you do if you're the official Final Four host? Put out coffee, tea and cookies?
The matter was taken to Horizon League Commissioner Jon LeCrone.
"Here's what I do. We've got a staff of 10 people. They are young and enthusiastic and trying to learn. I just take my staff and I say to the local organizers, 'You've got them. They are yours on loan at no charge; put them to work. Once the event comes, we don't necessarily shut down the office, but we have one person answering the phone."
Over to you, IUPUI Athletic Director Michael Moore.
"The way we look at it, it's a brand builder—the fact that you have your name attached to the national championship. We're still working on an identity. On practice day, l love walking in there and looking up at the ribbon [on the scoreboard] and they're flashing IUPUI. I can tell you that, during those weeks, sometimes I'm sitting by myself in the office because my entire staff is out helping at the facilities."
Plus, it's always nice to be part of a tradition. The Final Four keeps returning to Indianapolis like the swallows return to Capistrano. This'll be No. 7, with more to come.
Why? Yes, Lucas Oil Stadium is vast and versatile. Also, Indianapolis has nearly everything tied together in a convenient downtown package; it would take longer to walk Crooked Stick than it takes to walk all the major points of the Final Four. Plus, part of the deal when the NCAA came to town was the city's getting a regular shot at the event.
But there is something else. Indy never grows tired of throwing this party. Never cuts a corner, never loses a step.
"Their presentation during the last Final Four bid process was every bit as energetic, every bit as creative, every bit as passionate as any of the cities, including a couple who hadn't hosted before," said Dan Gavitt, the NCAA's vice president of men's basketball championships. "I marvel at the fact that hasn't diminished over time."
To understand why, go back to the hosts.
"That was the message we successfully delivered to the basketball committee last time we made our presentation for the Final Four," LeCrone said. "It's part of our fabric. It's incredibly important to us. We would never take it for granted; we're going to work hard on it to always make it better; we're going to give you our best shot every single time.
"I think once the NCAA moved here, some people said we would really take it for granted. But it's even made the partnership better to have the staff here. The staff's not only our colleagues, they're friends, they're neighbors; our kids go to school together." 
LeCrone has been at his Horizon post for more than two decades. He has seen the Final Four grow, and Indianapolis with it.
"When I came here in 1992, there was no downtown mall, no Lucas Oil Stadium, no Bankers Life Fieldhouse, no Lilly campus, no Victory Field," he said. "For me, watching outside my office window, the city kind of remade itself every 10 years."
Moore, finishing his 19th year at IUPUI, said, "I've had a lot of people say to me the Final Four should be in two places: Indianapolis and San Antonio. For about the same reasons."
So everyone should be happy in four weeks. The NCAA, the visitors who need to park their cars only once, the teams who can walk to Lucas Oil if they wish.
And the hosts. One other perk: They get great seats.
Moore had a fine view of Gordon Hayward's last fling for Butler in the 2010 championship game against Duke. Not that IUPUI administrators normally spend a lot of time thinking about Butler shots.
"Let's face it, we all root for the underdogs," he said. "We're not really rivals with Butler. We'd like to compete with them a little more in basketball, but we're not rivals. If Butler's doing well, I think that just raises everybody's awareness of college basketball here in the city, and I think we get some benefit from that, too.
"They hung in there and hung in there and had a chance to win. You had to feel good about that. Now, would I have preferred it was my guy taking that shot? Sure."
LeCrone was courtside that night, too. Butler was a Horizon member then and has also served as a Final Four host. "Everybody was standing up. The only thing I could see was the ball go up, and then it disappeared. And then everybody groaned."
It'll be hard to match that in April, but the official hosts of the Final Four are planning on a good show. Just remember, if you call the IUPUI office that week, the athletic director might answer.•
__________
Lopresti is a lifelong resident of Richmond and a graduate of Ball State University. He was a columnist for USA Today and Gannett newspapers for 31 years; he covered 34 Final Fours, 30 Super Bowls, 32 World Series and 16 Olympics. His column appears weekly. He can be reached at mlopresti@ibj.com.
Please enable JavaScript to view this content.