The IndyCar Series and USA Today Sports Media Group have agreed to merge marketing, advertising and news coverage in a deal observers alternately describe as groundbreaking or ethically worrisome.

The deal is being lauded by IndyCar and USA Today officials as a way to get the open-wheel series more coverage and provide the newspaper's journalists with enhanced access.

"This is the first time we have had this close a relationship with any [media organization]," said C.J. O'Donnell, chief marketing officer for IndyCar and the Indianapolis Motor Speedway.

But the deal also could compromise USA Today's news integrity and hamper other media outlets that aren't afforded the same access, critics said.

As part of the deal announced Feb. 26, USA Today, owned by Indianapolis Star parent Virginia-based Gannett Co. Inc., has agreed to write pre- and post-race stories for every IndyCar race and produce special sections around the sport and its drivers. The news organization also agreed to expand its coverage of IndyCar on USAToday.com. In return, IndyCar promised to give USA Today reporters preferred access to series officials, team owners and drivers, and track owners.

IndyCar also promised to give USA Today advertising sales representatives access to its series and team sponsors. USA Today, IndyCar officials said, will be invited to a number of "sponsor summits" and other networking events.

Some of the advertisements and stories will run in tandem, and USA Today has promised to give IndyCar sponsors discounted ad rates—in both print and digital publications.

USA Today approached IndyCar last year about the multiyear deal, according to officials from both parties; it was formalized last month.

Ken Ungar, founder of local sports marketing consultancy US Sports Advisors, said the fact that USA Today sought a deal with IndyCar is a good sign for the series.

"It shows they have a relevance as a sport and a critical mass of sponsors," said Ungar, former IMS chief of staff and IndyCar Series senior vice president.

Sponsors love it

There has already been collaboration between USA Today and top-shelf IndyCar sponsors.

Verizon, the series' title sponsor, agreed to buy ads in USA Today when the news organization agreed to write a series of stories touting winning IndyCar drivers.

"The combined editorial and advertising was something that was very attractive to Verizon," O'Donnell said.

Early response to the IndyCar/USA Today deal from series and team sponsors has been "phenomenal," said Jason Ford, vice president of sports marketing for USA Today Sports Media Group.

"We're not quite ready to make any announcements yet, but we've gotten verbal commitments from a number of [IndyCar sponsors]," Ford said. "We couldn't be happier with what's going on with IndyCar."

Ford said the agreement has "a financial component," but wouldn't say whether it sets a minimum advertising spending requirement for IndyCar sponsors.

That type of agreement is common with broadcast deals, where sports-league or racing-series sponsors must buy a certain amount of advertising during the broadcast of the related event. This arrangement, however, is "not as cut-and-dried as a broadcast deal," Ford said.

He declined to say how many years the deal lasts, but added: "This will be a long relationship."

Ford said USA Today was attracted by the "new energy" brought by O'Donnell and the IndyCar regime hired over the last two years by Mark Miles, CEO of IndyCar and IMS parent Hulman & Co.

IndyCar was drawn to the deal by the large number of open-wheel fans who read USA Today online and in print.

O'Donnell
"They're reaching 300,000 IndyCar fans every single day," said O'Donnell, who joined the series and IMS in 2013. "Our goal obviously is to get news on their pages."

The deal doesn't require other Gannett-owned papers to run IndyCar stories, but Ford said there will likely be "a halo effect that runs across Gannett."

"When it comes to the IndyCar Series, the Indianapolis Star has always had an all-in approach," Ford said, "and this [agreement] may give them more access."

Work by Star sports reporters is likely to be used to meet USA Today's required higher story count. Star Publisher Karen Ferguson did not return calls seeking comment.

The deal isn't exclusive, IndyCar's O'Donnell said, and similar pacts could be struck with other news organizations.

That's fine with USA Today officials.

"When we do deals like this, we're there to help the leagues. We're not control freaks," Ford said. "They have our blessing to succeed and grow."

Ethical questions

While IndyCar and USA Today officials call the deal win-win, it also "raises serious ethical questions," said Bob Steele, the Nelson Poynter Scholar for Journalism Values at the Poynter Institute for Media Studies, a think tank in St. Petersburg, Florida.

"The question you have to ask is, 'Are [USA Today officials] selling news coverage in a quid pro quo way to get access to advertising opportunities?'" Steele said. "If they are, and it appears they are, ethically that is wrong."

Steele questions how USA Today and its associated publications could give the IndyCar Series unbiased coverage under such an agreement.

"When you make a deal that ties coverage to advertising and marketing in a way that can erode journalistic independence, you have a serious ethical issue," Steele said. "Readers must be confident that all news reporting is driven by journalistic principles and ethical standards and not by business values. This relationship certainly raises at the minimum a yellow flag and perhaps some serious red flags."

USA Today sees the deal merely as a way to get its reporters the access and resources needed to better cover the open-wheel race series while also bringing in additional revenue for the company. Ford said USA Today has similar deals with NASCAR and the PGA Tour.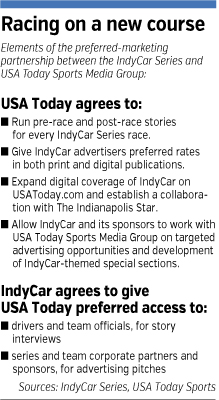 IndyCar officials stressed that neither they nor their sponsors will influence what USA Today reports.

"These aren't advertorials," O'Donnell said. "This is true editorial copy. USA Today gets to craft stories as they see fit."

Ford, too, insisted the IndyCar stories that will run in USA Today will not be advertorials—which are ads formatted to look like stories instead of typical display ads and are often previewed and even approved by the advertiser or at least someone in the newspaper's advertising department.

"Our team has no relationship with or sway over the writer," Ford said. "We just get them better access and better resources to cover the sport."

USA Today reporters, he added, are free to write critical or negative stories about the sport or anyone involved in it.

"We never know what the articles are going to say. Sometimes our writers get us in hot water and I get yelled at [by advertisers]," Ford said. "It's independent editorial coverage."

'No backlash'

There's been no backlash about the deal from USA Today reporters or editors, Ford said. In fact, he added, many reporters have asked to have such deals crafted for the sports they cover so they can have better access and resources.

The fact that the stories aren't called advertorials doesn't allay Steele's fears.

"That only creates a different kind of problem," he said. "That only makes it more difficult to distinguish what is biased by this relationship. Just the fact that USA Today promises to run pre- and post-race stories impinges upon journalistic independence."

Many marketers embrace the format of these types of deals.

"There isn't a mixture of church and state here," Ungar said. "The sport doesn't influence what's in the column inches; it just assures they get the column inches."

The deal could be an effective marketing tool for the IndyCar Series, but has the potential to backfire on two fronts, said Larry DeGaris, director of academic sports marketing programs at the University of Indianapolis.

If USA Today seems "over promotional" in its IndyCar coverage, that could erode the news organization's credibility and readership, said DeGaris, whose recently published book "Sports Marketing: A Practical Approach" dissected this type of relationship.

DeGaris added that the deal could also have a chilling effect on other news organizations displeased that USA Today is getting preferential treatment.

"Deals like these completely remove the wall between the business side and editorial side," DeGaris said. "On the surface, it seems like a great way for a newspaper to increase revenue, but it can be a slippery slope to walk."

It is as potentially slippery for the IndyCar Series.

"I imagine some within the journalism industry will ask, 'Does this make IndyCar in some way less accessible and accountable to other news organizations?'" he said.

With IndyCar doing everything it can to boost its TV ratings and live attendance and newspapers desperate to replace revenue lost from declining circulation and ad sales, DeGaris understands why the deal is attractive to both sides.

"The thing that makes this so attractive for the IndyCar Series is those mandated stories," DeGaris said. "Studies have found people are much more likely to click on a story than an ad.

"I understand these deals make a lot of people uncomfortable, but a lot of people—including some in the news industry—point to this as the model of funding that's going to save journalism."•