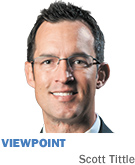 Many challenges are coming down the pike for the long-term-care industry, the most immediate of which is from those who want to flood Indiana with opulent and expensive nursing homes that simply aren't needed and, worse, drive up taxpayer costs.

These facts have been confirmed in the past three months by the state's Division on Aging, the Office of Management and Budget, the Indiana State Department of Health and the Indiana Legislative Services Agency.

Their independent analysis cumulatively shows that use of skilled-nursing homes is flat and declining; nearly 25 percent of all nursing-home beds are empty; building more nursing homes and beds drives down use and increases total Medicaid costs by nearly $25 million; and declining census hurts quality.

All of this reinforces why now is the time to stop adding vacant nursing-home beds that are costing taxpayers money and, more important, reducing the quality of care.

That's why my organization, the Indiana Health Care Association, along with other provider and home care organizations, such as LeadingAge of Indiana and HOPE, are united in support of Senate Bill 460, sponsored by Health and Provider Services Chairwoman Pat Miller and House Ways and Means Chairman Tim Brown, that passed the Senate 35-14, and just passed both the House Public Health and Ways and Means committees.

The authors have proposed a three-year pause on new nursing homes and beds to provide stability while allowing for construction of replacement nursing facilities in the same county as well as new facilities in counties with bed occupancy rates of at least 90 percent, an important change from last year's effort.

In short, SB 460 gives time for supply and demand to come closer into line. Indiana had such a policy from 2006-2008, and nearly 44 other states have formal cost containment programs to curb nursing home Medicaid costs and excess bed supply.

The bill is further necessary because Hoosier seniors want to stay in their homes as they age. In fact, a recent AARP study shows that 87 percent of those 65 and older want to age in place at home closer to loved ones.

Knowing this, we think the nearly $25 million in additional Medicaid expenses the state reports the nursing home boom costs taxpayers could be better spent developing less-restrictive means of care in assisted living, independent living, senior apartments and patio homes.

Even better, the dollars could be spent serving people through home-based care services. Considering it costs almost a third of the expense to serve someone at home rather than in a nursing home, we should not waste another taxpayer dollar on unneeded facilities.

Another recent poll stated that 84 percent of Hoosiers would rather have those dollars—their dollars—spent on serving seniors and families at home rather than on building new nursing homes.

Without this bill, new nursing homes will pop up on every corner, and with the expected declining need of skilled nursing, will sit largely empty, drive up taxpayer cost, and hurt quality for all providers.

Let's use those taxpayer dollars being spent on new facilities now toward future services consumers and families actually want—to be served at home or closer to home for as long as possible. SB 460 is the right health care and fiscal policy for the state.•

__________

Tittle is the president of the Indiana Health Care Association. Send comments on this column to ibjedit@ibj.com.