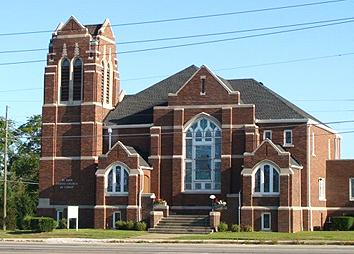 The town of Cumberland has mounted a last-ditch effort to save a historic church from demolition by reaching out to more than 50 developers to gauge their interest in redeveloping the property while retaining the structure.
Pittsburgh-based Giant Eagle has agreed to purchase the St. John United Church of Christ at the northeast corner of Washington Street and German Church Road. The company plans to raze the building to make way for a gas station and convenience store.
The acquisition is contingent upon approval from the Indianapolis Metropolitan Development Commission, which is set to consider the rezoning request April 15.
Meantime, Cumberland officials have issued a request for information to developers in hopes of saving the century-old building. Responses to the RFI are due by 5 p.m. April 10.
If a developer shows interest, the town could present a matching offer for church officials to consider and possibly redevelop the property under a public-private partnership.
"Ideally, the town wants a mixed-use development that preserves the historic structure, supports the transit corridor and complements the historic core of Cumberland," Town Manager Andrew Klinger said.
But the Rev. Jimmie Watson, who is serving as temporary pastor of the church, doubts anyone will step forward. If someone did, it would be up to Giant Eagle to step away from the deal, he said.
"We think that Cumberland is doing this to save face with their public," Watson said. "They can say, 'Hey, we tried.' But I don't see anything coming out of this."
Town, church and Giant Eagle officials have met with Indianapolis City-County Councilor Bent Hunter in recent weeks to explore the potential for a settlement between the parties.
From the meetings came the idea to issue the RFI to determine whether there's any interest in redeveloping the property.
"It's clear that everyone wants what's in the best interest of the church," Hunter said. "We're just trying to find the right solution. It's an extremely complicated thing.
Giant Eagle won a major victory in February when the hearing examiner for the city's MDC recommended granting the company a zoning variance to construct a 6,100-square-foot gas station and convenience store on the 4.8-acre site. The town is appealing the decision.
Church leaders say the building needs at least $750,000 in repairs—money the dwindling congregation doesn't have. It's building a new and smaller church on part of a 50-acre tract the church owns at the northwest corner of East Prospect Street and Carroll Road.
For about a century, the land that Giant Eagle wants to build on has been the site of the Tudor Gothic Revival-style church, which once was known as Deutsche Evangelische St. Johannes Kirche.
It opened in 1855, initially serving German immigrants who farmed the surrounding area. That structure was replaced later that century, and the current building opened in 1914.
 
Please enable JavaScript to view this content.