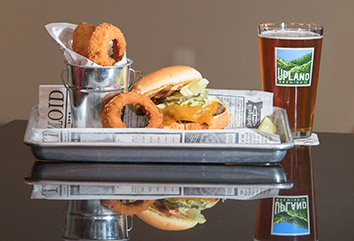 Up until now, I had a theory that airport chain hotels aren't terribly interested in the food they offer.
Now, if an airport hotel offered a respectable-looking burger joint instead of a generic eatery, I might reconsider. Which is why I was interested when I heard that the new Holiday Inn near the Indianapolis International Airport would be one of the first locations for Burger Theory (8555 Stansted Drive, 856-6200), a new dining concept being tested as part of the chain's "Next-generation" prototype.
Anchored around a beer-centric bar, Burger Theory offers a limited menu focusing on house-made burgers blended from chuck, brisket and short rib.
It's an idea that works—for the most part.
I'd skip the Chili-Glazed Shrimp Flatbread ($9), where chunks of grilled pineapple, goat cheese and diced red onion barely left an impression. Instead, at the risk of pushing too many fried items, I'd recommend the Buttermilk Tenders ($8), where the freshness of the chicken showed through. Honey mustard and barbecue are offered, and there's enough here to warrant trying both.
The BT House ($9 for a single) featured a juicy burger topped with appropriately grilled onions, an abundance of pickles, and a mayo-based sauce.
There's a Build-Your-Burger Option for the same price, with standard cheeses, veggies and sauces included and extras at $1 each. Or you can opt for such already-calculated combos as the Uptown ($10) with Portobello mushroom, caramelized onion, Swiss cheese, roasted garlic and mayo, or the Lone Star, with cheddar, thick-cut bacon (actually, not so thick, but OK), a set of parmesan-panko onion rings, and barbecue sauce.
A Crispy Fish Sandwich ($9) offered a substantial cod fillet with a citrus tartar sauce. The potato bun kept it all together without interfering with the taste.
A weary traveler should also be pleased with the Mason Jar Treats ($5) that make up the simple dessert lineup. We tried the Key Lime and the Brownie Sundae, each leading to spoons clanking against the glass to release every possible bite.
Afterward, in need of a nap, it was tempting to take advantage of the many Holiday Inn beds available.
Please enable JavaScript to view this content.