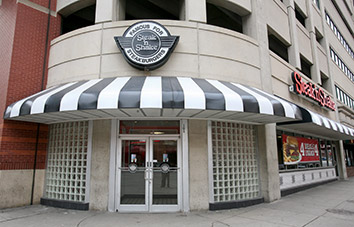 NEW YORK CITY — A Minnesota-based investment group that for months has been waging a campaign to oust Sardar Biglari from atop Steak n Shake's parent company weathered a resounding defeat Thursday afternoon.
Shareholders at the company's annual meeting re-elected CEO and Chairman Biglari and the company's five other incumbent directors.
Groveland Capital LLC had called for the election of a slate of six new directors to replace the board of Biglari Holdings Inc. The San Antonio-based firm held its annual meeting in New York City on Thursday at the swanky St. Regis Hotel.
Groveland CEO Nick Swenson appeared to realize the die was cast before the vote. "We do not expect to win seats this year," he said when announcing the slate. He added that it was "abundantly clear" that governance reform was needed at the company.
The investment group has been highly critical of Sardar Biglari's stewardship of the company, which in addition to Indianapolis-based Steak n Shake also owns the Maxim men's magazine, an insurance company, Western Sizzlin and a big stake in Cracker Barrel.
It argued that removal of the six incumbents was justified based on the stock's underperformance, the company's declining profitability, strained franchise relations, poor corporate governance and outsized compensation received by Biglari.
The dissidents received a vote of confidence in the days before the meeting from independent advisory firm Egan-Jones Proxy Services, which recommended Groveland's slate of nominees.
"In our opinion, the current board and management has failed to uphold practices of good governance and conduct itself in a way … intended to be beneficial to all shareholders," Egan-Jones wrote. "It is our belief that as long as the current board and management remain in control, that undesirable course will continue."
Egan-Jones joined advisory firms Institutional Shareholder Services and Glass Lewis & Co. in expressing deep concerns with Biglari Holdings' governance practices—including an unusual 2013 deal under which Sardar Biglari licensed his name to the company. Terminating that pact could trigger more than $100 million in payments to Biglari.
However, ISS and Glass Lewis concluded the Groveland slate, led by Swenson, was thin on experience. ISS did not recommend any Groveland nominees and said it feared a full overhaul of the board could "make a bad situation worse." Glass Lewis supported two Groveland nominees, those with the most-extensive restaurant experience.
Shares of Biglari Holdings slumped 21 percent last year—in part because of a controversial offering that allowed existing shareholders to buy more stock on the cheap. Meanwhile, Biglari Holdings faces a raft of lawsuits from franchisees accusing the company of unlawfully mandating menu prices and from investors angry over governance practices.
Biglari emphasized that his focus was on long-term growth. "We know price and value over time will converge," he said.
Vice chair Phil Cooley noted that Biglari Holdings shares have risen 37 percent in the last six years. "The performance of this company the last years has just been meteoric," Cooley said.
Please enable JavaScript to view this content.