"Why do you review chain restaurants?" I'm sometimes asked, the implication being that only locally created eateries deserve attention.

I have a menu full of answers, but the primary reason is that I'm interested in any place that changes the central Indiana dining landscape in some way. Most of the time that means new local restaurants. Sometimes, though, it means the first area appearance by a chain—and when that chain takes up a chunk of downtown real estate, it's even more worthy of attention.

Which brings me to Yard House (15 W. Maryland St., 917-4408), the expansive restaurant taking over a sizable piece of Circle Centre.

You might have already dined at Yard House on a business trip to California, its home base, where it has 20 locations. Or Las Vegas, where its three outposts include the Red Rock Casino. Conventioneers wanting something for every taste in the group seem to be a core market.

A lunch visit with two colleagues revealed a place whose identity is difficult to pin down. Yard House boasts a broad beer menu—but that was a more unique selling point 20 years ago. It's got original art on the wall—but like the dozens of other locations, it was all created by Jerome Gastaldi and doesn't leave much of an impression. Classic rock music is piped in, which, for some, adds to the comfort.

And the food, well, we were pleased with just about everything we encountered—although we hardly put a dent in the wide-ranging, something-for-every-conventioneer-with-an-expense-budget menu.

From the snack portion of the menu, I'd make a special trip back for the Ahi Poke Bowl ($6.95), featuring marinated raw ahi tuna, avocado, carrots, daikon radish, macadamia nuts, and crispy wontons, attractively piled like culinary Jenga. The Crispy Brussels Sprouts & Ripped Potatoes ($7.25) also pleased, with the trendy veggie given a memorable smoky flavor.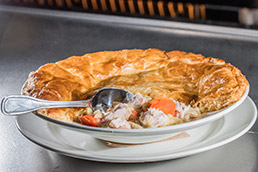 At Circle Centre newcomer Yard House, puff pastry dominates the Turkey Pot Pie (IBJ Photo/ Eric Learned)
A wide-brimmed bowl made the already massive Roasted Turkey Pot Pie ($15.95) look even larger than it is. Here, a delicious puff-pastry shell dominated the hearty dish, loaded with chunks of turkey, carrots, leeks, celery and fresh herbs. Yes, there was plenty for a substantial second lunch a day later.

The lunch sandwich combo ($9.95) means a salad or soup and a half-sandwich or pizza. Here, the Margherita Pizza left us a bit baffled. With a far thicker crust than is traditional (not that we were expecting authentic), it featured fresh tomato, basil and, allegedly, roasted garlic … but if the garlic was there, it certainly didn't taste like it. We paired the pizza with a Classic Ranch Salad, which surprised us with corn added to the standard ingredients.

Another lunch accomplice opted for a half Grilled Pastrami Sandwich and a half Caesar Salad. The sandwich held its own, but skip the salad, which looked and tasted suspiciously like the grocery bagged variety. And for good measure, do what we did and add a Vampire Taco ($6.50), a crispy, cheese-crusted flour shell packed with a satisfying combination of carnitas, bacon chorizo, chipotle salsa, guacamole and cilantro.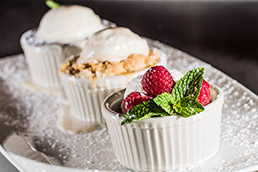 A Dessert Trio, above, is a smart exit strategy. (IBJ Photo/ Eric Learned)
With a new restaurant, it's difficult to resist a sampler (as tempting as the Salted Caramel Butterscotch Pudding might be). We went with the Dessert Trio ($8.95), featuring a Dark Chocolate Souffle Cake, Peach Apple Cobbler and Lemon Souffle Cake. While all earned praise, the cobbler was particularly winning with its crunchy apple-pie-like topping.

Beyond the dessert, the biggest plus we found is that Yard House serves lunch until 5 p.m., ensuring that those who find meeting piled on meeting with no escape until after 2 still have a viable option for a nice sit-down lunch—or an additional meeting over lunch.•

—Lou Harry