The arms race in local TV news continues to escalate.

WRTV-TV Channel 6 is the latest station to up the ante, with plans to launch a local one-hour news program at 4 p.m. branded "The Now" on April 20.

Coinciding with the show's debut, WRTV is unveiling a new set featuring 30 46-inch video monitors as a backdrop to the anchor desk, and seven 80-inch monitors to the side.

WRTV News Director Terri Cope-Walton is promising "The Now" will be a different kind of newscast for viewers in this market.

Cope-Walton
"It will be a little less buttoned-up than traditional newscasts," Cope-Walton said. "We're going to show the viewers the evolution of a story rather than a story in a nice, neat package. This show will let viewers see more of the reporting and news-gathering process and how a story develops.

"It gives us a chance to do real-time storytelling the way we do in digital and social-media spaces," Cope-Walton added.

"The Now" will be anchored by WRTV veteran Rafael Sanchez and new addition Candice Aviles, and will have a relatively short national news segment produced by WRTV's sister station in Denver.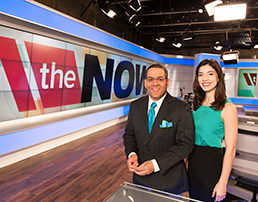 WRTV's 4 p.m. newscast, which will compete head-on with WXIN's local news at the same time, will be anchored by veteran Rafael Sanchez and market newcomer Candice Aviles. (IBJ photo/Eric Learned)
WRTV has been planning the show's launch since late November, and has hired six staffers—including three on air—in anticipation of the debut. Station officials said more might be added later.

"It's a huge investment," Cope-Walton said. "We're not just throwing this together. A lot of research and planning have gone into it."

Oversaturated market?

"The Now" is stepping into a crowded marketplace, with some media buyers wondering how much appeal yet another local newscast will have.

Bryant
"We're at the saturation point with local news," said Bruce Bryant, president of locally based Promotus Advertising. "They'd have to convince me that somehow they're going to grow the news-watching audience, and at 4 p.m. that's going to be a difficult thing to do."

Indianapolis—the nation's 27th-largest television market according to New York-based Nielsen Media Research—already has a combined 232 hours of local news each week. That's more than double the number from just five years ago.

WXIN-TV Channel 59 alone has expanded its weekly news offerings since 2010 from about 25 hours to a market-leading 66.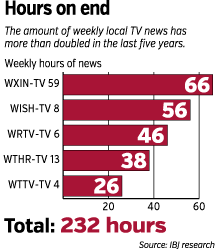 After WISH-TV Channel 8 lost its CBS affiliation in January, it added 20 hours of local news, pushing its total to 56 hours.

WTTV, which snatched the CBS affiliation from WISH, hired dozens of people and added morning and evening newscasts this year. WTTV had no newscasts before; it now offers 26 hours a week.

With the addition of "The Now," WRTV will produce 46 hours of local news each week.

WTHR-TV Channel 13—which produces 38 hours of news a week—remains the ratings king, often drawing twice the audience of other stations and commanding ad prices double to triple what other stations charge.

Battling WXIN

With WRTV parent E.W. Scripps Co. investing in local news, WRTV General Manager Larry Blackerby said his station is well positioned to make a mark at 4 p.m., where only Tribune Co.'s WXIN has a newscast.

Scripps bought WRTV and eight other TV stations from McGraw-Hill in December 2011, and industry sources said they've been pushing those stations to grow news offerings and produce a better news product.

Scripps rolled out "The Now" at 4 p.m. in eight other markets, and company officials said it's a sign of its commitment to local news.

"The Now" format in other Scripps markets has shifted from a light, trendy show to one that is more hard-hitting and focused on immediacy, Cope-Walton said.

Blackerby
Blackerby said he's not overly focused on WXIN, which, according to Nielsen, has 52,745 households tuning into its 4 p.m. newscast, and is second to "Dr. Phil" on WTHR.

"It's about getting the right demographic to sell," Blackerby said. "Sure, we want to beat the shows we're up against in any time slot. But we're more concerned about serving our viewers and advertisers."

The target market for "The Now" will be 35- to 54-year-olds.

"The audience may skew a bit older than other newscasts," Blackerby said. "That's the audience available at that time."

Goodbye, Queen Latifah

WRTV will shelve "The Queen Latifah Show," which, according to Nielsen, was registering less than a 0.5 rating (fewer than 5,000 households) in its 3 p.m. to 4 p.m. slot. "Judge Judy," which has a stronger following, will be moved from 4 p.m. to 3 p.m. as a lead-in to "The Now."

The primary goal for WRTV, Blackerby said, is to earn a higher rating in the 3 p.m. to 5 p.m. block; an average 2.2 rating would get the job done. So if WRTV does nothing more than steal half of WXIN's 4 p.m. news audience, it would be well on its way to reaching its initial objective.

Scott Uecker, University of Indianapolis communications instructor and general manager of cable channel UIndy TV, said there's good reason for WRTV to expand its news offering.

"With local news, you don't have to pay for syndicated programming. You control the entire ad inventory, and it's a good way to extend your brand," Uecker said. "And you take advantage of a lot of the fixed assets you already have in place."

There's good reason local stations put an emphasis on local news. Because they get to keep all the money from advertising during those shows, and newscasts still draw solid ratings—especially compared with non-prime-time syndicated shows—ad sales from local TV news make up 40 percent to 65 percent of a station's total revenue.

While Bryant isn't convinced WRTV can grow the total number of news viewers at 4 p.m., Uecker thinks it could work.

"WXIN, because it's a Fox affiliate, draws a younger audience, and so does their news shows," Uecker said. "If WRTV can produce a news product that draws a little older audience, they might find a segment that's not being served."

Fragmenting audience

Bryant said WRTV will primarily have to steal audience from WXIN at that hour.

"WXIN is right around a 4 rating at 4 p.m., and that's a mark advertisers look for," Bryant said. "If either of those stations slip much below that mark, that's going to have a negative impact on ad rates."

Officials for WXIN, which is owned by Chicago-based Tribune Co., were not available for comment.

WRTV officials are confident they can carve out a strong audience.

"People are really busy and their schedules are changing all the time," Cope-Walton said. "I feel there's a really good audience at 4 [p.m.] that wants to know what's happening locally."

While WRTV has often dragged the bottom of local news ratings, with Scripps' backing, there have been signs of growth.

For instance, WRTV has recently been No. 3 at 6 p.m. and 11 p.m. in the sought-after 25-to-54 age segment, behind WTHR and WXIN, and its 7 p.m. newscast has been competitive with WXIN overall.

"We're headed in the right direction," Cope-Walton said. "We've had growth in the morning, especially at 6 a.m., we're right in there at 6 p.m., and we're continuing to grow at 11 p.m. By adding "The Now" at 4 p.m., we feel that's going to help our overall news brand and help us grow ratings across our newscasts."•