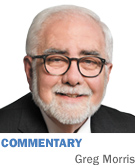 As a WIBC radio alumnus and longtime news/talk radio junkie, I took great interest in the news that, after 22 years, the station is canceling "The Rush Limbaugh Show" after July 3.

Whether you love or hate Limbaugh, and there aren't a lot of folks between those polar opposites, this is very big news at a legacy powerhouse radio station like WIBC-FM 93.1.

In case you missed the story, IBJ media reporter Anthony Schoettle's article was posted April 13 and can be found online at ibj.com. I'm not going to rehash the details Anthony covered, but rather try to give a peek behind the curtain from a radio executive's perspective.

First, I want to say I have great respect for locally based Emmis Communications Corp., parent of WIBC radio. Charlie Morgan has been at the helm as market manager of Emmis' Indianapolis radio division for more than six years and has done a masterful job of guiding four radio stations successfully through a period of extreme transition in the media business.

I believe the Rush move is a good one for the radio station. And not for the reasons the Rush haters are spewing. You have a faction of people out there who want to debase the man for his beliefs. And they'll tell you his audience is declining because the angry old white men who listen to him are dying off. (If his audience has declined, he still has the largest overall radio audience in the country.)

They'll also try to convince you that a huge uprising has forced most advertisers to pull their ads from his show nationally and that local stations are being pressured successfully to drop his show. These tactics highlight that being outraged and offended is a full-time job for some folks.

In any case, I submit that there was greater advertiser pushback against the show three or four years ago, and WIBC didn't cave and pull him off the air then.

Rush is washed up? Not yet. I imagine he'll be doing his thing as long as he wants to. But having said that, I know he won't be doing his show forever. Life moves on. And the programming gurus at WIBC have to make decisions based on what's in the best interest of their radio station going forward.

Morgan said the decision to eliminate the show was a complicated one. It was framed as a long-view move. This is a good thing. Looking ahead and charting a course for the continued success of your business is what companies are supposed to do.

The new program schedule should attract a broader and younger audience. There are a few other adjustments, but the big change is that, when Rush is gone, an up-and-coming talent will replace him. "The Dana Show" will air live 1-4 p.m. Right now, that show airs for one hour in the afternoon and the remainder is broadcast in the evenings. In essence, WIBC is betting that Dana Loesch is the future of conservative talk radio and that she will perform better than Rush over time.

The goal will be to increase audience in the demos advertisers want to buy. Radio is a great medium to target younger consumers. And in the case of WIBC, more listeners under 50 years old will translate to more advertising dollars spent. I've written about this before. As a consumer of general goods and services, you fall off most marketers' radar at age 50.

Morgan said the change isn't just about ratings, although ratings have to be considered. It's not just about money, although money has to be considered. Morgan made a rare on-air appearance and gave an interesting analogy while talking with WIBC morning host Tony Katz.

He said he gained a greater appreciation for what Jim Irsay went through when faced with deciding Peyton Manning's future with the Indianapolis Colts. Manning helped build the Colts franchise and still had more left in the gas tank, but the decision was made to make a change for the future. That's really what the Rush Limbaugh decision boils down to at WIBC.

Make no mistake. Taking Rush off the air was a tough decision for the folks at WIBC. Loyal Limbaugh listeners will be upset. But this, too, shall pass. Time will tell, and hindsight is 20/20, but I believe WIBC is making the right move at the right time for the right reasons.•

__________

Morris is publisher of IBJ. His column appears every other week. To comment on this column, send e-mail to gmorris@ibj.com.