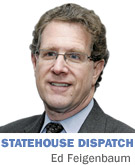 Once burned, twice shy. You should know that Hoosier legislators—particularly their leaders—are paying close attention to polls, proprietary and public, as the session winds down.

The bottom line from polling will help guide a civil tone you will see in the concluding days of the legislative session as the numbers convince lawmakers to adhere to the legislative equivalent of the Hippocratic oath: First, do no harm.

Those poll numbers leaders are privy to, you can be assured, track the results of the early April public polling on behalf of the Human Rights Campaign that confirmed significant damage to the approval ratings of Gov. Mike Pence.

It's obviously important to note that his favorability has plummeted some 50 percent (and 30 percentage points) from levels approaching two-thirds of the Hoosier electorate in January. But lawmakers will be eyeing two other numbers as they round out the 2015 docket.

They are cognizant of the fact that the political damage to the governor was found more among those who were not hard-core Pence supporters—moderate Republicans, Democrats and independents who had just liked the guy and what they had seen from his first two years in office.

That means a big bloc of voters who could swing either way in May and November 2016 are watching closely and, regardless of their opinion on the substance of the new law, are not pleased with the Religious Freedom Restoration Act fallout. Some 75 percent of respondents in the HRC poll describe the controversy as bad for business, having damaged Indiana's business climate.

But perhaps more important is the more holistic poll finding that less than a majority—only 47 percent of voters—find Indiana is on the "wrong track," versus 43 percent who believe the state is on the "right track." That balance is alarming given that Public Opinion Strategies polling in late January for the Indiana Association of Realtors showed 60 percent of Hoosiers surveyed believed the state was on the right track, compared with only 31 percent who thought we were headed in the wrong direction.

That's a cataclysmic turnaround in just over two months on an important metric that legislators will heed as they craft a budget with limited resources and resolve differences between the House and the Senate on the remaining major policy issues.

In retrospect, there is a key takeaway (which might now be viewed as a caveat) from the POS January polling memo to the Indiana Realtors: "Hoosiers are VERY HAPPY about the direction of the state (60 percent right direction).This high level of satisfaction has adjusted the political environment in favor of two dynamics: 1. support for the status quo; and, 2. heightened focus on non-economic related issues like education."

Note especially that last line and subtle reference to the Daniels administration "truce" on social issues. Now recall that 2015 was supposed to be the "education session"—and even if it still transpires that way in terms of finance, governance, testing and administration, the legislative class of 2015 will not be remembered for that.

If lawmakers listen to the polls—and their leaders certainly did in shaping session priorities late last year (neither RFRA nor common construction wage repeal were part of legislative agendas proffered by the legislative majority parties or its governor)—lawmakers will find cautionary guardrails advising them to not rock the boat and stick to their knitting in the final two weeks.

That shouldn't prove problematic as they forge a budget (if they avoid specific policy directives in the budget) and resolve House and Senate differences (without considering gubernatorial druthers, given his plunge in the polls) on key policy issues including gambling tax and policy changes; altering the state education governance structure; charter and voucher school expansion; common wage repeal; and business personal property tax and assessment matters, among other areas.•

__________

Feigenbaum publishes Indiana Legislative Insight. He can be reached at edf@ingrouponline.com.