A growing Chicago sports marketing firm with an Indiana connection is making a push into the Indianapolis market.

Revolution, founded by Indiana University graduate John Rowady, recently acquired Indianapolis-based Acts Marketing. Financial terms of the deal were not disclosed.

Revolution—which has 75 employees and counts the NFL, NBA, Budweiser, Chipotle Mexican Grill, Northwestern Mutual and Samsung among its clients—will initially employ six people here, with plans to triple that presence in the coming years.

Rowady
Rowady is aiming to double Revolution's overall revenue over the next three years—to $60 million—by expanding its work with current clients and through more acquisitions.

Revolution is a sports marketing firm handling sponsorship and broadcast deals, hospitality, event management, and research and analytics.

Acts became a target as Revolution—which has primarily grown organically—looked to enter the Indianapolis market and found the local company "was run by like-minded people," Rowady said. "We really liked Acts' ownership and their activation with sponsors."

Acts founder Garret Mudd, who previously worked for the Sports Car Club of America and Champ Car, will stay on with Revolution as executive vice president.

The firm will take over the Continental Tire account held by Acts and attempt to grow its presence in college sports, motorsports and soccer from the firm's new office off Allisonville Road.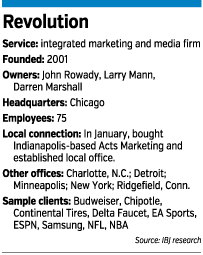 The Continental Tire account was a big part of what made Acts an appealing acquisition, industry sources said.

In addition to motorsports, Continental Tire is involved with Major League Soccer and the U.S. Soccer Federation.

Revolution won't rely solely on Continental to drive business to the Indianapolis office. Rowady said his company has already added area clients such as Delta Faucet and hopes to make inroads with the Indianapolis Motor Speedway and IndyCar Series.

"We plan to be very active in the Indianapolis market," said Rowady, who lives in Munster. "We think with the activity here and the city's central location, our Indianapolis office is going to be key to our growth."

Zak Brown, founder and executive chairman of Zionsville-based motorsports marketing firm Just Marketing International, predicted Rowady's company will make a mark.

"John is a smart guy and very experienced," Brown said. "He wouldn't be looking at Indy as a market if he didn't think he could be successful at it."

Rowady said he started his company "with no clients and no promises." After a stint working on Adidas and Puma accounts for sports marketing behemoth ISL Worldwide, Rowady decided it was time for a change. He didn't know how big that change would be.

On the morning of Sept. 11, 2001, he boarded a plane in Michigan headed for New York City, where he was scheduled to interview for a new job.

"We didn't get any farther than Cleveland," Rowady said.

His plane was diverted after the Twin Towers were hit. Upon landing, Rowady said, he had to scramble out of the airport after it received a bomb threat.

"I called my wife and told her, 'I think this is a sign. We're going to Chicago to start a business,'" he said. "It was my personal revolution. That's where the name of the company came from."

Rowady co-founded Revolution with then-ESPN Vice President of Sales Larry Mann. ISL alum Darren Marshall joined the firm in 2007 and became co-owner.

The company was started in the basement of Rowady's Michigan home, and in late 2001 moved its headquarters to the near-north side of Chicago. It has since opened offices in Charlotte, North Carolina; Detroit; Minneapolis; New York; and Ridgefield, Connecticut.

Locally based sports marketer David Morton said Revolution will have to look beyond central Indiana to meet its growth goals for the Indianapolis office.

"Indianapolis is a great sports town, but it's not a great sports business town," Morton said. "Companies headquartered here are not major sports sponsors. Those that are, are using it for advertising purposes and not for marketing. They don't truly activate their sponsorships."•