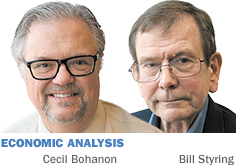 Hoosiers always sleep better when the Legislature isn't in session, no matter which party is in power. That's a thoroughly nonpartisan sentiment. Long experience suggests the more they stick around, the more they stick it to ya.

Unfortunately, special sessions occur all too frequently. This time, however, there is absolutely no reason the General Assembly shouldn't go home on time.

One big hurdle remains before our legislators can leave by their April 29 deadline: the two-year state budget. It's the one piece of "must pass" legislation. And as is so often the case, the main budget item up in the air is the school formula, the complex calculations that determine how much money each district receives from the state. The state funds nearly 100 percent of local public school general fund spending.

It's understandable—sort of—why the school formula is often a last-minute hangup.

For a legislator, school funding is a matter of electoral self-interest. Not every district has a university campus or a mental health institution. But every inch of Indiana is part of a public school corporation. Surveys show that 30 percent of Indiana households have at least one person, or a close relative, working for a school corporation. An elected official silently mutters, "30 percent of the voters."

School spending dwarfs everything else. At nearly $7 billion, it is over 40 percent of the budget and is three times what goes to higher education. That pot of money pays almost the entire cost of operating primary and secondary education. The formula determines how much of that pot goes to your district.

Then there is the tension between schools that are gaining enrollment and those that are losing. This can be roughly thought of as suburban (gainers) versus urban and rural (losers). Democrats represent most urban districts while most suburban and rural districts vote GOP.

Gainers want "dollars to follow the kids," while districts losing kids complain how hard it is to downsize. Both types always make a case for more funding.

Add to this that there is a pretty strong political consensus that districts with more "at risk" kids (kids in poverty) ought to get more money, although how much more follows predictable lines.

A conference committee now must iron out the differences between House and Senate versions, but those differences are not huge. They are not arguing about much.

Ladies and gentlemen of the General Assembly, it's time to go home.•

__________

Bohanon is a professor of economics at Ball State University. Styring is an economist and independent researcher. Both also blog at INforefront.com. Send comments to ibjedit@ibj.com.