We go to new movies all the time. We download previously unread books onto our Kindles. But when it comes to theater, audiences are often hesitant about the prospect of being told a new story.

A search for why could fill volumes of marketing, psychology and sociological texts.

Is it cost? Nah. You can go to many plays for the same price as a movie and popcorn or an average hardcover book. Previous unsatisfying experiences? Why, then, would we still go to another movie after seeing a string of bad ones?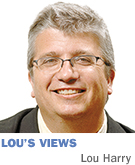 Whatever the reason, getting audiences to experience new live theater is an ongoing challenge. Which brings us to the Phoenix Theatre and to Actors Theatre of Louisville's Humana Festival of New American Plays. Between the two, I attended eight brand-spanking-new plays over a four-day period this month and found myself almost as appreciative of their gutsy audiences as I did of what was offered onstage.

Let's start with the Phoenix, a theater that devotes a remarkable percentage of its season to new work. There, through April 26, Nathan Alan Davis' "Dontrell Who Kissed the Sea" is being staged as part of the National New Play Network's rolling world premiere program (which gives select works the chance to evolve and grow in the hands of multiple professional productions).

Davis' play concerns a contemporary young man (played here by Eli Curry) mysteriously pulled toward connecting with an ancestor who jumped ship to his death rather than live life as a slave. On his journey, Dontrell records messages into an old-school mini-cassette recorder in an attempt to communicate with the future.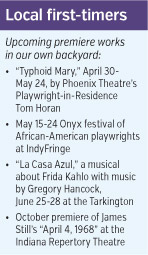 Designed ceremonially—with ritual drumming, stomping and dancing helping define the poetic tone of the play—"Dontrell" doesn't seem concerned with narrative connectivity and consistent motivations. Instead, it wants to lull the audience into a logic-suspending state. There, beyond the realms of conventional rules of cause and effect, we can accept, for instance, Dontrell's diving into a pool hoping he'll instinctually swim. Or supporting characters that just happen to have whatever Dontrell needs, be that a wet suit or a Viking ship. Much of his story seems preordained.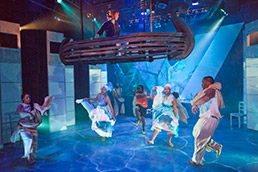 At the Phoenix Theatre, the cast of "Dontrell Who Kissed the Sea" erupt into dance. (Photo/Zach Rosing)
Destiny can be a tricky subject for plays, Oedipus notwithstanding. If a character is being pulled along a prescribed path, where's the drama? And I tend to find myself resisting plays reliant on messages conveniently delivered through dreams. Yet "Dontrell," infused with a youthful spirit and a willingness to mix the sacred and the mundane, gets away with what, in other hands, might have seemed like shortcuts. Credit, too, should go to Ben Rose and Milicent Wright, as Dontrell's parents, who give the play a pair of needed anchors.

Meanwhile, the 39th annual Humana Festival of New American Plays reminded me, once again, that premiere work isn't just for the hardcore theatergoers. I was more impressed with the willingness of local audiences to support the fest than I was, this season, with much of the work itself.

Humana's two short-play programs contained gems, including Charise Castro Smith's "Miss Faye and the Banjo" and Steve Yockey's bloody "Joshua Consumed an Unfortunate Pear." And, while not entirely successful, Erin Courtney's full-length "I Will Be Gone" felt like a promising play-in-the-making, with rich characters just another draft or two away from making this small-town ghost story rise to its potential.

But much of the rest left me wondering if Humana Fest's vetting process was slipping. Jen Silverman's "The Roommate" offered plum roles for a pair of actresses—one a naïve Midwestern empty-nester with an untapped penchant for adventure and the other a running-from-herself New Yorker. But difficult-to-believe actions and dialogue brought it down.

Colman Domingo's "Dot" treaded overtly familiar territory in crafting a family comedy/drama about three siblings dealing with (and not dealing with) Mom's slippage into dementia without bringing anything new or exciting to the table. And "I Promised Myself to Live Faster," a gay science-fiction fantasia crafted by Pig Iron Theatre Co., might have been a fun Fringe show. Stretched as it was into a full-length play, there was enough down time to reveal it isn't as outrageous as its creators seem to believe it is.

I'd gladly sit through a dozen duds, though, if I get one play like Charles Mee's "The Glory of the World," not just the highlight of this year's Humana Festival but the strongest work I've seen on stage since, well, since Humana presented Lucas Hnath's "The Christians" in 2014.

Any description is likely to baffle. Long stretches of silence. Seventeen men on stage toasting the 100th birthday of writer Thomas Merton. Antelope heads. A pool table. A chainsaw. A remote-controlled helicopter crashing to the stage. Don't ask me to explain, except to say it's the kind of play that jump-starts the mind. How do we process contractions and multiple points of view? Where's the border between exuberance and violence? How do we transition from romance to romance? What does a chained rhinoceros sauntering across the stage have to do with any of it? What is it like to be truly alone, thinking? Is body building analogous to learning?
Charles Mee's "The Glory of the World" proved the highlight of the Humana Festival of New American Plays in Louisville. (Photo courtesy of Actors Theatre of Louisville)
Impeccably staged by Actors Theatre Artistic Director Les Waters and cast with an ensemble whose personalities pop without guidance from the script, "The Glory of the World" is the kind of play that, had I not seen its closing performance, would have sparked me to contact every adventurous theatergoer I know and insist they make the easy trek down Interstate 65. Heck, I might have rented a bus.

As it stands, my advice is to bookmark Actors Theatre of Louisville and keep an eye out for whatever Waters plans to direct at the 2016 Humana Festival. Better believe I'll be there.•
ADDENDUM: Just after we went to press, Actors Theatre of Louisville announced that the 40th Humana Festival of New American Plays will include the world premiere of Sarah Rule's For "Peter Pan on Her 70th Birthday." Les Waters is slated to direct. I'm there.

__________

This column appears weekly. Send information on upcoming arts and entertainment events to lharry@ibj.com.