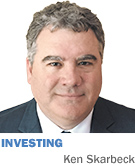 Back in the mid-1980s, as I was striving to make sense of the investment profession, I came across the investing icons Benjamin Graham and Warren Buffett. I was immediately hooked on their doctrine of value investing.
In those pre-Internet days, I used to scour references in the library for any item written by or about them. I would delight in the occasional archived article in Fortune or Forbes, or a blurb in the Wall Street Journal. Of course today, you can easily access volumes of material about these two men.
Yet, every now and then, an undiscovered relic surfaces, like finding a valuable antique in the attic. Such was the case a few weeks ago when the text of a speech delivered by Graham on Nov. 15, 1963, at the St. Francis Hotel in San Francisco appeared in my inbox.
The title of the speech, "Securities in an Insecure World," sounds like a topic one might choose to speak about today. Graham notes three concerns for investors in 1963: atomic war (the date is one week before the Kennedy assassination), inflation and market fluctuations.
Graham counsels that no portfolio could be prepared to deal with atomic war, and focuses his remarks mostly on market fluctuations.
He takes a look at 1949 to 1963, when the Dow Jones industrial average had risen from 163 to 750. He points out that stocks were undervalued in 1949 when the price-equity ratio of the market was seven and by 1963 were more expensive as the PE ratio had expanded to 20. Graham cautions his audience that the rate of appreciation in stocks is unlikely to continue.
Graham acknowledges in the speech that one of his original stock valuation formulas outlined in his famous book "Security Analysis" was too conservative and needed to be liberalized because "of the government's commitment to prevent large-scale depressions"—a condition eerily similar to today.
A lengthy discussion on stock market valuation and investor psychology follows, quite like sitting in a university lecture given by Graham.
He launches into various scenarios that challenge the audience how to "think" about investing. He discusses his thoughts that portfolios should range between 75 percent stocks and 25 percent bonds, holding a higher percentage in stocks when they are cheap, and vice versa, a lower percentage when they are expensive. He discusses the benefits of index investing and dollar-cost averaging for most investors.
He also notes that the investor who chooses to select individual securities must "think independently from the crowd." Buy value instead of popularity by selecting stocks of important companies that sell on a no-glamour basis; buy bargain issues, generally stocks selling below their working capital; and identify "special situations" securities involved in reorganizations, mergers and liquidations.
Of interest, Jason Zweig, of the Wall Street Journal, sent a copy of the speech to Warren Buffett, who was unaware of its existence, but after studying the text rated it as one of Graham's best.•
__________
Skarbeck is managing partner of Indianapolis-based Aldebaran Capital LLC, a money management firm. His column appears every other week. Views expressed are his own. He can be reached at 818-7827 or ken@aldebarancapital.com.
 
Please enable JavaScript to view this content.