The all-electric Formula E race series has been so successful in its first year that some insiders are talking about its open-wheel race cars competing at the Indianapolis Motor Speedway and perhaps even filling the grid of the Indianapolis 500.

That conversation is being fueled by the similar look of Formula E and IndyCar race cars—both are designed and built by Dallara—and the quality of drivers migrating to the world's newest open-wheel series.

IndyCar team owner Michael Andretti's participation as a Formula E team owner and race promoter is revving up speculation. Andretti has quickly become one of the biggest boosters of the new series, which staged its first race in Beijing in September and its first U.S. race in Miami in March.

The Beijing debut drew 75,000 fans, and the Miami race drew more than 50,000, making it a sellout. Sponsors jumping aboard include Tag Heuer, DHL, BMW, Michelin, Renault, Julius Bar and Rimac Automobile.

And while the driver hoisting the Borg Warner Trophy might not be piloting an electric car in the next few years, Indianapolis Motor Speedway officials are intrigued about bringing Formula E to the Brickyard.

Boles
"This series is in its infancy, but it's absolutely worth paying attention to," said Speedway President Doug Boles.

He confirmed that IMS and Formula E officials recently have had "introductory conversations."

"We want to understand what this series is about and what their business model is," Boles said.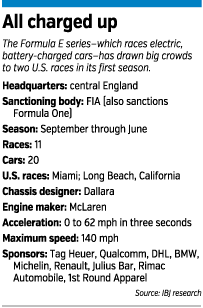 Formula E CEO Alejandro Agag said the 11-race series is interested in expanding—including in the United States—but declined to say which cities or venues might be targets.

While Boles said he doesn't see a Formula E race running at the IMS in May anytime soon or as a support race for the Brickyard 400 in July or MotoGP motorcycle race in August, it initially might run in conjunction with a sports car race at some point during the racing season.

"The Formula E model is to have stand-alone events, and I don't think it could be a stand-alone race at [IMS] in the near future," Boles said.

But what about the possibility of the IndyCar Series going electric or the Indy 500 becoming part of the Formula E circuit?

IndyCar President of Competition and Operations Derrick Walker said the IndyCar Series is not thinking about converting to electric cars, but, "You never say never."

Andretti has little doubt the Indy 500 eventually could run with electric cars.

Andretti
"It's amazing what they're coming up with [regarding] that technology," he said.

And he believes bringing electric cars into the hyper-competitive environment of auto racing will push that technology forward faster.

"When you start getting competition, they are going to be building cars that can go 300 to 400 miles on a charge," Andretti said.

Innovation history

The IMS long has been a hotbed for automotive innovation. The rearview mirror, seat belt, disk brakes and fuel-injection engines all trace their roots to the Brickyard.

"We want to continue to be a proving ground," Boles said. He thinks having electric cars race at IMS would fit that heritage.

It would also fit Hulman & Co. CEO Mark Miles' plan to expand the number of events the facility hosts.

"We absolutely want to and have to diversify the events at the track," Boles said. "But we have to do it in a strategic way."

In 2011, IMS began hosting an electric go-kart race for Purdue University.

"Eventually, the move to electric cars will take hold," Boles said. "That day is out there. The question is, when is it?"

The automotive industry is several years into designing electric engines and hybrids, and investigating alternative power plants.

Frost
"The key to racing series and facilities like the Indianapolis Motor Speedway is to remain relevant to the production of consumer automobiles," said Tim Frost, a Chicago-based motorsports business consultant. "As car makers like Chevrolet and Honda become involved in alternative power, racing series and tracks will have to do so as well."

While Honda hasn't discussed jumping into Formula E, Honda Performance Development spokesman T.E. McHale said, "We're always very interested in technology we can take to the track. I think most [original equipment manufacturers] want to have the opportunity to prove their technology on the track."

Formula E officials recently said eight manufacturers will join the series next season, increasing its credentials as a test bed for development. Formula E is set up as an "open championship," which allows more innovations than in the IndyCar Series. Agag said that, in theory, should propel electric vehicle technology.

Formula E has limitations on hardware and software, but how the systems handle power generation and preservation is mostly open. Series officials hope the flexibility will spawn electric drive-train innovation.

Strong start

Formula E—which is sanctioned by FIA, the same body that sanctions Formula One—has opened to mostly positive reviews and strong fan interest.

FIA said the opening race drew a worldwide TV audience of more than 40 million. Formula E officials have signed broadcast contracts with several of the world's biggest broadcasters, including Fox Sports in the United States.

Manufacturers and sponsors also have been drawn to the series. Dallara—the Italian company with a major manufacturing plant in Speedway—designed and makes the Formula E chassis, and McLaren—a regular in F1—makes the engine.

Brown
Myriad corporate sponsors have "very strong interest" in Formula E, said Zak Brown, founder and executive chairman of Zionsville-based motorsports marketing firm Just Marketing International.

"Sponsors like that it is global and is in major cities as well as [that] it is green and innovative," said Brown, whose firm represents Qualcomm, a Formula E sponsor.

Formula E in its short history has a solid record of attracting nontraditional sponsors, "and as the series becomes more well-known, that will only grow," Frost said.

For instance, the Miami race inked a major sponsorship with Florida Power & Light.

Formula E fans tend to skew a bit younger than traditional racing fans, motorsports marketers said, which is key to a sport struggling with an aging fan base.

Already, the series is attracting attention from nontraditional sports and racing publications. Wired magazine trumpeted in a recent article that Formula E "is the race series to watch" this year.

"We're not going after people like my dad," said Michael Andretti, referring to 1969 Indy 500 champ Mario Andretti. "We're going after the kids, a new audience."

The series has had no trouble attracting quality drivers for its 20-car fields, including a number of racers with significant IndyCar and Formula One experience, such as American F1 vet Scott Speed, Spanish IndyCar alum Oriol Servia and Brazilian Nelson Piquet Jr.

Drawbacks

The series has its shortcomings. For starters, the cars are strangely quiet, which traditionalists don't like. Andretti counters that many younger fans—and city officials where races are held—are pleased to avoid the roar of gas engines.

The Formula E cars also are much slower than IndyCars. While they go from zero to 65 mph in about three seconds, their top speed is 140 mph. IndyCars easily can exceed 230 mph.

"Racing in a really big facility like [the IMS] could make the cars look slow," Brown said.

Even on the IMS' serpentine road course, IndyCars hit speeds of 200 mph on the main straightaway.

Other Formula E challenges include the battery's heavy weight—which slows cars down—and its inability to hold a charge. Batteries currently last only 25 to 30 minutes and are so difficult to change out that drivers actually swap cars when the battery gets low.

While some see this as a distraction to the racing, IMS' Boles—who has watched every Formula E race—finds it intriguing.

"Watching the way drivers conserve energy and the strategy behind it, and even the car swaps … it makes for interesting television," he said.

Many racing-related businesses are taking a wait-and-see approach with Formula E, Frost said. But he added that even the skeptics are starting to believe the series is around for the long haul.

"Now, it's just a matter of shaping it into a perfected racing concept," he said.•