What makes the radio business fun is it's all about people—both the colorful talent behind the microphones and the dogged salespeople who hawk the ads.

But as Emmis Communications Corp. is experiencing, that's also what makes it brutal. The sudden and unexpected departure early this year of morning personality Kurt Alexander—better known as "Big Boy"—from Power 106 in Los Angeles was such a financial blow to Emmis that it helped spur the company in April to open negotiations with lenders to get breathing room on loan covenants.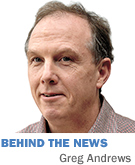 Big Boy jumped from Power 106, the No. 1-rated hip-hop station in Southern California, to an iHeartMedia station that changed its format to battle Power 106 head on.

Financial impact aside, Emmis' top officers were personally hurt. The Indianapolis-based company discovered Alexander when he was working as a bodyguard more than 20 years ago and invested millions to turn him into a star. (As his fame rose, so did his weight, which topped 500 pounds before he slimmed down following 2010 gastric-reduction surgery—an odyssey chronicled in his book "An XL Life: Staying Big at Half the Size").

Emmis now is tangling with Big Boy, 45, in court, arguing he owes $5 million for breaching his contract. The company contends "right of first refusal" language in the pact bound him to stay put after Emmis raised his salary from $1.45 million (plus bonuses and other benefits) to $3.5 million, matching iHeart's offer. Hollywood news outlet The Wrap reported iHeart's deal included various other sweeteners, including the use of a private jet for domestic travel.

All this happened at a less-than-ideal time for Emmis, which, like all radio operators, is weathering lackluster demand from advertisers nationwide.

L.A. had been an outlier to the upside for the company. Power 106, its only station in the market, saw revenue rise 8.2 percent in the nine months ended Nov. 30, a span when revenue market-wide fell 3 percent, according to the tracking service Miller Kaplan.

Big Boy
The news has been less bright in New York, where Emmis' three stations posted a 6-percent decline for the nine months, a shade better than the 7.3-percent market-wide decline, Miller Kaplan said.

While the company has 23 radio stations, the one in L.A. has been its most profitable, and the two markets together generate more than half of Emmis' radio revenue.

"We wanted to make sure during this period of uncertainty that we are managing the finances of the company prudently," Emmis Chief Financial Officer Patrick Walsh said.

The company is on track to win leeway on its debt ratios and also is tightening its belt, identifying $7 million in operating cost reductions for the fiscal year that will end in February 2016.

But it isn't all about saving money. The company is paying up to lock in key talent at its L.A. and New York stations—an effort Emmis acknowledges has been made more difficult by public disclosure of the big dollars offered Big Boy. It also has rolled out an "enhanced commission structure" in L.A. and restructured commissions in New York to emphasize event sponsorships and digital sales, two growth areas.

Competition is fierce for unique, on-air talent with a proven ability to draw a large audience on air, online and through social media, Walsh said. Meanwhile, he said, streaming services Pandora and Spotify are trying to build their sales forces in part by plucking top talent from traditional radio.

"I would say there definitely is a war for talent, both from a content development and sales perspective," Walsh said.

Of course, Emmis managers aren't sitting around feeling sorry for themselves. Walsh said the good news when a station fixture like Big Boy leaves is, it provides an opportunity for other talent to move further into the spotlight and maximize their potential.

Station leadership is racing to rebuild the Power 106 audience with a new morning show built around longtime station personality J Cruz, who is surrounded by most of Big Boy's former team.

But Walsh acknowledged rebuilding an audience takes time.

"So far, from a business perspective, things are going pretty well. We will see where we are when the initial marketing onslaught subsides, and see what our highly creative team can build," he said.

"We are in the early innings of a long game in Los Angeles. We have a great team we are highly confident of."•