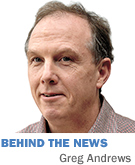 Marsh Supermarkets is trying mightily to cast itself as a formidable combatant in the Indianapolis market's grocery wars. But veteran industry analyst David Livingston doesn't buy it. He said Marsh's market share "continues to plummet" and that heavyweights like Kroger and Wal-Mart view the Fishers-based chain as an "ineffectual competitor."

Things are sure to get even tougher with Cincinnati-based Kroger Co.'s announcement late last month that it plans to spend $465 million to expand and upgrade its Indianapolis store base—an unprecedented investment that will include construction of 11 new locations and expansions or remodelings of 22 others.

The grocery business is close to a zero-sum game. When Kroger, the nation's largest traditional grocery retailer, gains market share here, it does so at rivals' expense. Likewise, the customers who now shop at the dizzying array of new-to-the-market natural and organic food retailers, from Earth Fare to Fresh Thyme, used to spend more of their grocery dollars at traditional supermarkets.

So it's not surprising that the Marsh store on East 86th Street in Nora saw a noticeable decline in customers when Kroger opened a store across the street in 2010. And the chain is likely to feel similar pain when Kroger opens the store it plans to build at West 116th Street and Michigan Road in Zionsville, just a half mile north of a Marsh store.

O'Boyle
Marsh CEO Tom O'Boyle declined an interview request but issued a statement saying the chain had achieved "significant business improvements" since he came aboard in December 2012. "Today, we are in a great position to build on what has been a rapidly improving business," he said in the statement.

O'Boyle said Marsh is "aggressively investing in our existing store base," with 10 remodelings completed in the last 12 months and another 23 slated for the next 12 months. A spokeswoman would not say how much it is spending on the upgrades.

Kroger spokesman John Elliott would not discuss specific competitors but said remodelings can be on vastly different scales. He said even Kroger's most-modest remodelings cost at least $1 million.

"There are some competitors out there that will make superficial investments that don't give customers anything more or better," Elliott said. He said such changes are unlikely to spur increased customer spending.

Marsh has retrenched repeatedly since Florida-based Sun Capital Partners acquired it in 2006. The company now has 74 groceries, down 36 percent from the 116 it operated back then. The latest round of closings, announced in April, was the second since the start of 2014.

It's worth noting that Kroger sees opportunity in neighborhoods from which Marsh withdrew. In last month's announcement, Kroger said it planned to build a 125,000-square-foot Marketplace store at 5325 E. Thompson Road, right by where a Marsh closed in January 2014. Kroger also plans a Marketplace at U.S. 31 and Mallory Road in Franklin, a half mile from a Marsh that closed at the same time.

Former Marsh CEO Don Marsh, whose family founded the chain in 1931, has been critical of the new regime. After the company charged in a 2009 lawsuit that he improperly billed personal expenses to the company, Don Marsh said in a statement that the "ownership is looking for someone to blame for their own poor business practices, which have severely impacted the company I once proudly led."

Livingston, who runs DLJ Research in Waukesha, Wisconsin, said that, rather than spending big on capital expenditures, private equity firms typically "milk the cash flow and assets and then at some point sell." Sun has put Marsh on the block from time to time over the years, but has been unable to strike a deal.

The company's biggest investment in recent years has been downtown. It opened a 40,000-square-foot Marsh at Senate Avenue and Michigan Street 15 months ago—a project that furthered its lock on the downtown grocery market. The only other downtown grocery is the Marsh at Lockerbie Marketplace, though competition is on the way in the form of a Whole Foods that's part of a $121 million apartment development under construction on the east side of downtown.

In his statement, O'Boyle cast the new downtown store as a big success. He said the company has reached an agreement to build another store in Indiana using the same "modern elements of our urban store." A spokeswoman would not reveal the location for that store.•