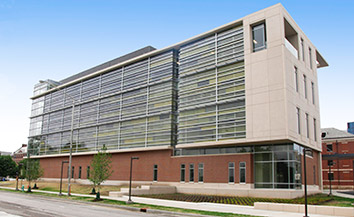 When construction started on the $30 million Eugene & Marilyn Glick Eye Institute in 2008, it was supposed to kick off a golden age for eye care and research at the Indiana University School of Medicine.
But since that time, the IU Department of Ophthalmology has seen nine physicians depart—nearly half its clinicians who care for adult patients. At least one more physician, retina surgeon Ryan Prall, is in the process of leaving.
If a 10th physician departs, the exodus would leave the department with only 10 physicians treating adult patients, and many of those doing so only part time.
The doctors have left because of a mix of disputes about pay and violations of patient privacy, according to multiple people with knowledge of the situation.
Much of the doctors' frustrations have focused on Dr. Louis Cantor, department chairman. But another issue is that some doctors have refused to join Indiana University Health Physicians, the entity trying to merge all the doctors associated with the IU medical school and those who are part of the IU Health hospital system's other private practices.

Cantor
"We are seeing normal faculty attrition during this period of transition and growth as we join the IU Health Physicians network," Cantor said in an emailed statement. "We are in the process of recruiting new ophthalmologists and continue to look forward to a bright future for ophthalmology research and treatment in Indiana and beyond."
Still, the loss of faculty members runs counter to the vision in 2007 when Gene and Marilyn Glick gave $30 million to the ophthalmology department to construct the institute, which opened in 2011.
"The number of people suffering from vision loss will double over the next five years as our population ages," said Cantor's predecessor, Dr. Robert Yee, during the groundbreaking. "This new building—combining research, patient care and education—will be an important resource for people in central Indiana and beyond."
Marilyn Glick died in 2012 and her husband died the following year. Phone messages left for staff at the Eugene & Marilyn Glick Family Foundation were not returned by IBJ's deadline.
After several years of growth, patient revenue generated by the IU ophthalmologists flattened out in IU's 2014 fiscal year, which ended June 30. According to tax filings from the ophthalmology practice, known as IU Eye Care Inc., the practice pulled in $12 million in the 2013-2014 fiscal year, down a tick from the $12.2 million in the previous fiscal year.
Before that slip, the IU ophthalmologists saw practice revenue increase 14 percent in 2011-2012 and 7 percent in 2012-2013.
Not unheard of
Ed Abel, a health care accountant at Indianapolis-based Blue & Co., said it's not common to see so many physicians leave within a few years of one another, but that it has been known to happen in nearly all the specialties in the medical school. Disputes over money are frequently the trigger, he said.
"It is not atypical for a group of specialists to grow dissatisfied, and decide, 'Hey I want to go do something different or to go to a different location,'" he said. "It doesn't happen every day, but it does happen from time to time."
Abel said he expects the IU medical school to successfully bounce back.
"They will replace these folks. Will they skip a beat here and there? Probably. You always do when you go through these things. But they'll take their time and hire good people," he said.
The physicians who have left since 2009 are: Hua Gao, Mohammed Ovais Peracha, Brian Samuels, Don Wilson, Amy Waddell, Rick Burgett, Clark Springs, Daryl Kurz and Dan Spitzberg.
None of the departed doctors agreed to comment for this story.
However, those with knowledge of their concerns said a big issue was pay. Doctors said they were not receiving as large a chunk as promised of the patient revenue they generated. The doctors grew frustrated as years passed without action from Cantor or other leaders at the IU School of Medicine.
Eventually, the IU physicians documented that they were not receiving proper credit for revenue from diagnostic procedures they recommended, according to those with knowledge of the situation. IU paid extra money in 2014 to correct those mistakes, according to multiple sources, but doctors who already had left did not receive the extra payments.
Fundraising concerns
Doctors also were concerned about the department's fundraising practices. According to those with knowledge of the situation, IU ophthalmologists would receive packages in the IU mail system with lists of patients scheduled for visits.
Circles or highlight marks were placed on some of the names—those who had given money to the department before or those who were known to have resources to make such donations. Notes were written on the sheets asking doctors to give the highlighted patients a tour of the Glick Eye Institute or ask them if they would like to make a donation.
According to multiple sources with knowledge of the situation, the lists of patient names and notes came from Linda Cantor, wife of the department chairman. She is the head of fundraising for the Glick Eye Institute.
The IU medical school declined to make either Louis or Linda Cantor available for an interview. But in an emailed statement, medical school spokeswoman Holly Vonderheit said the issue has been dealt with.
"When concerns were raised internally, more than one year ago, regarding potential issues with private patient information associated with donor communication in the Department of Ophthalmology, we conducted an internal review," she wrote.
"The review demonstrated, solely within that department, a lack of compliance with our own stringent policies designed to safeguard information about our patients. As a result, we revised aspects of our processes out of an abundance of concern for the privacy of patients."
However, some doctors wanted the medical school to inform patients whose information had been exposed to and used by fundraising personnel. When that did not happen, one physician filed a complaint with the U.S. Department of Health and Human Services in August 2014, alleging the practices violated the federal Health Insurance Portability and Accountability Act, widely known as HIPAA.
Vonderheit said the medical school has received no communication since then from the federal government about the complaint. A message left seeking comment from the Department of Health and Human Services was not returned.•
Please enable JavaScript to view this content.