Indianapolis air travelers will know there's something different about OneJet when they see the little plane parked outside gate B4.

It's a Hawker 400, big enough for six passengers, their carry-ons and two pilots. OneJet CEO Matt Maguire said that's all the capacity the startup airline needs to cover its growing network of nonstop flights between medium-size cities like Indianapolis, Milwaukee and Pittsburgh.

"What makes this model tick is creating nonstop connectivity through right-sized aircraft," Maguire said during a recent visit to Indianapolis International Airport.

Boston-based OneJet thinks it can fill a gap in service among small and medium-size cities that was left by traditional airlines' consolidation and preference for larger, more profitable planes.

Maguire
If successful, OneJet could help local companies regain time, which their employees used to spend on the road or flying through connecting airports, said John Porcari, former deputy secretary at the U.S. Department of Transportation and consultant to OneJet.

"It lets businesses here in Indianapolis fight above their weight," Porcari said.

Hub alternative

Indianapolis will probably never be a hub for traditional airlines, but Maguire said it was the perfect launch pad for OneJet because of its proximity to so many small cities, such as Nashville, Tennessee, and Richmond, Virginia.

Maguire said OneJet's data—the real guts of the operation—show there is demand for air travel between those cities. But it's 30 or 40 people a day, plenty to fill a corporate jet, but not nearly enough to satisfy a traditional airline's bottom line.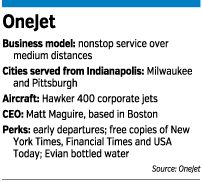 OneJet launched its operations here in April with the only nonstop flight in the market to Milwaukee. That will be followed by nonstop service to Pittsburgh, which begins May 11. More destinations will be announced over the next several months, Maguire said.
Other startups have their eye on a similar niche, Porcari said, but OneJet might have a head start on the potentially cumbersome regulatory approval process. OneJet is classified as a public-charter service, which means it has a set schedule, but if no one books a flight, the company doesn't have to fly an empty plane.

Most public charters operate seasonally to vacation spots, and OneJet is the first to use that section of the regulations for high-end business travel, Porcari said. OneJet says its flights will go ahead as long as one passenger is booked.

Ticket prices will be higher than for commercial flights. Travel-industry publication Skift reported that the average is 2-1/2 times competing flights, but OneJet spokesman Jon Austin declined to confirm that information. Also according to Skift, the first ticket sold on OneJet will be the most expensive, and prices will drop as the plane fills.

Competitive advantage

A recent search for flights from Indianapolis to Milwaukee found a round trip on OneJet at $458, compared with a United trip with a stop at $404.

With a ticket counter at Indianapolis International Airport and booking through travel websites, OneJet presents itself as a regular commercial airline. It hired seasoned commercial pilots like Dave Johnson, who spent 30 years at American Airlines.

"I really want to be part of something that's new to the industry," Johnson said. He and his co-captain, John Graff, enjoy working a fixed schedule, unheard-of for commercial pilots, and interacting with passengers. There's no room for flight attendants, so the pilots load passengers and run through the pre-flight safety briefings.
OneJet Captain John Graff explains a delay caused by Milwaukee fog to the flight's three passengers—from left, Kristin Vargo, Darin Day and Doug Greenawald. (IBJ photo/ Eric Learned)
The Indianapolis-Milwaukee route already has regulars who are on a first-name basis with the pilots, Johnson said. He and Graff even persuaded a traveler who was staying at their Indianapolis hotel—and complaining about his upcoming flight to Milwaukee via Chicago—to switch to OneJet.

OneJet also tries to offer a few of the perks of private jet travel. The boarding gate offers free copies of the New York Times, Financial Times and USA Today and bottles of Evian water. There's not much time for reading, though. Flights tend to depart half an hour ahead of schedule because, with only a handful of passengers, it's not difficult to have everyone ready to go.

The private aviation industry has been working for decades to save business travelers' precious time at lower prices. Berkshire Hathaway-owned NetJets started fractional ownership back in the mid-1980s, and it's still a popular option.

Fractional jet company JetLinx has been at Indianapolis International for seven years and last year expanded to Indianapolis Executive Airport in Zionsville, local President Casey Blake said. Companies that want frequent access to a private jet can join the JetLinx program for as little as $10,000, which goes toward the cost of future flights.

Blake said he doesn't fear OneJet's cutting into that business because private aviation still offers the advantage of complete freedom of schedule and destination.

Not first to try

OneJet isn't the first startup that tried to merge the best of private and commercial aviation. DayJet, started by former IBM executive Ed Iacobucci, hoped to bring on-demand jet travel to the masses in 2007, but the company flamed out after less than a year.

Porcari said DayJet failed because it attempted to start on a grand scale, ordering more than 200 Eclipse 500 very-light jets and requiring tens of millions in capital.

"This started from the demand side," he said of OneJet.

OneJet won't name its investors, who have ties to transportation and aviation, but it does tout its talent. Its director of engineering is Barry Smith, the former chief scientist of Sabre, a giant in travel-industry data and software. Other members of the executive advisory team are Massachusetts Institute of Technology transportation guru Cynthia Barnhart and William Swelbar, an MIT research engineer.

OneJet is even cagey about Maguire's background. The 29-year-old has been with OneJet since its inception about two years ago, spokesman Austin said. The company will not say where Maguire, based in Boston, previously worked, only that he worked "in both on-demand air service operations and the scheduled commercial airline industry."

Austin added that Maguire is a graduate of Babson College and holds several patents in air transportation system design.•