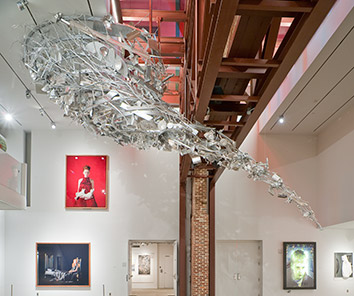 Indianapolis will be the first market where 21c Museum Hotels LLC competes with established art-centric hotels. Yet the company is so bullish about its future here that it expects to outperform its peers by more than 50 percent.
The Louisville-based company offered financial projections as part of the underwriting process on a $12 million federal Housing and Urban Development loan guarantee, one of several pieces of public financing that 21c and the city are trying to pull together.
Public-backed financing is anticipated for most of the $55 million project, so it's important to the city as well as to 21c that the projections pan out. 21c plans to convert long-vacant Old City Hall to gallery, office and event space and build 149 rooms and a parking garage on an adjoining parking lot.
If successful, the hotel would serve as a pillar for the emerging "Market East" district, where Cummins is building a distribution headquarters and Flaherty & Collins has begun construction on a luxury apartment tower.

Greenberg
"We think the demand for quality hotel rooms is strong and getting stronger," 21c President Craig Greenberg said. "We think these projections are very realistic."
Outside analysts say 21c's projections are ambitious but plausible.
"Although the projections seem aggressive, the holding company's group of hotels … continue to outperform the competition within their geographic market group," loan underwriter Charles Kennedy of Cambridge Capital Management Corp. wrote in his report, released recently to the Metropolitan Development Commission.
21c expects to achieve an occupancy rate of 70 percent, similar to the rest of the market, by its third year of operation, according to the report. (Most hotel operations stabilize by the third year.)
With an average daily room rate at $250, revenue per available room—a key metric of hotel performance—would be $175.
That means 21c would perform almost 54 percent better than similar Indianapolis hotels, according to the report. The underwriter drew performance data from a sample that included The Alexander and The Conrad Indianapolis—two existing art-centric hotels—plus the Omni Severin and the Westin Indianapolis.
21c outperforms the competition in each market, but to varying degrees. In its hometown of Louisville, 21c is a runaway success. Conde Nast Traveler readers voted it the No. 1 hotel in the United States in 2009, just three years after opening. Revenue per available room is $209—73 percent above the local market, according to the underwriter's report.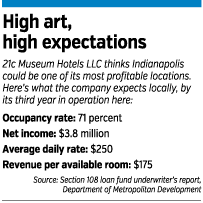 Expanding to Cincinnati in November 2012, 21c was the first full-service hotel to open downtown since 1984. At $140, revenue per available room is better than in the whole market, but only by 36 percent.
Meanwhile, in Bentonville, Arkansas, where 21c opened in February 2013, revenue per available room is $136—72 percent better than market peers.
Despite those successes, the company as a whole operated at a loss in 2014, according to the underwriter's report. The company swung from a gross operating profit of $316,000 in 2013 to an operating loss of $1.1 million as development fees declined and administrative, art and marketing expenses climbed. (The company will not charge a development fee on the Indianapolis project.)
21c faces almost no competition from high-end hotels in Cincinnati and Bentonville. Greenberg said he's optimistic about Indianapolis, despite the competition, because the hotel will see business from several directions.
There will be activity from the Indiana Convention Center and sports events. And because of its proximity to Cummins' distribution headquarters, the hotel will attract business meetings and events, he said. Old City Hall also is not far from the Mass Ave Cultural District and could attract art-seeking leisure travelers.
Mark Eble, vice president of the hospitality advisory firm PKF Consulting, echoed the underwriter's remarks about 21c's expectations for Indianapolis. By the time the museum hotel opens, other high-end hotels in the market could be approaching 21c's projected average daily room rate of $250, he said.
"It's aggressive but not crazy," Eble said.
Indianapolis will be part of 21c's second wave of expansion.
The company recently opened a hotel in Durham, North Carolina, and has one under construction in Lexington, Kentucky. More museum hotels are in the works in Oklahoma City, Kansas City, Missouri, and Nashville, Tennessee.
New hotels mean more revenue to absorb overhead costs, which could make the chain more profitable, Kennedy said in his report. At the same time, he noted, "Expansion is great, but always challenging."
Backing the growing hotel chain comes with risks, but it also means the city will shed the maintenance costs of Old City Hall, said Bart Brown, chief financial officer for the Indianapolis City-County Council. "That's a positive to us."
Through a city-controlled not-for-profit, the Circle Area Development Corp., 21c will enter a long-term lease for Old City Hall and adjacent land.
In addition to the federal loan guarantee, 21c hopes the Circle Area Development Corp. will co-sign for all or a portion of a $22 million bank loan. The Metropolitan Development Commission earlier this month OK'd using money, anticipated at $2 million to $3 million, from the downtown tax-increment financing district to help secure that loan.
The city also will provide a $9 million subordinate loan, also through the Circle Area Development Corp. 21c is to repay the loan from leases to not-for-profits, which could use the second, third and fourth floors of Old City Hall.
There are commitments from two organizations, the Central Indiana Community Foundation and the University of Indianapolis, for the second and third floors. While the downtown office vacancy rate is 18 percent, the underwriter's report noted, leases on all three floors are expected to be signed within the year.
CICF has three offices: one in the English Foundation Building on Alabama Street, one in Broad Ripple, and one in Carmel.
The organization, which oversees more than $700 million in charitable assets, said earlier this month that it's considering moving its staff to Old City Hall. CICF already has agreed to provide 21c with a $1 million advance on lease payments.•
Please enable JavaScript to view this content.