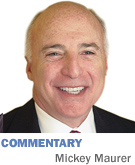 Yesterday all my troubles seemed so far away.
Now it looks as though they're here to stay.
Oh, I believe in yesterday.
"Yesterday." I hate that mournful Beatles song. From boardrooms to bathrooms, we have heard too much of this hand-wringing lyrical lament. The Hoosier nation is obsessed with how we got roasted over RFRA: conventions, jobs, student enrollment and business of all kinds—gone. OK, Indiana lost a fortune—perhaps in the billions. That was yesterday.
"The Sun Will Come Out Tomorrow." Let's sing a new song. We are the same Indiana we were before this fiasco—before we lost control of our destiny—before a few fervent zealots prevailed upon the super-Republican majority in the Indiana Legislature to stick it to the gays. Let's take back our beloved Indiana, and preserve a welcoming environment respected by the nation and fit for our children.
What do we need to do?
• Elect a new batch of legislators who have savvy and a skosh more humanity. Send the perpetrators home and don't invite them back. Remember, these legislators refused to even consider amendments to RFRA that would have protected LGBT rights. Redistricting would help. We need to redraw the map to produce competitive races. We can't do this all at once, but let's get started.
• Repeal RFRA. Dump that outrageous distortion of religious liberty that is being used to justify legally sanctioned discrimination. Christ Church Cathedral, part of the Episcopal Diocese of Indianapolis, said it well in the Indianapolis Recorder on April 3: "The measure places vital religious life in peril. This law is poor policy, bad for business, a dangerous example internationally and terrible theology. It should be repealed immediately."
Forget "the fix." It hardly moves the perception needle. Enact legislation that adds protection for all regardless of sexual orientation or gender identity to Indiana's existing anti-discrimination statute.
• "Pence Must Go"—maybe. Gov. Pence is the face of Indiana—at least until the next election. He changed the Indiana persona from "honest to goodness Hoosier hospitality" to "intolerant buffoons" in just three days. He has diminished support from academic institutions, businesses and our chamber of commerce. Pence must express regret and reestablish trust with the people in Indiana—all the people he swore to govern.
Our leaders peed in the state's sandbox. No wonder many businesses do not want to come and play. In spite of the new challenges, Secretary of Commerce Victor Smith is engaged in a valiant struggle to win and save jobs. He has posted victories, but he has suffered losses as a result of this tsunami. Pence needs to assist in the cleanup.
Today, Pence couldn't defeat a stalk of celery, but he has a year for rehab—enough time to dump his divisive social agenda, salvage his reputation and win reelection in 2016.
• Get involved. Vote. Indiana voter turnout for the November 2014 election was the worst in the nation. Put aside talk of keeping up with the Kardashians and the IU/Purdue basketball rivalry. Forget "Deflategate." Discuss politics and our future as a state. Two-hundred years ago, Indiana was on the cusp of statehood—membership and a full partner in a new nation. Political dialogue—sometimes heated—was de rigueur. Citizens were politically aware and active. We must resume those roles—amp up our participation and our enthusiasm for the political process.
If we root out what remains of the discriminatory laws and practice in Indiana, we can trumpet that in the last years of our second century, Indiana—a state once the hotbed of the Ku Klux Klan, a state that did not correct itself on miscegenation laws until the 1960s—arose and dealt the remaining vestiges of its legacy of bigotry a decisive defeat.
It's time to dispense with yesterday. Can we recover? Yes. Will the sun come out tomorrow? Bet your bottom dollar.•
__________
Maurer is a shareholder in IBJ Corp., which owns Indianapolis Business Journal.  His column appears every other week. To comment on this column, send e-mail to mmaurer@ibj.com.
Please enable JavaScript to view this content.