HHGregg Inc. has tried for four years to reverse sliding sales. That hasn't worked, and now executives have turned their focus to slashing expenses in a quest to return to profitability next year.

The Indianapolis-based appliance and electronics retailer plans to cut costs by $50 million and reduce inventory by another $50 million.

HHGregg disclosed the drastic measures last month following its latest earnings disappointment. The company has lost money in five straight quarters and hasn't reported an earnings increase since 2011.

Analysts who follow HHGregg aren't convinced the strategy will work.

"We think this has the potential to further jeopardize the footsteps it sees in its stores and the eyeballs it attracts to its website," UBS analyst Michael Lasser wrote in a report.

Besides the cuts, HHGregg intends to focus on its bread-and-butter appliance business while opening additional high-end Fine Lines appliance showrooms and bolstering its online presence.

May
CEO Dennis May said the moves will fix the struggling company.

"We are committed and confident on our strategic initiatives and believe we have the right team in place to return the company to [profitability] in fiscal year 2016," May said in an email responding to IBJ questions.

But will the efforts be enough to reinvigorate the 226-store chain and prevent it from becoming the next Circuit City, the rival chain that shut down in 2009? If they aren't, the company is running out of options, said Richard Feinberg, a Purdue University professor of consumer sciences and retailing.

"This quarter's loss is just part of a pattern that suggests that if they don't make changes in some ways, they'll have to be sold or eventually it's just not going to work," he said.

The company lost $25.2 million in its fiscal fourth quarter ending March 31 and $132.7 million for the entire fiscal year. The losses are slamming HHGregg's share price, which has fallen over the past 12 months from $10.17 to about $3.60.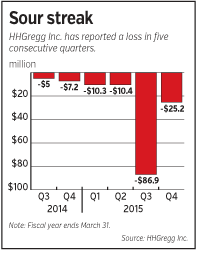 Just as vexing is that sales at HHGregg stores open at least a year—a key metric in retailing—fell 10 percent in the last quarter, stretching the company's string of same-store sales declines to four quarters.

Increasing competition

In the 1990s and early 2000s, HHGregg experienced steady growth fueled by big sales of flat-screen TVs. But sales in the video segment have been decimated by brutal price competition and tepid consumer demand.

The appliance and electronics market has become increasingly competitive among big-box rivals that continue to lose customers to online retailers such as Amazon.com.

But some of HHGregg's problems appear to stem from losing market share to other brick-and-mortar rivals. Robust performance helped propel Best Buy's stock from $28 to $35 over the past 12 months, and on May 21 the retailer beat analysts' quarterly profit estimates—partly on the strength of big-screen TV and appliance sales, areas of supposed strength for HHGregg.

Shares of regional electronics chain Conn's Inc., which is closer in size to HHGregg, have fallen from $48 to $38 in the last two years. But its stock surged 7 percent June 2 on a big earnings beat.

"HHGregg is in a challenging position," UBS' Lasser wrote in his report. "It is facing increasing competition from other consumer electronics retailers, mass merchants and the Internet, yet it does not carry key product categories, such as Apple products or mobile phones."

Once an authorized Verizon dealer, HHGregg exited the mobile phone business in April 2014 due to poor sales. Two years earlier, the company began offering furniture and fitness equipment.

HHGregg has expanded the number of furniture brands it carries and will test consumer interest in outdoor furniture and additional bedroom pieces. The company said in its latest annual report that it has grown furniture to 5 percent of sales.

Appliances and electronics, however, still account for most of HHGregg's business and between them represented nearly 90 percent of sales in the latest fiscal year.

Revolving door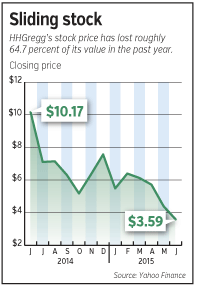 The financial struggles confronting HHGregg are reflected in the growing list of departures from its executive ranks.

Retaining an executive to oversee merchandising has been one of HHGregg's biggest challenges of late. The company in December hired Keith M. Zimmerman, its fourth chief merchandising officer in about three years.

Other top posts also have seen turnover.

In April 2014, Troy Risch, former executive vice president of store operations for Texas-based Radio Shack, joined HHGregg as chief operating officer, replacing Gregg Throgmartin.

Throgmartin stepped down to become CEO of Florida-based bicycle retailer BikeStreet USA. His departure left HHGregg without a senior executive from the founding Throgmartin family for the first time since the company began in 1955.

Robert Riesbeck arrived from Florida-based private equity firm Sun Capital Partners in September to become chief financial officer, replacing Jeremy Aguilar, who became chief financial officer of Sports Authority.

This year, Chief Marketing Officer Julie C. Lyle left in March but not on her own accord. The company terminated Lyle a little more than a year into her job and instead split her duties among other company officers.

Last month, board Chairman Michael L. Smith announced in April that he will not seek re-election to the board at this summer's annual shareholder meeting. Smith has been a director since 2005.

Smith didn't return phone calls from IBJ seeking comment on HHGregg's struggles. But he told IBJ in late April following his announcement that he's bullish on the company's future.

"Current management has done an excellent job pressure-testing their strategy and execution," he said.

However, he added, "We all need to be patient. This is an industry going through a tremendous amount of change. It takes a while to put new strategies in place and execute them successfully."

'Long road ahead'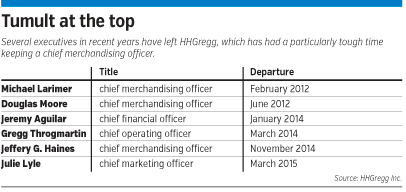 HHGregg has grown rapidly over the past 10 years, from 60 to 226 stores. But the company has put the brakes on further expansion. It opened just one store last year and plans to open another this year as it strives to improve operations.

Plans call for HHGregg to cut $20 million from its $160 million advertising budget and shift spending from print to digital. The company will slice another $30 million from operating expenses and reduce inventory by more than $50 million.

In response, UBS cut its price target on HHGregg's stock and downgraded it from "neutral" to "sell."

HHGregg is doubling down on refrigerators and washers and dryers by featuring appliance-only television advertisements for the first time in company history.

The company plans to further grow its appliance business through its Fine Lines outposts. HHGregg wants to expand the current base of five locations by building store-within-store showrooms, taking advantage of space available as HHGregg shrinks its floor plan.

"Our rich tradition and heritage in appliances and first-class products are part of the fabric of HHGregg," May said in his email to IBJ. "And as consumers continue to renovate and update their homes at a dizzying pace, HHGregg will continue to expand our premium appliance business through Fine Lines to meet their needs."

The news isn't all bad for HHGregg. The company is debt-free and its growing online business is profitable.

Even so, analysts remain skeptical.

"HHGregg remains a challenged retailer in a challenged space," Evercore ISI analyst Oliver Wintermantel wrote in a report. "It's hard to get excited about a company with falling traffic, falling share and falling gross profit dollars."

Lasser at UBS shared similar concerns, writing that HHGregg "has a long road ahead."•