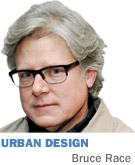 I am writing my final monthly installment from Houston. I have been offered a fantastic opportunity to start a research center with a focus on sustainability and resiliency at the University of Houston. Houston is the fourth-largest U.S city, on the second-largest estuary, and has the world's largest petro-chemical industrial complex.
The city is messy and multifarious, and has politics that are counter to the rest of the state. For an urban designer, Houston provides a lot of challenges. There is no zoning, and the city has a tradition of investing more in the private realm than the public.
Writing the urban design column for IBJ has allowed me to share my historic and contemporary perspective of Indianapolis' efforts to become a relevant modern city. My first experience in Indianapolis was as a VISTA volunteer in the 1970s. I lived downtown—before it was cool—as a neighborhood planner in 1980 and a member of the White River State Park master planning team in 1981. After moving to California, I was invited back as an adviser for the 1990 and 2003 Regional Center Plan updates.
Since 2009, I have had the honor to work as a university professor employing a service-learning model so students can work with communities to imagine a sustainable future for Indianapolis' neighborhoods and downtown. I consider the good work done by these students as my most important shared legacy. They are working all over the world, including in Indy, raising expectations and pushing for making great cities.
Great cities are born with certain assets, but from that time forward they have to make their own. Every city can identify its heyday periods of growth and investment. Indy, as most U.S. cities, has layers of investment reflecting community values, geographic and economic context, and changing transportation and construction technologies.
No. 1 asset
I have not been accused of being shy about sharing my observations, especially about the importance of leadership in building a successful city. Leadership is a city's most important asset. This includes the mayor and City-County Council, but also business leaders, professional staff, neighborhood leaders and not-for-profits.
The quality of the professional staff of the city's planning department has improved recently. But their inclusion in the development and planning process has been inconsistent, diminishing the quality of projects, such as the proposed justice center, that rely on public-private partnership. Our professional staff's inspiration and motivation come from the mayor's leading by example.
Indianapolis has to invest in people, not just projects. Leadership development in the agency staff, professional communities and neighborhoods has to be a byproduct of reinvesting in our community. That is how we raise the quality of projects and places, as well as the effectiveness of their delivery. The next mayor has to express a vision and define a mission that gives the efforts of community development partners meaning and satisfaction.
Transparency
Other local editorials have chastised Indianapolis leadership for making deals in a process that is opaque. The public-private processes required for making projects work economically in the frugal Indianapolis market are more successful when the process is transparent. When community members are co-investors in a project, they can express their expectations of quality.
Mayors can find that process "messy," and developers do not like the added metrics. In Indianapolis, certain developers and architects need to get over it. Really. It's the public's money, too.
Great cities are not just a collection of deals, they are a result of the expectations and abilities of the people who create and live in them. Indianapolis' future mayor and other elected leadership have to be clear about defining a mission and objectives that reflect Indianapolis' diverse stakeholders. Then they must act on it. That popular vision for Indianapolis can be found in Plan 2020.
Plan 2020's recommended design policies and strategies were the result of a community process. They are aspirational and imagine a future in which Indianapolis continues to become a great city that is livable and inclusive. The next mayor and his team should honor this collective vision, which establishes citywide design objectives for both new projects and historic assets.
Leadership listens
Good urban design integrates many elements and emerges from a process of shared ownership and commitment to excellence. I have worked with more than 100 mayors. The best city builders are good listeners, can articulate a popular vision, and motivate people to collaborate. The best city councils worked hard at doing the same.
I especially appreciate IBJ Contributing Editor Tom Harton for the opportunity to share my observations about our city, and my colleagues in the architecture and planning professional communities for welcoming me back after I was away.
Indianapolis is a very livable city with a lot of promise. I have confidence the many friends, neighbors and colleagues I will miss will continue working hard to help the city achieve its potential.•
__________
Bruce Race, FAIA, FAICP, PhD, is an award-winning architect and urban planner, owner of RaceStudio, and recipient of the Indiana Sagamore Planning Award. He is the director for University of Houston's Center for Sustainability and Resiliency. He can be reached at [email protected]
 
Please enable JavaScript to view this content.