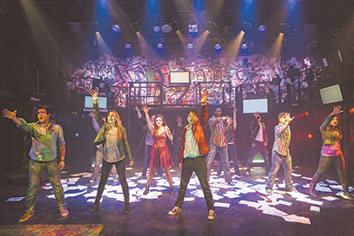 With the Phoenix Theatre opening "American Idiot" (through July 5) and Bobdirex following up on last summer's "Hair" with a revival of "Jesus Christ Superstar" (through June 21 at Marian University Theatre), my thoughts turn to the rock musical.
Here, two professional productions are offering the rare chance to see one of the most recent and strongest of the genre and one of the pioneers practically back to back.
I'll be doing just that. But, alas, print deadlines keep me from reviewing them in this issue. By the time you read this, though, you should be able to find my comments at www.ibj.com/arts.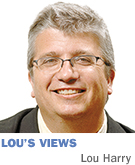 For now, some history and context.
Separated by decades, "Jesus Christ Superstar" and "American Idiot" share concert and album roots. "Superstar" was created as a concept album, with the first concert performance offered in 1971 (no, not in New York or London—it was in Pittsburgh) months before its Broadway debut.
Not an instant hit—even composer Andrew Lloyd Webber called the original New York production "a vulgar travesty"—the restaged show went on to huge success in England, spawned a film—which Webber didn't like, either—and launched a parade of regional productions and tours.
The depth of its appeal continues to impress. I've seen a half dozen productions of "Superstar" over the years—including the 2000 Broadway fiasco and the still-worse Sebastian Bach-led tour—and, even when it tanks, there's something undeniably exciting about the opening, in which an anguished Judas wails "Heaven on Their Minds."
Before "Superstar," such songs rocked in concert and on the radio, but Broadway had never heard anything like it.
"American Idiot" was also conceived as an album. But unlike the ad hoc nature of the performers on the original "Superstar" disc, "Idiot' was the work of an established band, Green Day. More akin to The Who's "Tommy"—which became a stage musical 23 years after it was recorded as an album, with its principal architect, Pete Townshend, central to the adaptation process—"American Idiot" made it to the stage under the guidance of its originators.

As such, it pushed back against a fundamental complaint about rock musicals—how do you keep a level of integrity and passion when the material is put in the hands of a for-hire group of performers? Well, if Green Day front man Billie Joe Armstrong crafted and endorses the show, who are fans to challenge its integrity?
These aren't the only routes rock musicals have taken. We've had—and continue to have—jukebox musicals that attach existing songs to new plots ("Rock of Ages") or that use hit songs as part of a musical biography ("Jersey Boys").
There have also been written-for-the-stage shows by established rock and pop musicians (Duncan Sheik's "Spring Awakening," seen a few seasons back at the Phoenix). And we've had original works by those without rock street cred (including "Rent," and past Phoenix shows "Bloody Bloody Andrew Jackson," "Next to Normal," and the outstanding, nothing-like-it "Hedwig and the Angry Inch").
What the most effective rock musicals have in common is the same thing great concerts have in common: the ability to make you want to crank the volume and not just hear and see the show, but feel it.
And if you can do that later in your car without embarrassing your not-theater-going rocker friends, so much the better.•
__________
This column appears weekly. Send information on upcoming arts and entertainment events to lharry@ibj.com.
Please enable JavaScript to view this content.