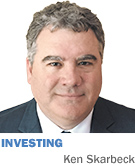 Chinese stocks have been on a tear. Last week, China's Shanghai Composite Index rose 8.9 percent. In the last year, the Chinese market has jumped 150 percent. No other major stock market has ever grown this much in dollar value over 12 months.

Since the beginning of 2015, the Chinese stock market has doubled in value from $5 trillion to $10 trillion. That means Chinese stocks tacked on the equivalent of the entire value of the $5 trillion Japanese stock market in just five months. The U.S. market is valued at $25 trillion.

Granted, Chinese shares had languished since the global credit crisis. A year ago, the price-to-earnings ratio on China's market stood at 9.6, the lowest since 1998. Following this vertical climb, the Shanghai Composite has a PE of 25, while the Shenzhen Composite of smaller Chinese companies has a 75 PE. At these elevated levels, plenty of observers are calling China's market a bubble.

Oddly, the stock market's rise isn't a reflection of a robust economy. China's GDP growth has fallen to its slowest expansion level since 1990, slumping to 7 percent. Observers also believe the government is concerned about rising levels of bad loans. China's total debt has more than doubled since 2009 as the economy has slowed. In addition, capital flight is a concern. It is estimated that $300 billion in foreign capital has left China over the past six months, partly due to the strength of the U.S. dollar and partly due to concern over the flagging Chinese economy.

Instead, the rise in stocks is being driven by individual investors and $348 billion of margin debt. In the last week of May, Chinese investors opened 4.4 million new stock trading accounts. With the bloom off the rose in the property market, investors are instead buying stocks and betting the government will increase stimulus efforts to improve the economy. China's central bank has cut interest rates three times since November, with the one-year loan rate currently at 5.1 percent.

Investing in Chinese stocks got easier for foreign investors last November with the launch of "Stock Connect." This linked the Shanghai market and the Hong Kong market to allow global money managers access to Chinese mainland "A shares" via stock purchases in Hong Kong. China has for years restricted allowing foreign investors to directly own the so-called mainland A shares of Chinese companies.

Yet in a bizarre example of market distortions, mainland Chinese A shares trade at a 35-percent premium over their Hong Kong-listed peers. The reason is that investors in Hong Kong are mostly institutions skilled in traditional methods of stock valuation, while nearly 85 percent of mainland China's investors are retail investors—many of them new and inexperienced.

Chinese investors were also hoping that MSCI, the U.S. index fund provider, would announce the inclusion of mainland A shares in its emerging market indexes. However, MSCI decided to delay that action, saying China must further liberalize its markets.

China's economy is not on the verge of collapse; however, it is under stress. As demonstrated in the past, the government has huge resources available to exert its control. In the meantime, Chinese stock investors should take Ben Graham's counsel to heart and "be fearful when others are greedy."•

__________

Skarbeck is managing partner of Indianapolis-based Aldebaran Capital LLC, a money management firm. His column appears every other week. He can be reached at 818-7827 or ken@aldebarancapital.com.