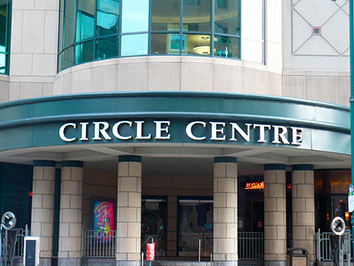 Circle Centre mall's occupancy slipped in 2014, but both profit and revenue grew at the downtown Indianapolis shopping destination.
Non-anchor retail occupancy for the mall declined from 90.5 percent in 2013 to 89.5 percent last year, mall manager Simon Property Group Inc. said in an annual operating report to the city.
New tenants signed in 2014 included clothing and jewelry retailer Nirvana as well as eateries Charley's Philly Steak, IndyYo frozen yogurt and Jiallo's African-Caribbean Cuisine. Jiallo's came and went quickly, opening in December and closing late last month.
Sales per square foot, the key measure of a retail property's productivity, was missing from Simon's report, however. Simon failed to produce the figure despite IBJ requests to a company spokesman and the mall's general manager.
The previous annual report showed sales per square foot slid to $326 in 2013 from $354 in 2012. Simon attributed that decrease to an inability to match the vast amount of foot traffic from the thousands of visitors who converged on downtown for the 2012 Super Bowl.
The mall lags behind Simon's portfolio average: Simon's 207 U.S. shopping malls and outlet centers averaged 97.1-percent occupancy and $619 in sales per square foot in 2014, both record highs for the company, Simon said in its latest annual report.
Circle Centre reported earnings of $8.6 million on revenue of $22.2 million in 2014, an earnings increase of $828,220.
The mall accounted for $7.3 million in sales taxes paid to the state, $2.4 million in real estate taxes, and $864,660 in food and drink taxes paid to the Capital Improvement Board.
The city, which owns the land on which the mall sits and the building itself, leases the property to Circle Centre Development Co., a partnership of Simon and 19 other local companies that provided $75 million toward the mall's $320 million cost.
As the mall turns 20 this year, there are concerns about the property's long-term future as a retail destination.
Circle Centre underwent significant changes after Nordstrom vacated its 210,000-square-foot space in July 2005, leaving the mall with Carson Pirie Scott & Co. as its only anchor.
The Indianapolis Star took over 100,000 square feet of that space in September and Yard House restaurant opened in late March, taking nearly 13,500 square feet.
Carson's, the mall's lone remaining anchor, appears to be struggling as well in its space. The city struck a deal with Simon in December to keep the department store from leaving. Under terms of the deal, Carson will save $300,000 annually through the next three years, until Jan. 31, 2018, through a rent reduction at the downtown property.
The mall has lost at least two tenants besides Jiallo's since the beginning of the year: teen retailers Wet Seal and Delia's.
Leasing continues to be the primary focus of the mall, Simon wrote in the report.
"We look forward to a successful 2015 and continued growth of Circle Centre as the premier shopping destination for our local Indianapolis residents as well as visitors to the Circle City," Simon said.
 
Please enable JavaScript to view this content.