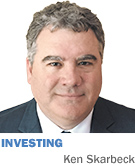 Indiana's latest pitch to lure business received national attention and stirred up some controversy. Yet that is exactly what a full-page ad in The Wall Street Journal is meant to do. So, mission accomplished.

The June 10 ad specifically targeted General Electric, Aetna and Travelers and suggested that, in light of proposed tax increases in their home base of Connecticut, Indiana offers a more tax-friendly environment for businesses. Connecticut's Legislature recently approved a budget that includes $2 billion in tax increases.

Sure, the ad delivered a political jab to Connecticut Gov. Dan Malloy, who publicly ripped Indiana over the RFRA fiasco. And there were comments that competition between states shouldn't be so brazen.

Of course, this isn't the first time Indiana officials have publicly touted our state. In 2011, the "Illinnoyed" ad campaign was directed at Illinois' onerous tax environment. The Indiana Economic Development Corp. claims 40 Illinois businesses have made plans to move some or all operations to Indiana in recent years.

So why not flaunt our state? Indiana ranked 13th overall in a recent CNBC analysis of 60 measures of competitiveness. In the "cost of doing business" category, Indiana was No. 1, with the lowest-cost state for businesses. Connecticut was 33rd overall and the 47th-costliest state for business, while Illinois ranked 19th and 29th, respectively. Minnesota came in first as the best state overall for business.

Indiana should be out front aggressively recruiting businesses. Our state offers numerous assets that can facilitate growth. Our substantial auto businesses that serve the automotive industry include Cummins, Allison, Haynes International, Remy and KAR Auction. Indiana's health care firms include Eli Lilly, Anthem, Zimmer and Cook Medical. In the northern part of the state, Indiana dominates the RV industry, which is in the midst of a renaissance.

Our state possesses favorable logistics, with port facilities to the north on Lake Michigan and south on the Ohio River and a state-of-the-art airport in central Indiana. Our nascent tech industry has gained traction with several successes, including ExactTarget, First Internet Bank and Interactive Intelligence.

Excellent higher education institutions dot the state. Purdue's world-class reputation for engineering has attracted a slew of aerospace projects, led by GE's assembly facility.

Indiana also has a fine stable of community banks to finance business growth throughout the state. There is Lakeland Financial ($3.4 billion in assets) in Warsaw, and 1st Source ($4.8 billion) in South Bend. Southern Indiana has German American Bancorp ($2.2 billion) in Jasper and Old National ($11.8 billion) in Evansville. Muncie has First Merchants ($5.8 billion), and Greensburg has MainSource ($3.1 billion).

Indiana's business advantages are possible because the state has kept its fiscal house in order. Connecticut needs to raise taxes to close deficits that are running about $1.5 billion over the next two years, while Indiana projects a $1.9 billion surplus in two years. Connecticut has the third-highest debt per capita at $31,298, while Indiana ranked 48th at $7,094.

As the U.S. economy continues to improve, the timing couldn't be better for Indiana to parade its assets as a state that is attractive for business.•

__________

Skarbeck is managing partner of Indianapolis-based Aldebaran Capital LLC, a money management firm. His column appears every other week. He can be reached at 818-7827 or ken@aldebarancapital.com.