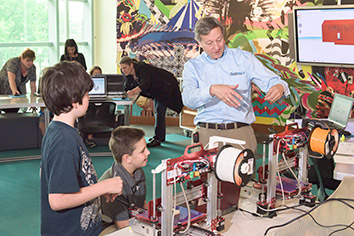 An engineer by trade, Indianapolis entrepreneur Kim Brand is used to tinkering with things to make them work better. His biggest project lately hasn't involved machines or parts, but rather business models, and he believes he's nearing that "eureka" moment.
Brand is president and co-owner of 3D Parts Manufacturing LLC, one of a few firms in the region that produces 3D printers. But business has been slow, as commercial and personal 3D printing demand has not lived up to recent hype.
So in January, Brand and a business partner launched a startup focused on the education market, called 1st Maker Space. It targets students in formal and informal class settings, and 3D printers are just a part of its arsenal. Based on its showing so far, Brand predicts it will grow faster than his manufacturing business, surpassing 3D Parts' $1-million-a-year revenue by 2016.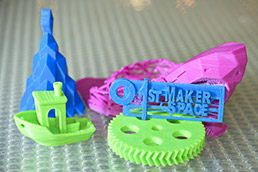 1st Maker Space believes it has a sustainable business model for giving students "maker space" experiences. (IBJ photo/ Eric Learned)
"I have bet my entire retirement on the fact that parents want their kids to succeed, that employers want smart employees, and that kids want to learn in a different way than by taking tests," said Brand, 62.
3D printing, or "additive manufacturing," has been around since the 1980s. But it's generated a great deal of buzz in recent years as long-held patents expired and marketers touted future possibilities, including 3D-printed shoes and food.

Biehler
But the hype might have been premature. Industry observers, including Vancouver-based 3D-printing consultant John Biehler, said high printer costs, long printing times and products with short shelf lives have made it a tough sell.
"As time wears on, the hype is starting to fade and people are starting to see what these machines are capable of," Biehler said, "and they're not as impressed" as marketers hoped they would be.
3D Parts hasn't targeted household consumers per se, but it's still a product-focused company. It either makes parts and prototypes or sells the printers that make them—neither of which is a particularly hot market.
1st Maker Space, meanwhile, aims to sell "maker" experiences.

 Tremain
It targets schools, but schools don't have to pay, said Carolee Tremain, whom Brand tapped to run 1st Maker Space. She said the company trains public schoolteachers for free and equips them with 3D printers to use during the school day. In exchange, 1st Maker Space gets to use school space to run after-school programs for which it charges parents roughly $200 per child per week.
She said the company has trained 90 educators and plans to hire 30 to 40 of them as independent contractors to run some of its programs. The pitch has piqued the interest of several school corporations, Tremain said, even some that are cash-strapped.
"It's like putting shop classes into schools and giving kids an opportunity to play in shop classes after school hours," said Tremain, a 20-year teaching veteran who spent seven years at Indianapolis Public Schools.
The concept goes beyond 3D printers to embrace the "maker space" movement, which entails, for instance, metal workers, clothing designers, woodworkers and other craftspeople sharing space to create products. 
1st Maker Space debuted its maker space at Arsenal Technical High School, where some tabletops were covered with 3D-printed propellers and small motors, just a few of the parts used in making air-propelled cars.
The company plans to build maker spaces at Noblesville High School, Shortridge High School and possibly two other schools by the end of the year. It also has summer programs with organizations including the Indianapolis Central Library, which paid just under $9,000 for the company to run free workshops for eight Mondays this summer.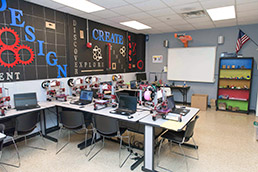 1st Maker Space completed its first maker space, at Arsenal Technical High School, in June. Teachers may use the space during school hours for free, and the company will use it for after-school programming. (IBJ photo/ Eric Learned)
1st Maker Space programs have drawn about 250 children and $50,000 in revenue so far this year, most of it since summer programming launched in June. It's still early, but Brand said he expects the firm to serve about 3,000 students next year and generate $1 million to $2 million.
"[The] education business model is scalable," Brand said. "Manufacturing isn't."
Brand had tried his hand at the education market before, in early 2014, when 3D Parts put about 20 grant-funded 3D printers, along with activity guides, in math and science classrooms. He thought the venture would yield service revenue and generate purchase interest, but that never proved true.
"We thought that every school was going to want a 3D printer. We thought the value was obvious and we thought that they would pay for it," he said.
"But despite education being a $1.1 trillion industry, no school had any money, and … no school had any time."
Tremain said she heard about 3D Parts' education initiative through a news article last May and reached out to Brand to get a 3D printer for her class. She ultimately shared her thoughts on where she thought the initiative fell short—including teacher training and curriculum development—and Brand offered to hire her.
Tremain signed on with 3D Parts last summer, and, over the next several months, she and Brand crafted a model for engaging teachers, giving students time in maker spaces, and generating revenue. Tremain said she wants to expand hands-on learning opportunities in a test-driven education system, and Brand said he wants to do that with a sustainable business model.
By January, they spun the venture off into its own company, kick-started with a $276,000 investment by Brand and other angel investors.
While Brand was initially looking to jolt his manufacturing business, he said he's content with 1st Maker Space operating as its own entity. The shareholders in 3D Parts are the essentially the same shareholders in the spinoff, and they expect it to yield solid returns. While 1st Maker Space has purchased about 300 3D printers from 3D Parts, Brand said the relationship is not exclusive.
Biehler, the consultant, said there is a good deal of market demand from educators. But he recommended that schools shop around before committing to a full suite of supplies and services from one vendor.
"Whether it's a sustainable sole venture, that's still to be determined," Biehler said. "But I think it's a really exciting space to be in right now because it is so new and so untapped."•
Please enable JavaScript to view this content.