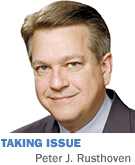 Midst the furor over President Obama's deal with Iran—which (at best) delays its becoming a nuclear power—let's remember that one national leader has long warned against this. Among his trenchant observations:
• "An Iranian nuclear weapon would be profoundly destabilizing for the entire region. It is strongly in America's interest to prevent such a scenario."
• "We cannot allow Iran to get a nuclear weapon. It would be a game-changer in the region. Not only would it threaten Israel, our strongest ally in the region and one of our strongest allies in the world, but it would also create a possibility of nuclear weapons falling into the hands of terrorists."
• "The United States and the international community" must "prevent Iran from acquiring nuclear weapons."
• We must "remain committed to preventing Iran from acquiring nuclear weapons."
• Our objective must be "making sure that Iran does not weaponize nuclear power and that we don't trigger a nuclear arms race in the region."
• A "grave concern—and a threat to the security of Israel, the United States and the world—is Iran's nuclear program." America must "prevent Iran from acquiring nuclear weapons."
• "Both the Iranian and the Israeli governments [must] recognize that when the United States says it is unacceptable for Iran to have a nuclear weapon, we mean what we say."
• America should "not countenance Iran getting a nuclear weapon." The goal is not "to contain an Iran that is in possession of a nuclear weapon;" it is "to prevent Iran from getting a nuclear weapon," because "a nuclear-armed Iran is not a challenge that can be contained."
• The same leader repeatedly emphasized that "all options," including "military force," had to be "on the table" to keep Iran from getting the bomb.
Readers may have guessed that the leader is Barack Obama. But don't credit me for gathering the quotes. That was done by Jeffrey Goldberg of The Atlantic, in an article titled "Obama's Crystal-Clear Promise to Stop Iran From Getting a Nuclear Weapon."
Mind you, Goldberg wasn't criticizing Obama. This was a 2012 piece saying Israeli Prime Minister Benjamin Netanyahu "hasn't been listening" when Obama "promised to do 'whatever it takes' to prevent Iran from crossing the nuclear threshold."
Goldberg pooh-poohed those who thought Obama a "bluffer" who would "move toward a strategy of containment soon after the election," and would never "use military force to prevent Iran from getting the bomb." No, we should "take him at his word," because "he's repeated himself on the subject so many times" and "has laid out such an effective argument against containment and for disruption, by force, if necessary."
Not effective, it seems, to Obama himself. Among other things, his deal with Tehran lifts economic sanctions and the arms embargo; yields over $100 billion for the leading state-sponsor of terrorism; and allows it nuclear weapons in 15 years—15 years, that is, if Iran keeps its word (which it has never done) despite no effective inspections.
Goldberg now says the "dirty little secret" is "that it is very difficult to stop a large nation that possesses both natural resources and human talent, and a deep desire for power, from getting the bomb."
Not a "secret" to many of us, Jeffrey. Our president—supremely naïve, arrogant, feckless—has sown the wind. Our children and grandchildren will reap the nuclear whirlwind.•
__________
Rusthoven, an Indianapolis attorney and graduate of Harvard College and Harvard Law School, was associate counsel to President Reagan. Send comments on this column to ibjedit@ibj.com
Please enable JavaScript to view this content.