Angie's List Inc. Chief Marketing Officer Angie Hicks described a marketing problem in a July 22 earnings call with analysts. The company's ads are drawing people to its free marketplace instead of its paid memberships, she said, and she planned to tinker the messaging. "Our goal is to drive both," she said.

As the company tweaks, several analysts say its problem might be in its memberships, not its messaging. Subscriptions for reviews are a tough sell these days, especially if they're used only a few times a year, and trying to straddle a legacy business model with a new one is a tricky proposition.

Helfstein
"What we think they should do is literally drop the subscription model," said Jason Helfstein, head of Internet equity research at New-York based Oppenheimer & Co.

The company is at a crossroads in more ways than one. It's looking for a permanent CEO to succeed Bill Oesterle, who stepped down in June to pursue civic goals. For years, the reviews company has sold memberships to consumers and advertising to service providers, but recently it's been trying to become a marketplace that brokers transactions and gets a cut.

Angie's List, at least for now, has opted to promote both its paid memberships and its free marketplace. Investor patience, however, appears to be wearing thin. Company stock traded at and near record lows last month before rallying to recover some ground. Despite being 20 years old, Angie's List has a profitability profile similar to that of a tech startup.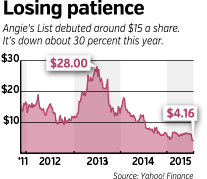 Company officials declined to discuss membership and marketplace strategies.

Angie's List management "has destroyed shareholder value in a rising market," said analyst Ken Copley of Iowa-based Capital Executive LLC. "It tells you they have the wrong strategy."

Angie's List has grown revenue at least 19 straight quarters, according to earnings reports, reflecting its expansion to more than 250 U.S. markets. But spending, primarily on marketing and technology, has outpaced revenue in 15 of those quarters.

The company has never turned an annual profit, before or after its November 2011 initial public offering.

Most investors seemed content trading profits for growth for about two years following the IPO. But Angie's List has continued to burn through cash with little to show for it, repeatedly missing earnings estimates. Its stock went from trading around $18 a share in January 2014 to as low as $3.73 on July 27—a 79-percent slide.

"The leash is not too long, probably 12 months at most for it to … prove out the economics," said Rohit Kulkarni at RBC Capital Markets in San Francisco, who thinks the company needs to grow its free marketplace faster. If it can't show investors the money soon, "then probably it ceases to be a sustainable, ongoing enterprise," he said.

Value behind the wall?

Deciding to drop its membership model might not be so cut-and-dried. Angie's List has spent hundreds of millions in marketing dollars growing its membership, a revenue source that contributed $73 million to its $315 million total last year. But if executives maintain the model, analysts said, they could undercut the growth of the company's marketplace.
Harper
Blake Harper, a Baltimore-based analyst at Topeka Capital Markets, said company officials "probably don't want to devalue" their content by making it free.

For years, Angie's List has noted that it allows no anonymous reviews and that, unlike free review sites, it has a way of preventing providers from reporting on themselves or competitors.

Besides certified reviews, the company's main offerings behind the paywall are customer support, Angie's List Magazine and discounts on services. Tiered annual rates start at $10, $30 and $60.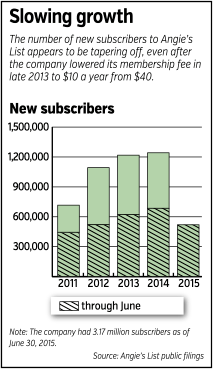 Harper and RBC's Kulkarni said the company should move more of those offerings outside the paywall. Harper said opening service discounts to non-subscribers, for instance, might entice more of them to use Angie's marketplace. Kulkarni said such a move might increase the website's inventory of deals, which in turn attracts more users.

The company can succeed with a hybrid membership/free model, he said, "if they make 80 [percent] to 90 percent of the consumer value proposition free" and charge a small fee for the rest.

Kulkarni, who also covers other Internet technology companies, said reviews companies that have struggled to broker transactions have lagged in recent years.

Angie's List first began reporting marketplace, or e-commerce, results in the fourth quarter of 2013, a year in which sales were $6 million, or about 8.7 percent of revenue. Last year, e-commerce sales were $6.1 million, roughly 7.4 percent of revenue.

In mid-July, the company fired its president of marketplace and e-commerce, Patrick Brady, and spread his duties among other managers.

"It obviously wasn't going so well," Harper said.

The company no longer discloses e-commerce revenue separate from service-provider revenue, but said it's been pleased with e-commerce results in the latest quarter. The company said it grew marketplace offerings 22 percent last year, to 205,000 units, and saw the value of marketplace transactions grow 37 percent.

"Our increased focus on attracting consumers and members to our Shop and SnapFix products contributed to the highest level of e-commerce engagement ever," Hicks said on the latest earnings call.

But most of the e-commerce traffic takes place inside the paywall, company officials said. Kulkarni said if the company wants to expand its addressable market, it needs to "sweeten the value" for consumers outside the paywall much faster.

Helfstein, of Oppenheimer, said consumers aren't inclined to pay for information.

"For the most part, you find information for free," he said, "and the businesses monetize you afterwards, not beforehand."

Membership headwinds

Angie's List says about 27 million U.S. households are potential subscribers, and as of June 30, it had 3.17 million subscribers. New-member growth was rapid from 2010 to 2012, but the march to 27 million has been slowing recently. In each of the last four quarters, the company added fewer subscribers than it did in the comparable quarter a year earlier. In the quarter ended in June, Angie's List added 290,000 subscribers, down 27 percent from the 400,000 added in the second quarter of 2014.

Helfstein of Oppenheimer said the slowdown might be a sign the addressable market for paid reviews is not as big as company officials thought. The company's sizable reduction in marketing lately could also be a factor, but it also started slashing prices to $10 a year from $40 in late 2013.

"It could be 25 cents," Helfstein said. "For most people … if there's a free alternative, they won't pay. And today there are alternatives."

Even before the slowdown, Angie's List consistently spent more on acquiring members than it earned from them. In 2014, it generated $73 million in membership revenue and spent $87 million on marketing to get those members.

The goal was to build a quality lead pool to place in front of service providers, whose revenue has helped cover some of those losses. But along the way, the company might have missed opportunities to enhance its marketplace technology, and now direct competitors including Amazon have arrived.

"What are they going to do when Google finally decides to get into local services?" Copley said.

Few home services websites have the name recognition and reach of Angie's List, analysts said. Its website generates tens of millions of searches, interim CEO Mark Howell has said previously, and "the quality of the data assets and relevancy of our matching is critically valuable."

But as the company sunk time and money into growing its national brand, it was slow to adapt its technology to changing consumer habits, analysts said.

While nimble companies "have focused on building really slick, easy-to-use apps and websites that are conducive to creating transactions and e-commerce," Harper said, Angie's List has "really kind of just stuck with the same website and text-based reviews for a long time."

Now, time and money are running short when Angie's needs them most, analysts said.

"They still have cash on the books now, but this year we estimate that they will burn about $9 million," Helfstein said. He added that the company is projected to break even in 2016 and finish 2017 in the black.

Some think company prospects are dim.

"From a shareholder's perspective," Kulkarni said, "any inclination of the company being able to sell itself to a larger company is probably the only silver lining."•