Mary Solada has built a reputation as one of Indianapolis' top real estate attorneys by representing large developers on important zoning matters.

But Solada, who helped the city acquire the land for downtown's three professional sports venues, is no shill for big development.

In fact, lately, the longtime partner of Bingham Greenebaum Doll LLP has been mixing it up by representing grass-roots groups opposed to a wide range of controversial projects that have grabbed the public's attention.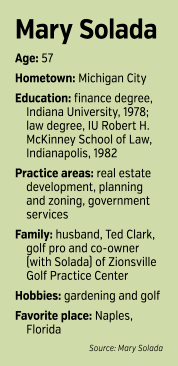 Solada, 57, became involved in causes that helped avert the demolition of a historic church in Cumberland and bring down a billboard along a busy Geist thoroughfare. She's also representing a north-side neighborhood opposing a request to rezone property for a large apartment project.

Solada attributes her recent spurt of versatility to mere coincidence.

"My history is representing developers," she said. "However, I do represent groups if I feel I can be of use and the concern is appropriate."

The positive outcomes for her clients on two of the three cases—the apartment issue is pending—reflect Solada's considerable sway.

A native of Michigan City, she followed her father, C.T. Kitowski, a sole practitioner in northwestern Indiana, into the legal profession. Two younger siblings did not. Her brother in suburban Maryland retired as a Xerox executive and her sister manages the Bloomington Community Farmers' Market.

"My father taught me a lot about practicing law … the human element of it, which is just as important," Solada said.

Becoming a lawyer was no childhood dream, though.

Breaking through

Solada earned a bachelor's degree in finance from Indiana University and figured growing up so close to the Windy City, she might want to work at the Chicago Board of Trade following graduation.

She instead did choose law school— spending two years at IU in Bloomington before finishing up in Indianapolis while interning in the city's planning department.

After graduating in 1981, Solada joined Bingham Summers Welsh & Spilman, a predecessor of Bingham Greenebaum Doll, at the urging of law school pal Joe Hogsett, who had been at the firm just a year. Hogsett left Bingham in 2010 to serve as U.S.

attorney for the Southern District of Indiana. He resigned last year to run as the Democratic candidate for mayor.

At the time Solada came aboard, Hogsett recalled via email, few large law firms hired women as lawyers.

"I am still proud that I was able to help recruit Mary," he said. "Her body of work speaks for itself, and our local bar has been strengthened by her involvement in this community."

Zoning niche

Her arrival at Bingham Summers boosted the firm's female ranks to a whopping four out of about 30 lawyers, Solada said.

If law firms then showed unfairness toward women, it wasn't evident at Bingham Summers, as Solada quickly carved out a niche in zoning law.

The firm since the 1960s has represented the Capital Improvement Board, the city entity that now operates Lucas Oil Stadium, Bankers Life Fieldhouse and Victory Field, in addition to the Indiana Convention Center.

Jerry Moss, the Bingham Summers lawyer serving as CIB counsel when Solada joined the firm, became her mentor. He recognized Solada's brief but valuable planning and zoning experience she gleaned at the city and got her involved in CIB matters.

Solada, a Democrat, served as CIB's general counsel from 2000 to 2007, during the administration of Democratic Mayor Bart Peterson. She also led the legal team that acquired the land for Victory Field in the early 1990s, Conseco Fieldhouse (now Bankers Life Fieldhouse) in the late 1990s and Lucas Oil Stadium in the mid-2000s.

Scooping up land

Piecing together the parcels, 15 in all, for Bankers Life proved most tricky.

Solada recalled becoming ensnared in tough negotiations for property the city needed that was owned by the CSX railroad firm, which had no duty to sell the land.

"There were some rocky roads that she had to pave before the [city land] deals could get done," said Bob Birge, who formerly handled marketing at Bingham and now is with Republic Airways Inc. "One of her strengths is to find middle ground."

Solada has seen a lot of change at the firm since her arrival nearly 35 years ago. Bingham Summers morphed into Bingham McHale and, following its latest merger in 2011 with Louisville-based Greenebaum Doll LLP, became Bingham Greenebaum Doll.

The following year, in 2012, the firm tapped Solada to be managing partner of the Indianapolis office, a post she held for two years.

Big wins, small clients

Since giving up her management title, Solada's caseload has spawned a series of high-profile zoning disagreements that have grabbed headlines.

She successfully persuaded a city zoning board in May 2014 to revoke the billboard permit that had been granted in the Geist area. Neighbors objected to the 40-foot sign with three rotating messages, arguing it was erected too close to a stoplight and distracted drivers approaching the intersection.

And just last month, Giant Eagle Inc. dropped its plans to demolish a historic church on the far-east side and build a convenience store and gas station after the town of Cumberland, which opposed the project, hired Solada.

In that case, Cumberland agreed to pay Solada up to $5,000 to handle its appeal. Solada declined to provide her billing rate but said it's "competitive" with other zoning lawyers in the city.

Left to be decided is a proposal from local developer Herman & Kittle Properties Inc. to build nearly 400 units on a par-3 golf course on East 96th Street just west of Westfield Boulevard.

The developer is seeking to rezone the property to build the project and has continued its request until September after facing fierce opposition from the adjacent Sherwood Forest Neighborhood Association to the south.

After determining they needed legal representation, the neighbors compiled several names of attorneys, of which Solada's rose to the top of the list, said Jon McDonald, president of the neighborhood association.

"We just got a great feel from her," he said. "She didn't try to sell us on anything."

Practicing zoning law requires attending a lot of meetings, many of which are in the evenings. So unlike trial lawyers, whose schedules are relatively set, Solada and other zoning lawyers never know in advance when they'll be in the spotlight.

"You're put on center stage at 9 o'clock at night at times," Solada said, "so you have to be pretty nimble."

The local fraternity of zoning lawyers is small, consisting of about 12 with major experience, Solada said.

Outside the office, Solada enjoys golf and gardening. She and her husband, golf pro Ted Clark, own the Zionsville Golf Practice Center on U.S. 421. She met the native Hoosier in Florida, where he was managing a golf practice facility, and convinced him to return to Indiana. They've been married 13 years and enjoy their two Wheaten terriers.

In three years, when she turns 60, Solada plans to visit Europe.

"I'm going to pull the plug for a couple of weeks," she said, "but I can't do it right now."•